Description- GJP Roller and Combined Bearing for Forklift Truck 83C285 B1
GJP Bar Code Number: 6935329837355
Compared with normal bearing, GJP high precision roller and combined bearing for forklift truck is requested to have higher quality level, which needs the thicker bearing ring and sometimes needs the full compliments rolling elements to enlarge the loading capacity, blacken cornor and with good curvature and bearing torque, and bearing seal is required to crimp retention in outer race, in order to make sure your Material Handling Truck have a better long operation lifes, the end users needs to be careful for the the bearing mounting to the forklift.
Mounting way for GJP roller and combined bearing for forklift truck:
Make sure the working environment is clean when mounting the bearing into the machine, any dust or contamination will effect our bearing's noise and vibration.
Be sure using the correct tool to mount the bearing, not to use the extra or inproper strength to press the bearing into the machine, no suggest to use the hammer.
Better not to carry the bearing directly by hand, if your hand needs to contact the bearing directly, it's better to make sure your hand has not sweat or other water, so that the bearing can not be easily rusty.
Roller and combined bearing for forklift truck is a kind of rolling bearing and is one of the widely used components in modern machinery. It relies on rolling contact between the main elements to support the rotating parts. Roller bearings are now mostly standardized. Roller bearings have the advantages of small torque required for starting, high rotation accuracy, and convenient selection.
Notes on installation of roller and combined bearing for forklift truck
1. Keep the roller and combined bearing for forklift truck and its surrounding environment clean. Even small dust invisible to the naked eye enters the forklift bearings, which will increase the wear of the bearings of each system, or emit vibration and noise.
2. Installation precautions
When installing forklift bearings, strong stamping is not allowed, the forklift bearings are not allowed to be hit directly with a hammer, and the pressure is not allowed to be transmitted through the rolling elements.
3. Use appropriate and accurate installation tools
Use special tools whenever possible, and try to avoid things like cloth and short fibers.
4. Prevent the rust of roller and combined bearing for forklift truck
When taking the roller and combined bearing for forklift truck directly by hand, we suggest that it is better to wash the sweat from the hands thoroughly, and apply high-quality mineral oil before operation, especially in the rainy season and summer, pay attention to rust prevention. However, under certain special operating conditions, forklift bearings can achieve a longer life than traditional calculations, especially under light loads. These special operating conditions are when the rolling surfaces (tracks and rolling elements) are effectively separated by a lubricating film and limit contamination that may cause surface damage.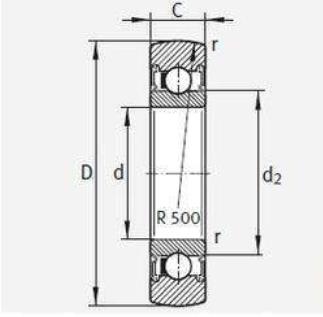 | | |
| --- | --- |
| GJP FORKLIFT BEARING | GJP FORKLIFT BEARING |
| 35BFM1002 M | 83A167 DC3 |
| 45BFC1303 | 83A684 B1S |
| 45BFM1204 MQ | 83B089 BMA |
| 50MGT123 A2-1 | 83B089 BMLA |
| 55MGT120 A3-1 | 83B428 ABS |
| 60MGT150 A6-1 | 83C285 B1 |
| 70030 A | MG 208 FFH |
| 83189 | SB 091134 2RS |
| 83189 CCS28 | SB 091234 2RS |
| 83461 A | SB 091234 DB12RSC3 |
| 83521 DMA | SB 091234.RSCB12RK |
| 83522 | SC 081036 |
| 83523 KBIS | SC 101243/30 V |
| 83543 KB1MA | SK 8 E |
| 83884 | SK 9 H |
| 83926 ABS | XR 1057-1 |
| 40BFC1001 | XR1152-1 |
| 25TAG12 | MG307-2RS |
Technical Data
Bearing Number: 83C285 B1
Bearing Race Material: Chrome Steel Gcr15
Cage: Steel Cage
Rolling Elements: Steel Ball ∮16.669x9pcs.
Hardness for Bearing: HRC59 to 62
Hardness for Steel Ball: HRC59 to 62
Quality Control: Under ISO: 9001: 2008 Certificate
Package: 1*1 poly bag+1*1box box+ outer carton+Composite Wooden Pallet