UCF207 square flange bearing housing unit is a high-quality product of GJP Bearing, which is composed of a bearing body, a seat, and a sealing device. Featuring cast iron housing and high-quality embedded bearings, it provides excellent load capacity, high-speed performance, and reliable operation. Designed to provide superior performance and durability in a wide range of industrial applications.
Designed to accommodate a standard shaft size of 35mm (1.378″), the UCF207 is suitable for a variety of applications including conveyor systems, agricultural machinery, food processing equipment, mining equipment, and more. The unit is easy to install and its compact design makes it a cost-effective solution for any application requiring reliable and efficient bearing performance.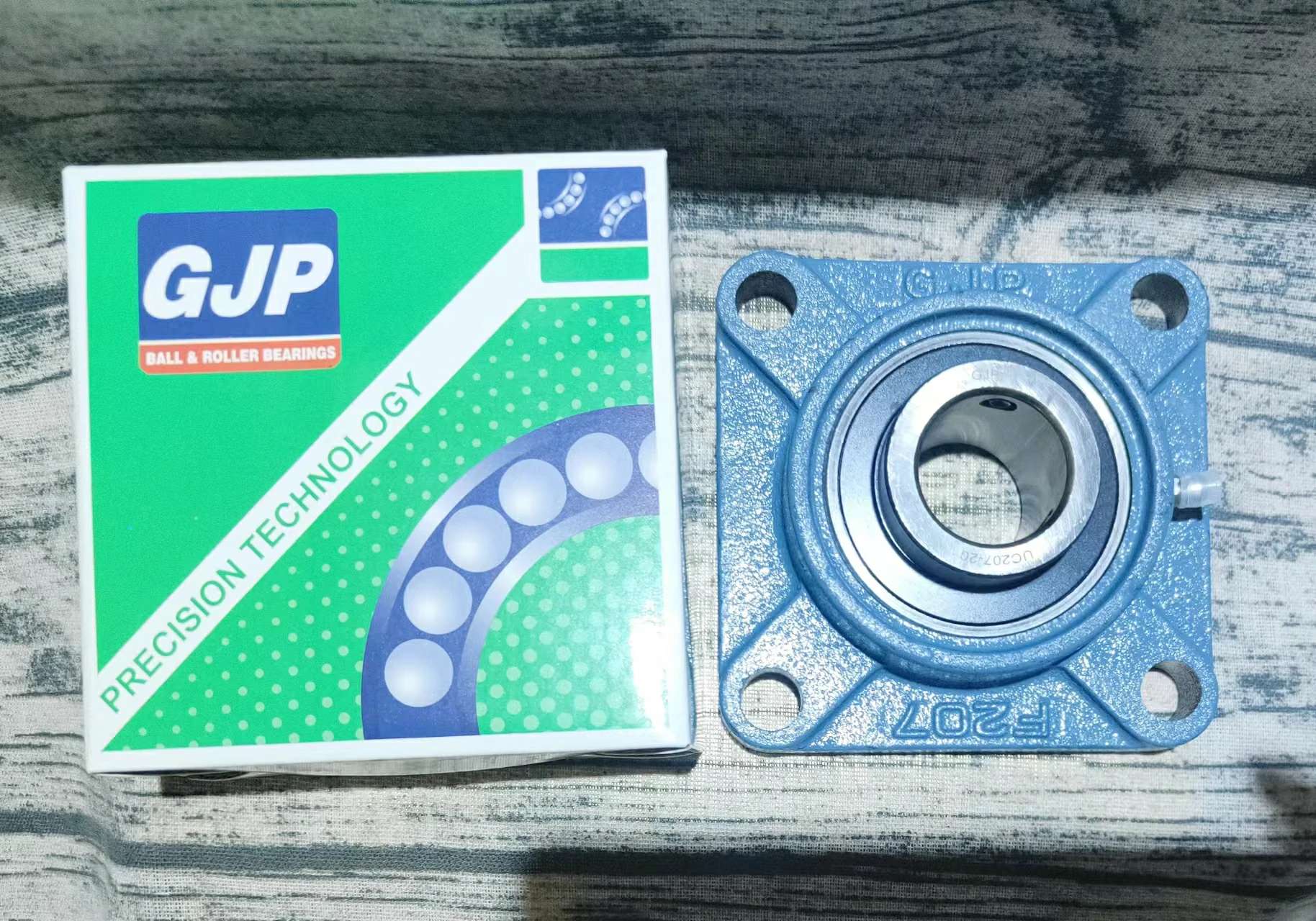 UCF207 bearing Dimensions
Inside diameter (shaft bore diameter): 35 mm (1.378 in)
Outer Diameter (Bearing Body Diameter): Approx. 117 mm (4.606 inches)
Seat Type: square hole square seat
Seat material: usually cast iron, steel plate, etc.
Bearing Type: ball bearing (usually a spherical cup bearing)
Bearing seals: depending on the specific model and manufacturer, may include seals, dust covers, etc.
Load capacity: UCF207 bearings are usually able to withstand certain radial and axial loads.
Installation method: fix the bearing to the bracket or machine equipment through the screw hole on the seat
UCF207 Bearing Performance
The UCF207 square flange housing unit is made of cast iron, steel plate, and other materials to provide a stable support and mounting plane. In addition to high-quality construction and reliable performance, it is also designed for easy maintenance. Its removable bearing inserts allow quick and easy replacement and included grease fittings ensure the bearings are properly lubricated for optimum performance.
UCF207 square flange-bearing housing unit has a certain load-bearing capacity and better rotation stability and can bear radial and axial loads. With its superior load capacity, high-speed performance, and ease of maintenance, this unit is sure to provide reliable and efficient operation in even the most demanding industrial applications. Whether you are an OEM, a maintenance specialist, or an end user looking for a reliable bearing solution, please contact us today and we will get you a fast quote
GJP is a brand specializing in the production and manufacture of various bearings. We offer a wide range of high-quality bearings that can be used in a variety of industrial and commercial applications. GJP bearings are known for their reliability, durability and accuracy, making them an excellent choice for industries such as automotive, aerospace, construction and manufacturing.
GJP's production facilities are state-of-the-art with modern manufacturing equipment that enables us to produce high-precision bearings in high volumes. We also have a team of skilled engineers and technicians who oversee the entire production process, ensuring that each bearing meets the required quality standards.
GJP offers a comprehensive range of bearing products, including deep groove ball bearings, spherical roller bearings, tapered roller bearings, self-aligning ball bearings and angular contact ball bearings. We also offer a range of bespoke solutions to meet the unique needs of our clients.
GJP is a brand representing quality, reliability and innovation in the bearing manufacturing industry. GJP is committed to research, innovation and customer service.