UCF212-38 bearing is a seated outer spherical bearing of the GJP brand that has the characteristics of high load-bearing capacity, excellent tribological performance, and long service life. This bearing is suitable for equipment that bears larger loads and operates with high efficiency, such as fans, motors, reducers, pumps, compressors, etc.
The specific dimensional parameters of UCF212-38 bearings include an inner diameter is 58.4 mm, an outer diameter of 175mm, and a width of 68.7mm. In addition, the bearing also has a variety of special characteristics, such as high temperature, corrosion, grease, etc., and can adapt to different working environments and operating conditions.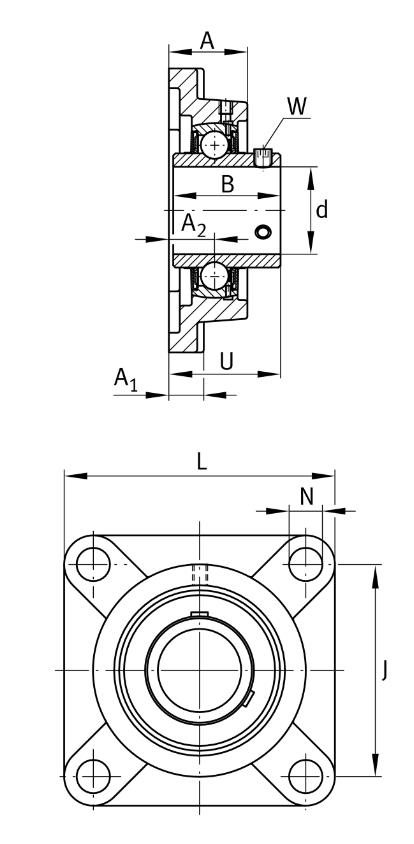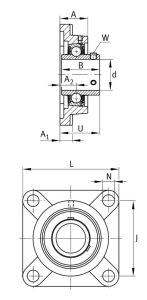 Set screw-locking four-bolt flange bearings are a specific type of bearing used in a variety of industrial and mechanical applications.
Set screw lock
Set screws are threaded fasteners that are tightened on shafts to hold bearings in place. Set screw locking is a common method of securing bearings to shafts and allows for easy installation and removal.
Four-bolt flange bearing
Four-bolt flange bearings are designed to be mounted with four bolts, providing a stable, secure connection to a housing or structure. Four-bolt flange designs are typically used in applications where bearings need to be securely held in place.
So a "Set Screw Locking Four Bolt Flange Bearing" is a bearing with a set screw fastener to secure it to the shaft and is mounted inside a housing with four bolt holes to achieve stable and safe installation. These bearings are typically used in machinery and equipment where reliable shaft support and ease of installation are important.
The specific dimensions, bore diameters, and other technical details of such bearings may vary depending on the manufacturer and intended application. Please contact us directly.