Description- GJP Conveyor Sprocket For Roller Chain Transmission 60A20X3.515/3.518
GJP Bar Code Number: 6935329839465
GJP transmission sprocket is a kind of plate wheel, which has the flange stage and some of them has the keyway, and it is mainly made of #45 carbon steel, and processed different type of teeth, and after finished, the sprocket is normally with zinc plated, some item are black oxidized coating, and with heat treated, GJP offers to provide the standard A, B type sprockets, or stainless steel sprocket, but we could supply with non-standard sprocket, which need customer's supplied samples or drawings.
The Sprocket was strictly produced as per belowing steps:
Forging( casting)—lathe process- teeth process—coat finishing—oil washing—inspection-packing, all are made by CNC automatic machine
According to the standard of GB5-8, JIS 1-4, AGMA 12-9, DIN 6-9
GJP Sprocket is diversified as per belowing:
Our Sprocket could be single A-type, double A-type, welding hub KB-type, welding hub C-type.
And the sprocket could be clarified as standard sprocket, finished bore sprocket, taper bore sprocket, double plate wheels and conveyor sprocket
According to material, it could be recognized as carbon steel sprocket, stainless steel sprocket etc.
The difference between Gears and Sprocket:
Even though that the gear is nearly same as per the sprocket, which both are for transmission purpose, and has the same function for transmitting the torque from one location to another one, gear has the precision groove to match with another gear, which could transmit the commodity, but sprocket is mainly connected with the steel roller chain, which is connected with the sprocket teeth.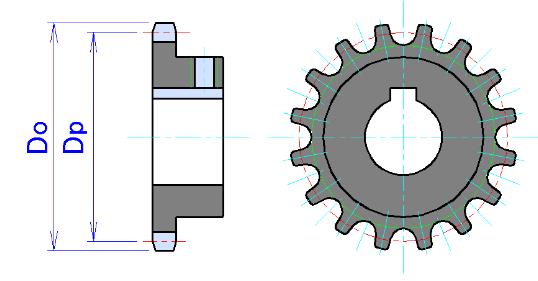 Technical Data
Item No.: 60A20X3.515/3.518
Material: #45 carbon
Keyway: Yes
Type: Transmission Products
Quality Control: Under ISO: 9001: 2008 Certificate
Package: 1*1 poly bag+1*1box box+ outer carton+Composite Wooden Pallet