Description- GJP High Precision Food Machinery Application Ball Bearing KHS-131803/01(size 21.3x35x7MM) For Bottle Blowing Machine
GJP Bar Code Number: 6935329839403
GJP high precision food machinery application ball bearing for blowing molding machine is produced with ABEC-3 grade, and it's thin section bearing with food grade grease, it is used in the heating head of Auto bottle blowing machine, which requires special heat treatment on our bearing to afford relatively higher temperature, the radial clearance is from 0.006 to 0.02 and grease with around 0.3G Shell food grade grease, the loading capacity is Cr=3.45KN, Cor=2.24KN, and in order to make sure the good working capacity, GJP use higher grade of steel ball with G10 and PA66 nylon cage for higher working speed.
The food machinery application ball bearing is a kind of rolling bearing. The ball is installed in the middle of the inner steel ring and the outer steel ring, which can bear a large load.
The food machinery application ball bearing is mainly used to support and reduce friction in machinery, so the accuracy and noise of ball bearings are directly related to the service and life of machinery.
The inner and outer raceways of ball bearings are arc-shaped deep grooves, and the channel radius is slightly larger than the desired radius. It is mainly used to accept radial loads, and can also bear certain axial loads. When the radial clearance of the bearing increases, it has the function of an angular contact ball bearing, which can bear a large axial load and is suitable for high-speed operation. When the housing hole and the shaft are relatively inclined by 8'~16′, the bearing can still work normally without affecting its service life. This type of bearing can still be used to reduce the pure axial load when the rotational speed is high and the thrust ball bearing is not suitable.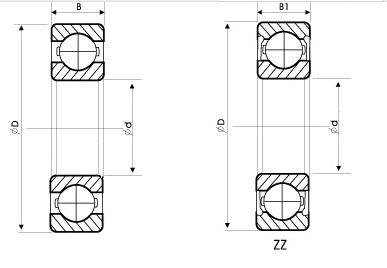 GJP ALSO OFFER THE BELOWING STAINLESS STEEL BEARING FOR FOOD MACHINE

SIZE(mm)

GJP ITEM NO.

d

D

B

Rsmin

OPEN TYPE

Z SHIELD

2RS TYPE

WITH SNAP RING

10

26

8

0.3

SS6000

ZZ

2RS

NR

12

28

8

0.3

SS6001

ZZ

2RS

NR

15

32

9

0.3

SS6002

ZZ

2RS

NR

17

35

10

0.3

SS6003

ZZ

2RS

NR

20

42

12

0.6

SS6004

ZZ

2RS

NR

25

47

12

0.6

SS6005

ZZ

2RS

NR

30

55

13

1

SS6006

ZZ

2RS

NR

35

62

14

1

SS6007

ZZ

2RS

NR

40

68

15

1

SS6008

ZZ

2RS

NR

45

75

16

1

SS6009

ZZ

2RS

NR

50

80

16

1

SS6010

ZZ

2RS

NR

55

90

18

1.1

SS6011

ZZ

2RS

NR

60

95

18

1.1

SS6012

ZZ

2RS

NR

65

100

18

1.1

SS6013

ZZ

2RS

NR

70

110

20

1.1

SS6014

ZZ

2RS

NR

75

115

20

1.1

SS6015

ZZ

2RS

NR

10

30

9

0.6

SS6200

ZZ

2RS

NR

12

32

10

0.6

SS6201

ZZ

2RS

NR

15

35

11

0.6

SS6202

ZZ

2RS

NR

17

40

12

0.6

SS6203

ZZ

2RS

NR

20

47

14

1.0

SS6204

ZZ

2RS

NR

25

52

15

1.0

SS6205

ZZ

2RS

NR

30

62

16

1.0

SS6206

ZZ

2RS

NR

35

72

17

1.1

SS6207

ZZ

2RS

NR

40

80

18

1.1

SS6208

ZZ

2RS

NR

45

85

19

1.1

SS6209

ZZ

2RS

NR

50

90

20

1.1

SS6210

ZZ

2RS

NR

55

100

21

1.5

SS6211

ZZ

2RS

NR

60

110

22

1.5

SS6212

ZZ

2RS

NR

65

120

23

1.5

SS6213

ZZ

2RS

NR

70

125

24

1.5

SS6214

ZZ

2RS

NR

75

130

25

1.5

SS6215

ZZ

2RS

NR

10

35

11

0.6

SS6300

ZZ

2RS

NR

12

37

12

1

SS6301

ZZ

2RS

NR

15

42

13

1

SS6302

ZZ

2RS

NR

17

47

14

1

SS6303

ZZ

2RS

NR

20

52

15

1.1

SS6304

ZZ

2RS

NR

25

62

17

1.1

SS6305

ZZ

2RS

NR

30

72

19

1.1

SS6306

ZZ

2RS

NR

35

80

21

1.5

SS6307

ZZ

2RS

NR

40

90

23

1.5

SS6308

ZZ

2RS

NR

45

100

25

1.5

SS6309

ZZ

2RS

NR

50

110

27

2

SS6310

ZZ

2RS

NR

55

120

29

2

SS6311

ZZ

2RS

NR

60

130

31

2.1

SS6312

ZZ

2RS

NR

65

140

33

2.1

SS6313

ZZ

2RS

NR

70

150

35

2.1

SS6314

ZZ

2RS

NR

75

160

37

2.1

SS6315

ZZ

2RS

NR

10

15

3

0.1

SS6700

2RS

12

18

4

0.2

SS6701

2RS

15

21

4

0.2

SS6702

2RS

17

23

4

0.2

SS6703

2RS

20

27

4

0.2

SS6704

2RS

25

32

4

0.2

SS6705

2RS

30

37

4

0.2

SS6706

2RS

10

19

5

0.3

SS6800

ZZ

2RS

12

21

5

0.3

SS6801

ZZ

2RS

15

24

5

0.3

SS6802

ZZ

2RS

17

26

5

0.3

SS6803

ZZ

2RS

20

32

7

0.3

SS6804

ZZ

2RS

25

37

7

0.3

SS6805

ZZ

2RS

30

42

7

0.3

SS6806

ZZ

2RS

35

47

7

0.3

SS6807

ZZ

2RS

40

52

7

0.3

SS6808

ZZ

2RS

45

58

7

0.3

SS6809

ZZ

2RS

50

65

7

0.3

SS6810

ZZ

2RS

55

72

9

0.3

SS6811

ZZ

2RS

60

78

10

0.3

SS6812

ZZ

2RS

65

85

10

0.6

SS6813

ZZ

2RS

70

90

10

0.6

SS6814

ZZ

2RS

75

95

10

0.6

SS6815

ZZ

2RS

10

22

6

0.3

SS6900

ZZ

2RS

12

24

6

0.3

SS6901

ZZ

2RS

15

28

7

0.3

SS6902

ZZ

2RS

17

30

7

0.3

SS6903

ZZ

2RS

20

37

9

0.3

SS6904

ZZ

2RS

25

42

9

0.3

SS6905

ZZ

2RS

30

47

9

0.3

SS6906

ZZ

2RS

35

55

10

0.6

SS6907

ZZ

2RS

40

62

12

0.6

SS6908

ZZ

2RS

45

68

12

0.6

SS6909

ZZ

2RS

50

72

12

0.6

SS6910

ZZ

2RS

55

80

13

1

SS6911

ZZ

2RS

60

85

13

1

SS6912

ZZ

2RS

65

90

13

1

SS6913

ZZ

2RS

70

100

16

1

SS6914

ZZ

2RS

75

105

16

1

SS6915

ZZ

2RS
Technical Data
Bearing No.: KHS-131803/01
Bearing Race Material: Chrome Steel Gcr15
Cage: GRPA66-25-JB/T6638
Rolling Elements: Chrome steel Gcr15 material of steel ball with G10 grade according to GB308
Type: Radial Ball Bearing
Hardness for Bearing: HRC59 to 62
Hardness for Steel Ball: HRC59 to 62
Quality Control: Under ISO: 9001: 2008 Certificate
Package: 1*1 poly bag+1*1box box+ outer carton+Composite Wooden Pallet