Description- GJP Automotive Conditioner Ball Bearing 35BD5222
GJP Bar Code Number: 6935329839359
GJP High Precision Automotive Conditioner Ball Bearing 35BD5222 is produced with the feature of lower noise and vibration and with brown double seal, and has double row angular contact, it has the size of 35x52x22mm.
The automotive conditioner ball bearing mainly contains four basic elements: ball, inner ring, outer ring and cage or retainer. General industrial ball bearings meet the AISI52100 standard. The balls and rings are usually made of high-chromium steel, and the Rockwell C-scale hardness is about 61-65.
With the development of automobile technology, great progress has been made in the design, manufacture, test and application technology of automobile bearings. However, from the application point of view, the development of automotive bearings can be summarized as the expansion of general-purpose bearings, the development of special bearings, and the improvement of bearing performance and life.
1. Expanded application of general-purpose bearings
The improvement of automobile structure, the development of varieties and specifications, the improvement of performance and life, and the diversification of automobile design and bearing design have led to the expansion of the application range of general bearings.
So far, the general bearings directly applied in automobiles have covered almost all basic structure types, more and more series and more and more specifications of general bearings, and the improvement and development of the general bearings for direct application have resulted in the production of Some new general bearing series and special bearings.
2. Development of special bearings
On the basis of general-purpose bearings, some automotive-specific bearings have gradually developed structural and functional characteristics that are not found in traditional rolling bearings and are closely related to automotive applications. Among these special bearings for automobiles, the expansion of the structure and function of the wheel hub bearing and the clutch release bearing is the most noticeable.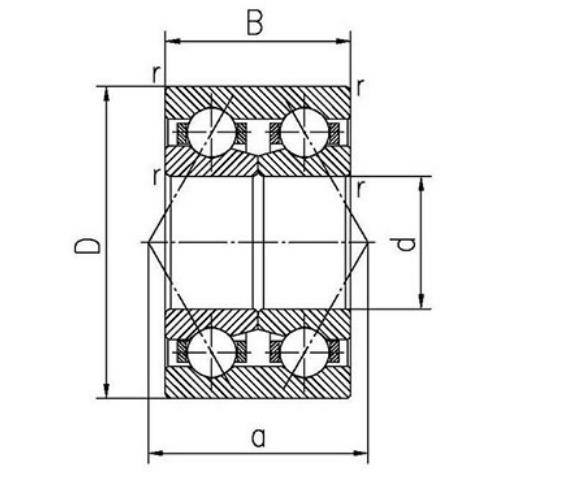 Technical Data
Bearing No.: 35BD5222
Shell Material: Steel with NBR rubber
Bearing Race Material: Chrome Steel Gcr15
Cage: Steel Cage
Steel Ball: Chrome steel
Grease: 35% to 40% ESSO MP.
Type: Angular Contact Bearing Type(Double Row)
Hardness for Bearing: HRC59 to 62
Hardness for Steel Ball: HRC59 to 62
Quality Control: Under ISO: 9001: 2008 Certificate
Package: 1*1 poly bag+1*1box box+ outer carton+Composite Wooden Pallet