Description-7/8" Inch Bore UCP205-14 Pillow Block Bearing
GJP Bar Code Number: 6935329802063
GJP 7/8″ Set Screw Locking Pillow Block Bearing UCP205-14 with solid base housing and radial insert ball bearing with grub set screw to lock to the shaft. Which is smaller size and has grease zerk on 45 degree angle, and the insert bearing has a wide inner ring with spherical outer diameter, and there are four star seal and with ball point set screw, bearing insert and housing are normally assemblied with J7 tight fitting.
Interchange
GJP: UCP205-14
AMI: UCP205-14
IPTCI: UCP205-14
NSK: UCP205-14
NTN: UCP205-014D1
Peer: FHSP205-14G
Fafnir: RASC-7/8″
Fafnir: YAS-7/8″
RHP: NP-7/8″
SKF: SY 7/8″ TF
Sealmaster: NP-14

Basic Dimensions

Bore Size

Center Shaft to Base Size

Housing Length

Center Bolt to Bolt Size

Housing Width

Housing Bolt Length

Housing Bolt Width

Housing Height

Bolt Size

7/8″

36.5MM

140MM

105MM

38MM

19MM

13MM

71MM

3/8″
Technical Data for GJP UCP205-14
Housing No.: P205
Bearing Insert No.: UC205-14
Material For Bearing Insert: 100% Chrome Steel Gcr15(AISI 52100)
Grade For Steel Ball: G10 Grade Chrome Steel Ball.
Materia of Bearing Cage: #10 Steel
Stopping Pin Material on OD of OR: Chrome Steel Gcr15
Sealing Type: F Seal, L3 Seal And Normal NBR Seal are available for customers'selection.
Set Screw Material: 35CrMo
Grease: 20% to 50% Mobil Grease
Set Screw Surrounding Hardness: HRC49 to HRC 50
Bearing Race and Steel Ball Hardness: HRC59 to HRC62
Bearing Housing Material: HT200 Grey Cast Iron
Housing Color: Green, Blue, Grey, Black Color available.
Whole Unit Assembly Type: J7 Tight Fitting
Housing Weight: 0.6KGS
Quality Control: Under ISO: 9001: 2008 Certificate
Package: 1*1 Single GJP poly bag+1*1 Single GJP color box+1*1 GJP outer carton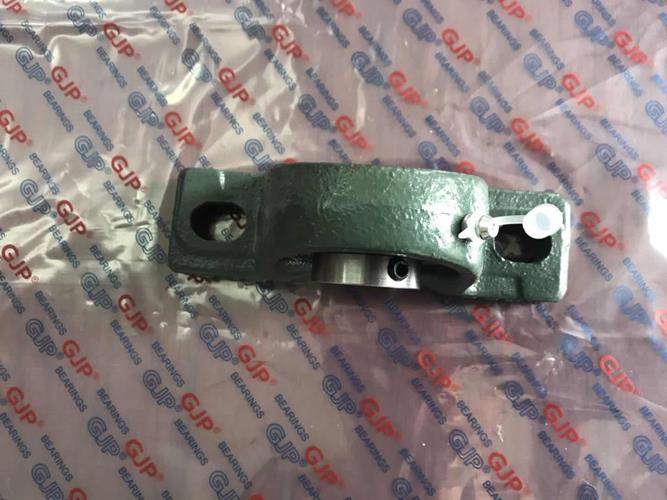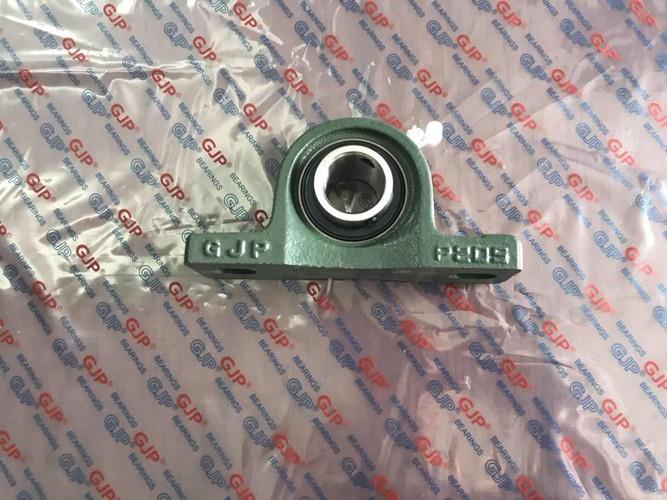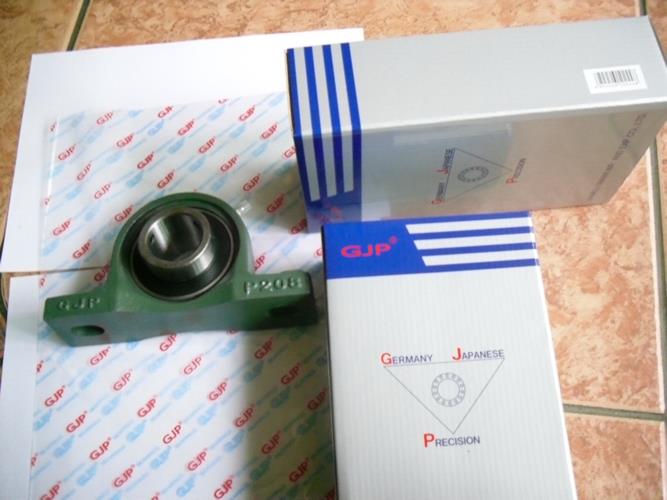 GJP advantage:
GJP efforts on Continuous research and development of new products, For the development of international market, our company is to make two breakthroughs, namely network and service. The bearing insert, cast iron material housing, ductile material housing(HT450), oxidized bearing insert, and stainless steel material are four main models, which have successfully entered foreign market. and improve the production quality to meet the higher requirements of the client.
FAQ
Are there any customers who buy from your company the bearings which you don't produce by yourself?
Yes, a lot, actually at the beginning we don't sell other bearings which we don't produce by ourself, as we are not familiar with them, but since we start to focus on promoting GJP Brand Bearings in all over the world, we start to have cooperation with our GJP sole dealers or Distributors, as a distributors, they sell all types of different bearings to their end users or customers, we used to have experiences that some of the end users in USA, they came to our dealer's shop and wanna to buy one 6202 2RS NR with 15.875 special inner bore at GJP's brand, but at that time our dealer told them that GJP don't produce radial ball bearings, customer is so upset because they like GJP brand and are satisfied with GJP's Pillow Block Bearing quality, finally they were forced to choose other brand, from this experience, after consulting with our dealer, GJP start to organize other types of bearings for our dealers which mark at GJP brand, since around 10 years' develop, we work so well and we're familiar with all types of bearings chains.