Description-40MM Bore Pillow Block Bearing For Textile Machine Unit UCP208
GJP Bar Code Number: 6935329800649
GJP 40mm Bore Dia. Pillow Block Bearing For Textile Machine UCP208-40mm, which has grease fitting and Cap on 45 degree angle, and the insert bearing has a wide inner ring with two set screws for locking on the shaft, bearing insert and housing are normally assemblied with J7 tight fitting, this items are widely used, when heavy thrust forces are applied, the friction between the pillow block base may not be sufficient to prevent movements. Mechanical stops or shear bars with strength sufficient to support the load should be added.Never weld the pillow block housing or bearing to secure it to the shaft or base.
Due to the harsh working conditions, the bearing for textile machine has very high requirements on life, load, etc. It is usually required to have long life, heavy load, high speed, low noise, stable operation and other properties. The bearing for textile machine developed by GJP has outstanding performance and can rotate smoothly at high speed. It has the characteristics of small amplitude, low noise, long service life and convenient maintenance. If you want to know more details of our products, you are welcome to come and consult.
Interchange
GJP: UCP208 40MM
AMI: UCP208
IPTCI: UCP208
NSK: UCP208
Peer: FHSP208G
Fafnir: RASC-40
Fafnir: YAS-40
RHP: NP-40
SKF: SY 40 TF
Sealmaster:

Basic Dimensions

Bore Size

Center Shaft to Base Size

Housing Length

Center Bolt to Bolt Size

Housing Width

Housing Bolt Length

Housing Bolt Width

Housing Height

Bolt Size

40MM

49.2MM

184MM

137MM

54MM

21MM

17MM

98MM

M14
Technical Data for GJP UCP208 40MM
Housing No.: P208
Bearing Insert No.: UC208
Material For Bearing Insert: 100% Chrome Steel Gcr15(AISI 52100)
Grade For Steel Ball: G10 Grade Chrome Steel Ball.
Materia of Bearing Cage: #10 Steel
Stopping Pin Material on OD of OR: Chrome Steel Gcr15
Sealing Type: F Seal, L3 Seal And Normal NBR Seal are available for customers'selection.
Set Screw Material: 35CrMo
Grease: 20% to 50% Mobil Grease
Set Screw Surrounding Hardness: HRC49 to HRC 50
Bearing Race and Steel Ball Hardness: HRC59 to HRC62
Bearing Housing Material: HT200 Grey Cast Iron
Housing Color: Green, Blue, Grey, Black Color available.
Whole Unit Assembly Type: J7 Tight Fitting
Housing Weight: 1.30KGS
Quality Control: Under ISO: 9001: 2008 Certificate
Package: 1*1 Single GJP poly bag+1*1 Single GJP color box+1*1 GJP outer carton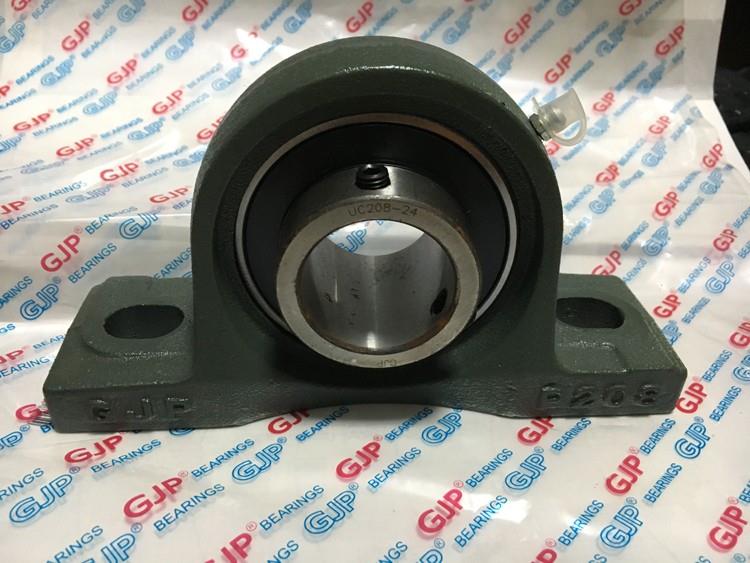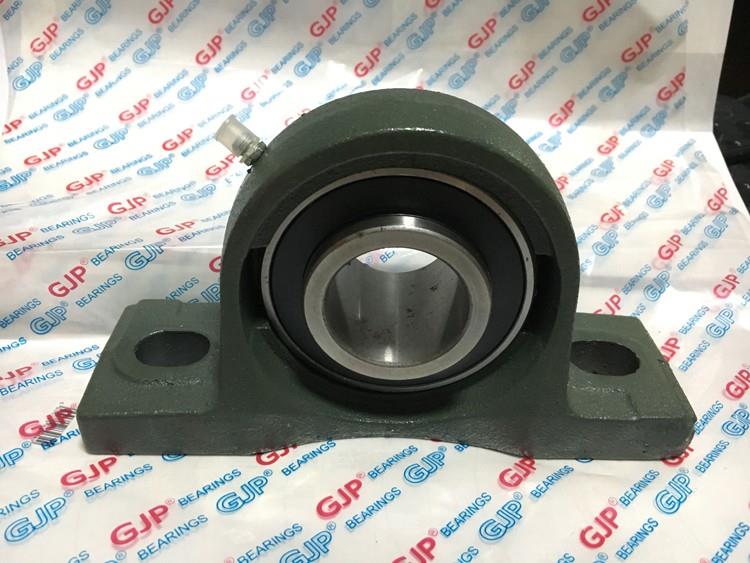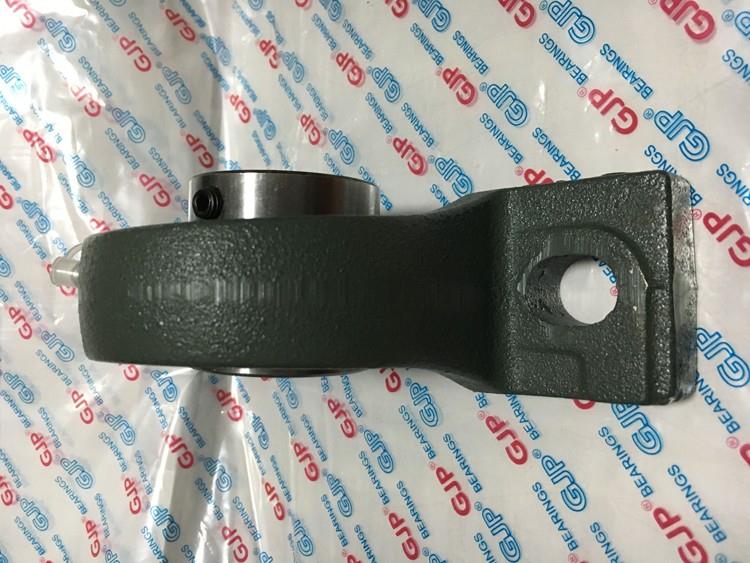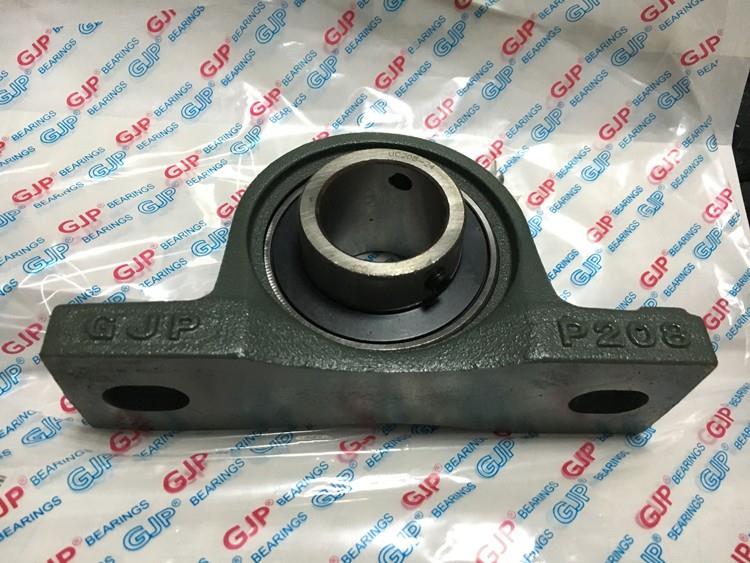 FAQ
We used to buy bearings from other suppliers, and we request them to send the samples firstly, and their samples are qualified, but for bulk cargo, there are some of the problems for part of quantity? Will this happen in your company also?
I guess you must buy the bearings from small factory, which they are not reliable and their quality level is not stable, but for us, there is no problem for this, normally if you need 10pcs of samples, we would produce around 12 pieces and keep another 2 pieces copied samples in our warehouse, and do the careful record on the samples we delivered to our buyers, if samples are approved, we would strictly produce according to our record and samples, which is a careful guide and also it's a rule and regulation for ISO control.