Modern cement plants use bucket elevators to transport untold amounts of material every day. These machines are vital to the efficient and profitable operation of cement plants around the world.
Bearing replacement is a common operation for users of large rotating machinery such as bucket elevators, often resulting in significant maintenance costs and downtime. Due to the dimensions of bucket elevators, bearing replacement is no easy task and requires adequately trained personnel, specialized tools and equipment such as cranes, hoists, and scaffolding, and strictly regulated procedures to ensure safe operation.
In fact, cement equipment is one of the harshest working environments for bearings, constantly threatened by contamination and moisture. While it is easy to assume that similar bearings will provide comparable performance, in fact, the design that actually works can be very different.
All bucket elevators use a bearing housing to protect the bearing during operation, most of which are split designs; in this design, the upper half of the bearing housing can be easily removed to inspect the bearing, which is usually an integral spherical roller bearing.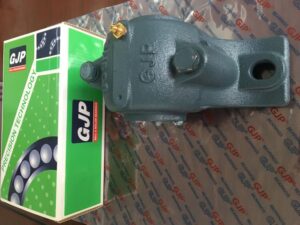 Split plummer block housings are an indispensable product in some steel mills, power plants, coal mines, and other industries. In order to ensure their actual performance, manufacturers must carefully process and manufacture them. Then we will explain some of the unique advantages of this product in detail.
There are many types of split plummer block housings. They are all made of materials with stable wear resistance and a low friction coefficient. Their overall design is very reasonable and compact. During use, split plummer block housings are self-sliding and do not require any lubrication. It can also be used frequently in harsh conditions; it will not easily get stuck, and the belt will not wear out during use. In the process of high-speed operation of equipment, they can withstand repeated shocks, which is very suitable for environmental requirements. In addition, this material has good aging resistance, acid and alkali resistance, so it will not have any impact on their performance in application, and it can be widely used in the environment of minus tens of degrees Celsius or minus 90 degrees Celsius.
Split plummer block housings are used to simplify bearing installation and removal in harsh conditions. The biggest feature of this house unit is the "split-to-shaft" design. This design reduces assembly time by up to 90%, helping factories and other industrial facilities avoid production losses. This is compared to traditional split-element solutions where only the housing (not the bearing) is split.
Save money with split plummer block housings
Split plummer block housings are more convenient because they can be installed without needing to pass through the shaft end. Instead, the bearing can be mounted around the shaft. This saves a lot of time as there is no need to disassemble the other drive components (the shaft is supported by the jack, the bearings and housing are mounted around the shaft).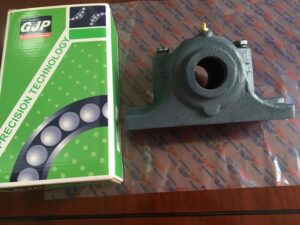 So how can the performance of split plummer block housings be more reliable over time?
First of all, it is necessary to ensure that the split plummer block housings are not damaged during production or future use. The damage in production is usually caused by not strictly abiding by the rules of conduct, and the damage in use is generally caused by the use of too much water. Of course, there are other reasons, but no matter what the reason is, we all should avoid it as much as possible.
In order to prevent split plummer block housings from being damaged in the production process, it is necessary to ensure the legitimacy, conservativeness, and stability of all process steps in the processing process. These performance parameters are the key to affecting the bearing life. The current production process of split bearing housing needs to go through multiple cold and hot processing processes. In order to meet the high-frequency and high-quality requirements of customers, bearing steel should have good processing functions.
Another important factor that affects the quality of split plummer block housings is the thermal resolution and grinding process of the quality of the inner reaction waste one-way thrust ball bearing, which is often more indirectly related to the effectiveness of the bearing.
The above are some of the advantages of split plummer block housings that we explained to you today. If you need it, you can buy products from our manufacturers. Xiamen Smark Bearing is a professional pillow block flange bearing exporter. We have more than 30 years of production experience and are one of the experts in this industry. Our products are of stable quality and reasonable price, so you can use them with confidence. If you are interested in our products, please contact us as soon as possible. We look forward to working with you.