GJP UCST211-33 has wide slot take up bearings, 52.388mm inner diameter, set screw locaking type, heavy duty, painting color to be choosed, side mounting, 27mm slot width, chrome steel Gcr15 material insert bearing, 100% HT200 grey cast iron material with high strength steel, with special location for the grease fitting.
UCST series material: gray cast iron bearing seat and chrome steel bearing
Features: high precision, low noise, high speed, long life, high reliability, heavy load, high temperature resistance.
In this configuration, the pillow block is bolted to the foundation to fix it, while the shaft and the inner ring of the bearing can rotate freely.
We can custom wide slot take up bearings according to customer's needs.
Improve the service life of wide slot take up bearings
1. Lubrication is the key. With a suitable lubricating system and a high-quality lubricant, the lubricating oil film will separate the oil film surfaces that are in contact with each other due to the load bearing and provide the necessary protection against corrosion and wear. For all rotating or reciprocating moving parts, especially bearings and gears, a lubricating oil film is essential for proper operation.
2. Reasonable adjustment is very important. During assembly or installation, if the internal clearance of the precision bearing is too large or too small, or in some cases, the preload is too high, it may cause early damage and shorten the bearing life, in addition to causing downtime and expensive repairs, bearing assembly and improper installation may also have more negative effects, such as affecting the operation of other parts and shortening their service life.
3. After the precision wide slot take up bearings is installed, do a good job of inspection whether the precision bearing is installed correctly or not has a direct impact on its life and the accuracy of the host. If the installation is improper, the bearing not only has vibration, but also has large noise, low precision and large temperature rise. Moreover, there is a risk of being stuck and burned out. On the contrary, a good installation can not only ensure the accuracy, but also greatly extend the life. Therefore, after the bearing is installed, it must be inspected.
The usual packaging method:
If there is no special requirement, we will use GJP plastic bag packaging + GJP outer box + export composite board pallet + packing rope
If you need special packaging, please mention it in your email. We can customize the packaging
We will try our best to protect the products to avoid any damage during transportation, and the packaging should be as strong as possible to meet export requirements.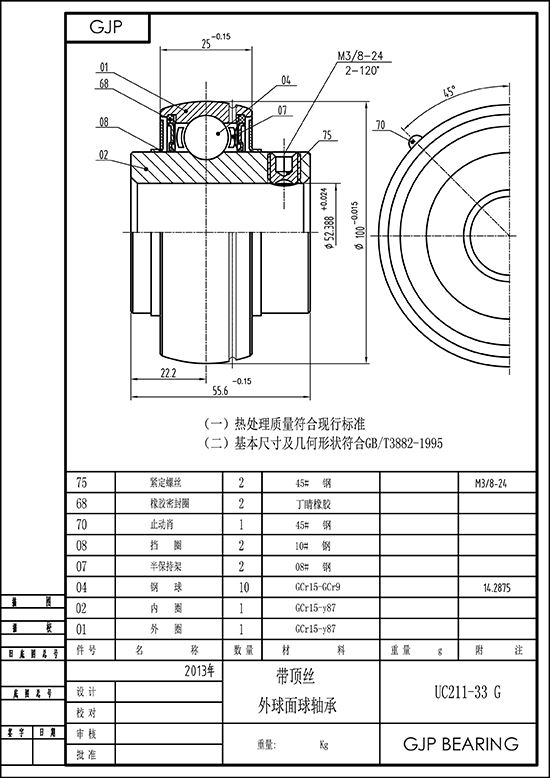 Please select the belowing UCST type you need:
Bearing Unit NO.
Shaft Dia d
Dimensions(mm)
Bearing No.
Housing No.
Weight (kg)
(in)
(mm)
o
g
p
q
s
b
k
e
a
w
j
l
h
Bi
n
UCST204-12 UCST204
3/4
20
16
10
51
32
19
51
13.5
76.2
89
94
32
24
60
31
12.7
UC204-12 UC204
ST204
0.48
UCST205-13 UCST205-14 UCST205-15 UCST205-16 UCST205
13/16 7/8 15/16 1
25
16
10
51
32
22
51
13.5
76.2
89
97
32
24
62
34.1
14.3
UC205-13 UC205-14 UC205-15 UC205-16 UC205
ST205
0.6
UCST206-17 UCST206-18 UCST206-19 UCST206-20 UCST206
1-1/16 1-1/8 1-3/16 1-1/4
30
16
10
56
37
22
57
13.5
88.9
102
113
37
24
70
38.1
15.9
UC206-17 UC206-18 UC206-19 UC206-20 UC206
ST206
0.8
UCST207-20 UCST207-21 UCST207-22 UCST207-23 UCST207
1-1/4 1-5/16 1-3/8 1-7/16
35
16
13
64
37
22
64
13.5
88.9
102
129
37
30
78
42.9
17.5
UC207-20 UC207-21 UC207-22 UC207-23 UC207
ST207
1.12
UCST208-24 UCST208-25 UCST208
1-1/2 1-9/16
40
19
16
83
49
29
83
17.5
102
114
144
49
35
89
49.2
19
UC208-24 UC208-25 UC208
ST208
1.9
UCST209-26 UCST209-27 UCST209-28 UCST209
1-5/8 1-11/16 1-3/4
45
19
16
83
49
29
83
17.5
102
117
144
49
35
87
49.2
19
UC209-26 UC209-27 UC209-28 UC209
ST209
1.73
UCST210-29 UCST210-30 UCST210-31 UCST210-32 UCST210
1-13/16 1-7/8 1-15/16 2
50
19
16
83
49
29
86
17.5
102
117
149
49
35
90
51.6
19
UC210-29 UC210-30 UC210-31 UC210-32 UC210
ST210
1.62
UCST211-32 UCST211-33 UCST211-34 UCST211-35 UCST211
2 2-1/16 2-1/8 2-3/16
55
25
19
102
64
35
95
27
130
146
171
64
41
106
55.6
22.2
UC211-32 UC211-33 UC211-34 UC211-35 UC211
ST211
3.1
UCST212-36 UCST212-37 UCST212-38 UCST212-39 UCST212
2-1/4 2-5/16 2-3/8 2-7/16
60
32
19
102
64
35
102
27
130
146
194
64
46
119
65.1
25.4
UC212-36 UC212-37 UC212-38 UC212-39 UC212
ST212
3.6
UCST213-40 UCST213-41 UCST213
2-1/2 2-9/16
65
32
21
111
70
41
121
27
151
167
224
70
51
137
65.1
25.4
UC213-40 UC213-41 UC213
ST213
5.4
UCST214-42 UCST214-43 UCST214-44 UCST214
2-5/8 2-11/16 2-3/4
70
32
21
111
70
41
121
27
151
167
224
70
46
137
74.6
30.2
UC214-42 UC214-43 UC214-44 UC214
ST214
5.6
UCST215-45 UCST215-46 UCST215-47 UCST215-48 UCST215
2-13/16 2-7/8 2-15/16 3
75
32
21
111
70
41
121
27
151
167
232
70
48
140
77.8
33.3
UC215-45 UC215-46 UC215-47 UC215-48 UC215
ST215
6.1