Description-Special Heavy Duty Long Needle Roller Bearings 1″IDx1 3/8″ ODx2 7/16″ for Caster Wheel
GJP Bar Code Number: 6935329838161
GJP heavy duty long needle roller bearings, which has the clear feature that has much longer rolling elements and there is press steel outer shell which has a split outer diameter, inside the shell, there are cage and needle roller assembly type bearings, there is combination seal/thrust retainer washers on both end of the bearing to protect the bearing from dirt, water, and chemicals. Which also can help absorb thrust friction, instead of the inner race, this bearing use a hardened spanner bushing or hardened shaft for rotation.
Compared to the normal needle roller bearing, this caster heavy duty long needle roller bearings have 3 to 10 times longer length rolling elements, and has a smaller outer diameter, which allows this bearing to apply on the place where has the small radial direction room and need high loading capacity requirements, greater rigidity, and lower inertia forces that facilitate size and weight reductions in machinery. They're designed to withstand oscillation, perform under severe conditions, and interchange with sliding bearings.
Advantages of heavy duty long needle roller bearings:
Low friction resistance, low power consumption, high mechanical efficiency, easy to start.
Standardized size, interchangeable, easy to install and disassemble, easy to maintain.
Compact structure, light weight, and reduced axial size. High precision, high speed, low wear and long service life.
Some bearings have self-aligning performance and are suitable for mass production, with stable and reliable quality and high production efficiency.
The transmission friction torque is much lower than that of hydrodynamic bearings, so the friction temperature rise and power consumption are lower.
The starting friction torque is only slightly higher than the rotating friction torque.
The sensitivity of bearing deformation to load changes is less than that of hydrodynamic bearings.
Only a small amount of lubricant is required for normal operation, and the lubricant can be supplied for a long time during operation.
The axial dimension is smaller than that of traditional hydrodynamic bearings.
Can bear radial and thrust combined loads at the same time.
Unique design can achieve excellent performance in a wide range of load speeds.
Bearing performance is relatively insensitive to fluctuations in load, speed and operating speed.
The advantage for GJP to design this bearing is as per belowing:
–Higher load capacity than single-row ball or roller bearings of comparable OD.
–The ability to handle a larger, more rigid shaft in a given application.
–Excellent rolling characteristics within a small cross section.
–Generally lower cost compared with machined versions.
–Much higher grade for needle roller for enlarge the bearing working life.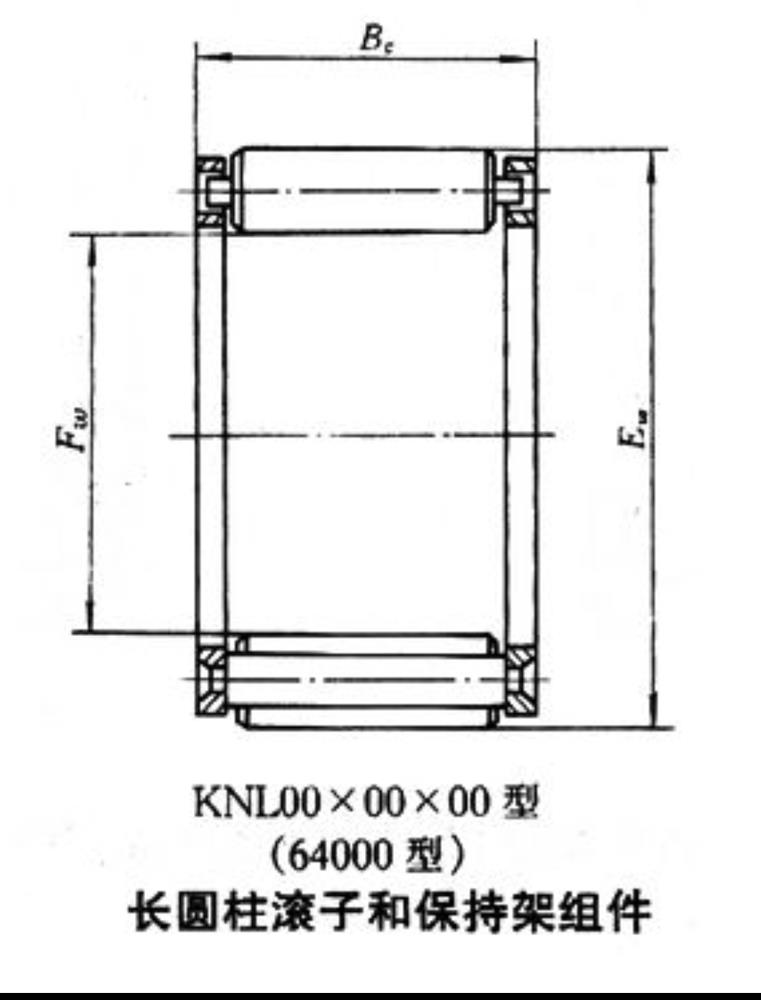 | | | | |
| --- | --- | --- | --- |
| Bearing Reference | Inside Diameter (inch) FW | Outside Diameter (inch) E | Length (inch) B |
| Roller Bearings 1″IDx1 3/8″ ODx2 7/16″Length | 1 | 1 3/8 | 2 7/16 |
Technical Data for GJP Caster Needle Roller Bearing 1″IDx1 3/8″ ODx2 7/16″Length
Material For Bearing Cage: Steel Cage.
Material For Needle Roller: Chrome Steel Material Gcr15, G3 grade.
Material For Outer Race: Pressed steel.
Sealing Type: washer or seal.
Needle Rollerl Hardness: HRC59 to HRC62.
Bearing Precision: Abec-1.
Static Loading: 47.1KN.
Dynamic Loading: 43.1KN.
Quality Control: Under ISO: 9001: 2008 Certificate.
Package: 1*1GJP Poly Bag+1*1GJP Color Box+GJP outer carton+Composite Wooden Pallet.