Description-3 1/4″ bore Single Row Inch Deep Groove Ball Bearings XLS 3 1/4
GJP Bar Code Number: 6935329839250
GJP Imperial Single Row Inch Deep Groove Ball Bearings XLS 3-1/4" is an open style bearing which has the standard C0 clerance and with high quality of chrome steel inner race and outer race material, this bearing could reduce friction between shafts and axles and carry radial loads, thrust loads, or a combination of both. The whole bearing is made of an outer ring, inner ring, and a cage that holds and spaces bearing balls, the bearing's spherical rolling elements. These bearing balls must be perfectly rounded and spaced to prevent friction and bearing failure according to the cage slot,GJP design these type of inch bearings for USA market.
Single row inch deep groove ball bearings are the most representative structures in rolling bearings and are widely used. The raceways located on the inner ring and the outer ring have an arc cross section with a radius slightly larger than the radius of the rolling ball. In addition to bearing radial load, it can also bear axial load in two directions. Low friction torque, most suitable for applications requiring high speed rotation, low noise and low vibration. This kind of bearing, in addition to the open type, also has a bearing with a steel plate dust cover, a bearing with a rubber seal, or a bearing with a snap ring attached to the outer diameter of the outer ring. Generally, steel stamping cages are used.
The main purpose of single row inch deep groove ball bearings
Automobiles: rear wheels, transmissions, components of electrical installations; electrical: general electric motors, household appliances. Others: Instruments, internal combustion engines, construction machinery, railway vehicles, loading and unloading machinery, agricultural machinery, and various industrial machinery.
Interchange
GJP: XLS 3 1/4"
MRC: XLS-3 1/4
RHP: XLJT-3 1/4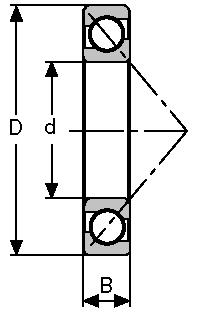 G

JP Code

FAG Code

RHP Code

Dimensions-inch size

Weight

d

D

B

KGS

XLS-1 3/8

XLS-1 3/8

—-

1.3750

2.5625

0.5625

0.400

XLS-1 1/2

XLS-1 1/2

—-

1.5000

2.6875

0.5625

0.440

XLS-1 5/8

XLS-1 5/8

—-

1.6250

2.8750

0.5625

0.630

XLS-1 3/4

XLS-1 3/4

—-

1.7500

3.0000

0.5625

0.530

XLS-1 7/8

XLS-1 7/8

—-

1.8750

3.1875

0.6250

0.810

XLS-2

XLS-2

—-

2.0000

3.3125

0.6250

0.880

XLS-2 1/8

XLS-2 1/8

—-

2.1250

3.4375

0.6250

0.780

XLS-2 1/4

XLS-2 1/4

—-

2.2500

3.5625

0.6250

0.910

XLS-2 3/8

XLS-2 3/8

—-

2.3750

3.7500

0.6875

0.900

XLS-2 1/2

XLS-2 1/2

—-

2.5000

3.8750

0.6875

1.130

XLS-2 5/8

XLS-2 5/8

—-

2.6250

4.1250

0.6875

1.250

XLS-2 3/4

XLS-2 3/4

—-

2.7500

4.1250

0.6875

1.090

XLS-2 7/8

XLS-2 7/8

—-

2.8750

4.5000

0.7500

1.670

XLS-3

XLS-3

—-

3.0000

4.5000

0.7500

1.560

XLS-3 1/8

XLS-3 1/8

—-

3.1250

4.7500

0.7500

1.610

XLS-3 1/4

XLS-3 1/4

—-

3.2500

4.7500

0.7500

1.530

XLS-3 3/8

XLS-3 3/8

—-

3.3750

5.0000

0.7500

1.840

XLS-3 1/2

XLS-3 1/2

—-

3.5000

5.0000

0.7500

1.750

XLS-3 5/8

XLS-3 5/8

—-

3.6250

5.2500

0.7500

2.010

XLS-3 3/4

XLS-3 3/4

—-

3.7500

5.2500

0.7500

1.840

XLS-3 7/8

XLS-3 7/8

—-

3.8750

5.6250

0.8750

2.630

XLS-4

XLS-4

—-

4.0000

5.6250

0.8750

2.500

XLS-4 1/8

XLS-4 1/8

—-

4.1250

6.0000

0.8750

3.000

XLS-4 1/4

XLS-4 1/4

—-

4.2500

6.0000

0.8750

2.870

XLS-4 3/8

XLS-4 3/8

—-

4.3750

6.2500

0.8750

3.130

XLS-4 1/2

XLS-4 1/2

—-

4.5000

6.2500

0.8750

3.020

XLS-4 5/8

XLS-4 5/8

—-

4.6250

6.5000

0.8750

3.340

XLS-4 3/4

XLS-4 3/4

—-

4.7500

6.5000

0.8750

3.100

XLS-4 7/8

XLS-4 7/8

—-

4.8750

7.0000

1.0000

4.590

XLS-5

XLS-5

—-

5.0000

7.0000

1.0000

4.500

XLS-5 1/8

XLS-5 1/8

—-

5.1250

7.2500

1.0000

4.750

XLS-5 1/4

XLS-5 1/4

—-

5.2500

7.2500

1.0000

4.690

XLS-5 3/8

XLS-5 3/8

—-

5.3750

7.5000

1.0000

5.000

XLS-5 1/2

XLS-5 1/2

—-

5.5000

7.5000

1.0000

4.510

XLS-5 5/8

XLS-5 5/8

—-

5.6250

7.7500

1.0000

5.130

XLS-5 3/4

XLS-5 3/4

—-

5.7500

7.7500

1.0000

4.800

XLS-5 7/8

XLS-5 7/8

—-

5.8750

8.0000

1.0000

5.400

XLS-6

XLS-6

—-

6.0000

8.0000

1.0000

5.250

XLS-6 1/4

XLS-6 1/4

—-

6.2500

8.5000

1.1250

6.730

XLS-6 1/2

XLS-6 1/2

—-

6.5000

8.7500

1.1250

7.560

XLS-6 3/4

XLS-6 3/4

—-

6.7500

9.0000

1.1250

7.030

XLS-7

XLS-7

—-

7.0000

9.5000

1.2500

9.560

XLS-7 1/4

XLS-7 1/4

—-

7.2500

9.7500

1.2500

10.100

XLS-7 1/2

XLS-7 1/2

—-

7.5000

10.0000

1.2500

10.250

XLS-7 3/4

XLS-7 3/4

—-

7.7500

10.5000

1.3750

12.500

XLS-8

XLS-8

—-

8.0000

10.7500

1.3750

13.000

XLS-8 1/4

XLS-8 1/4

—-

8.2500

11.0000

1.3750

13.500

XLS-8 1/2

XLS-8 1/2

—-

8.5000

11.5000

1.5000

17.000

XLS-8 3/4

XLS-8 3/4

—-

8.7500

11.7500

1.5000

17.380

XLS-9

XLS-9

—-

9.0000

12.0000

1.5000

17.870

XLS-9 1/2

XLS-9 1/2

—-

9.5000

12.7500

1.6250

22.000

XLS-10

XLS-10

—-

10.0000

13.2500

<td nowrap="nowrap" wid