Description- GJP Single Coil Mechanical Shaft Seal for Pump104-30
GJP Bar Code Number:  6935329839441
GJP Mechanical Seal refers to a device for preventing fluid leakage formed by at least one pair of end surfaces perpendicular to the rotation axis under the action of the fluid pressure and the elastic force (or magnetic force) of the compensation mechanism and the cooperation of the auxiliary seal. The auxiliary seal of the compensation ring is a metal bellows called a bellows mechanical seal
About this item, there are double side of seal which could be mounted back to back or only single seal which has seal face on both side, and it could either be a single coil or double, this Mechanical Shaft Seal mainly includes with Dynamic and Static Ring, Sealing Ring, Spring, Spring Seat, Key and Fixing Screw.
Based on different working conditions and medium properties, mechanical seals include high temperature and low temperature resistant mechanical seals, high pressure and corrosion resistant mechanical seals, particulate medium mechanical seals, and mechanical seals adapted to light hydrocarbon media that are easily vaporized. Customer should choose the exact Mechanical Seal according to different working conditions. Mechanical seals are widely used in different areas Such as water pump factory, printing and dyeing machinery factory, paper mill, power plant, chemical plant, pharmaceutical shipyard, and sewage treatment plant, and is widely used in hospitals, agriculture, equipment cooling, tanning industry, heavy machinery, etc.
The main parameters of the selection are:
Pressure in the sealed cavity (MPa).
Fluid temperature (° C).
Working speed (m / s).
Characteristics of the fluid.
Effective space for installing the seal.
The role of single coil mechanical shaft seal for pump:
First, improve machine efficiency and reduce energy consumption.
Reduce the internal leakage, external leakage and leakage of the machine, and improve the volume efficiency of the machine.
Reduce friction loss and improve the mechanical efficiency of the machine.
Change the sealing method to improve the efficiency of the machine or unit.
Change the auxiliary system to reduce energy consumption and improve unit efficiency.
Second, save raw materials.
Third, improve the reliability of the machine.
Fourth, safety and environmental protection.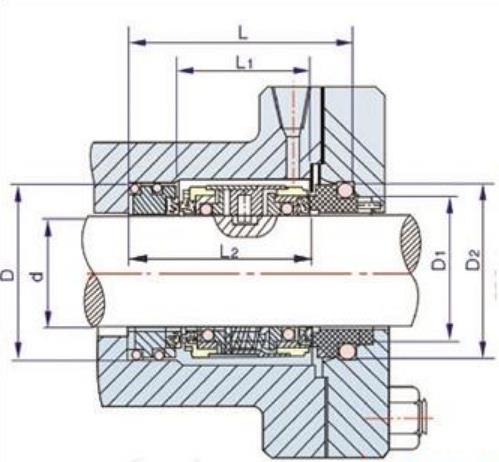 Technical Data
Item No.:  104-30
Rubber Material:  NBR or Viton
Spring:  Steel
Type:  Mechanical Puump Shaft Seal
Quality Control:  Under ISO: 9001: 2008 Certificate
Package: 1*1 poly bag+1*1box box+ outer carton+Composite Wooden Pallet