Description- GJP High Precision Motorcycle Wheel Bearing with ABS Sensor Kit 20-1076(25x52x18MM) For Motorcycle, ATV, Go-karl
GJP Bar Code Number: 6935329839427
GJP high precision motorcycle wheel bearing with abs sensor is designed mainly for USA market for Motorcycle or ATV, which is names as ST9252, it's 25MM bore diameter, with snap groove on outer diameter, and it has a common NBR+SPCC sealing design in one side and in the snap groove sides, this racing bearing is designed with one ABS phonic wheel blue seal, which is fit to the vehicle, this bearing is caged with PA66+25 for high speed rotation, and with chrome steel bearing inner race, outer ring and steel ball, and in order for the big bearing torque, GJP designs this bearing to have much bigger bearing clearance and with good grease fitting at around 1.5 to 1.6g and the focus points on the ABS shield on one hand should be designed with no turning together with the outer race.
Bearings are widely used in various machinery. It can be said that as long as it is a running machine, bearings are inseparable, and bearings are a key component of motorcycles.
Because most of the mechanical parts of motorcycles are exposed, they are subjected to severe tests of high-speed rotation in harsh driving environments. This requires motorcycle bearings to meet good durability and high sealing performance to prolong the service life of motorcycles.
Motorcycles vary by model and construction, but each motorcycle is generally equipped with 20 to 30 bearings. These bearings are used for important rotating parts such as engines, transmissions, and wheels that support driving, and play a role in reducing friction and enabling the power of the engine to be transmitted to the wheels.
Performance of motorcycle wheel bearing with abs sensor
● Smooth rotation through low friction and low vibration;
● It has foreign body resistance and high rigidity;
● Must ensure durability, etc.;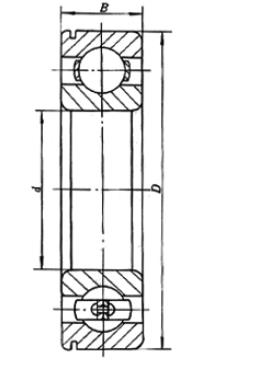 | | | |
| --- | --- | --- |
| Code | ATV BEARING | GJP ITEM NO. |
| 1 | —- | DE0681CS18 2RS |
| 2 | 20-1057 | DAC44720033 |
| 3 | 20-1052 | 40BD6424 |
| 4 | 20-1009 | DAC40740040 |
| 5 | | DAC3055W |
| 6 | | DAC3054024 |
| 7 | 20-1026 | DAC3055W |
| 8 | 20-1002 | DE0678CS12 |
| 9 | 20-1020 | 40BD49V |
Technical Data
Bearing No.: 20-1076
Bearing Race Material: Chrome Steel Gcr15
Cage: PA66 nylon cage
Rolling Elements: high quality of steel ball.
Type: Radial Ball Bearing
Hardness for Bearing: HRC59 to 62
Hardness for Steel Ball: HRC59 to 62
Quality Control: Under ISO: 9001: 2008 Certificate
Package: 1*1 poly bag+1*1box box+ outer carton+Composite Wooden Pallet