Description-Large Size Thin Section double row tapered roller bearings LL582949/LL582910
GJP Bar Code Number: 6935329838123
GJP Double Row Tapered Roller Bearings LL582949/LL582910,Which is a large size with 736.6MM Inner Diameter, 825.5MM for Outer Diameter, and with a total height of 114.3MM, this bearing is a Double Row Tapered Roller Bearings, which contains two cups, two cones, two spacers in the middle (spacers are used for adjust the clearance also) and two steel cage, two sets of steel ball with 100MM diameter of balls,GJP produce this bearing with outer ring rotation eccentricity of 100um, C3 clearance, and has a 3000 hours of "LB10"Bearing Life under 500RPM according to SKF stardard, and could have a loading capacity with Cor 3500KN, Cr 1450KN.
GJP designs all of our Tapered Roller Bearing with good manufactured Gcr15 material,which has the metallographic structure from Grade 2 to 4 according to ISO stardard, with tapered angle race way on bearing race including cone and cup and normally they are split type, which Cone and Cup could be separated, and we designed all of our rollers with crowning machinery technology, so that we could reduce the stress of the contacting place between rollers and bearing race, and could enlarge the bearing life for all GJP products, normally there is a tapered angle for cup with 10-19 degree and if this data is bigger, the loading capacity is bigger for the whole bearing sets.
Features of double row tapered roller bearings
Large radial bearing capacity, suitable for bearing heavy loads and impact loads.
The friction coefficient is small, suitable for high speed, and the limit speed is close to that of deep groove ball bearings.
The inner ring or outer ring can be separated for easy installation and removal.
For Inch double row tapered roller bearings, there are different prefix to differ meaning, which is as per belowing:
EL: Super Light Type
LL: Little Light Type
L: Light Type
LM: Medium Light type
M: Medium type
HM: Medium Heavy type
HH: Little Heavy Type
EH: Super Heavy type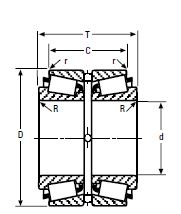 SIZE(mm)
WEIGHT(kg)
ITEM NO.: LL582949/LL582910
LOAD RATING(KN)
d
D
B
REFERENCE
Cone
Cup
Cor
Cr
736.6
825.5
114.3
70
LL582949
LL582910
3500
1450
Technical Data for GJP Lage Bearing LL582949/10
Bearing No.: Large Size Tapered Roller Bearing LL582949/LL582910
Material For Bearing: 100% Chrome Steel material(Gcr15)
Material For Steel Ball: Chrome Steel Material Gcr15
Cage Material: 08AL Steel Plate.
Spacer Material: #40 or #45 Steel.
Sealing Type: N/M
Grease: Anti-Rusty Oil
Bearing Race and Steel Ball Hardness: HRC59 to HRC60
Bearing Precision: Abec-3
Quality Control: Under ISO: 9001: 2008 Certificate
Package: 2pcs Packed in one GJP wooden carton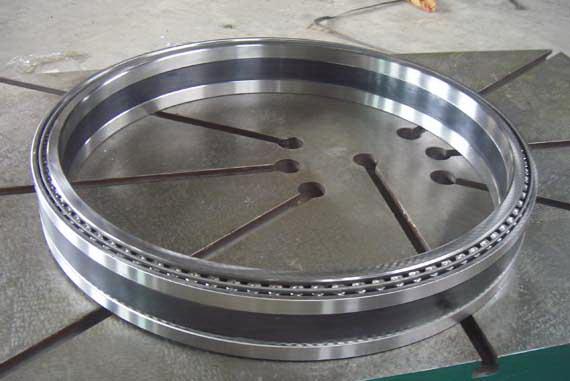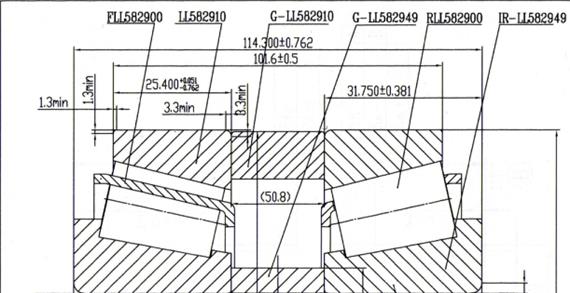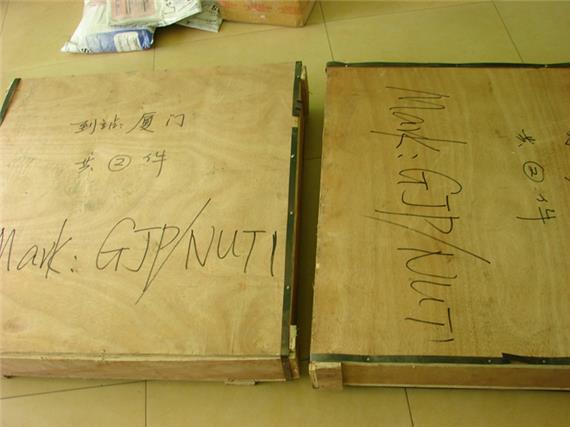 GJP provide the belowing inch type Tapered Roller Bearing for our customers also:
| | | | | |
| --- | --- | --- | --- | --- |
| GJP ITEM NO. | d | D | B | Weight(KGS) |
| 02474/20 | 28.575 | 68.262 | 22.225 | 0.4 |
| 02475/20 | 31.75 | 68.262 | 22.225 | 0.37 |
| 07079/196 | 20 | 50.005 | 13.495 | 0.14 |
| 07087/196 | 22.225 | 50.005 | 13.495 | 0.12 |
| 07087X/196 | 22.225 | 50.005 | 13.495 | 0.13 |
| 07093/196 | 23.812 | 50.005 | 13.495 | 0.12 |
| 07096/196 | 25.159 | 50.005 | 13.495 | 0.11 |
| 07097/196 | 25 | 50.005 | 13.495 | 0.11 |
| 07098/196 | 24.981 | 50.005 | 13.495 | 0.11 |
| 07098/204 | 24.981 | 51.994 | 15.011 | 0.014 |
| 07100/196 | 25.4 | 50.005 | 13.495 | 0.11 |
| 07100/204 | 25.4 | 51.994 | 15.011 | 0.14 |
| 07100S/196 | 25.4 | 50.005 | 13.495 | 0.11 |
| 09067/09195 | 19.05 | 49.225 | 18.034 | 0.17 |
| 09081/09195 | 20.625 | 49.225 | 19.845 | 0.17 |
| 11162/300 | 41.275 | 76.2 | 18.009 | 0.33 |
| 11590/20 | 15.875 | 42.862 | 14.862 | 0.1 |
| 13686/20 | 38.1 | 69.012 | 19.05 | 0.296 |
| 13687/20 | 38.1 | 69.012 | 19.05 | 0.29 |
| 14116/276 | 30.226 | 69.012 | 19.845 | 0.36 |
| 14125A/276 | 31.75 | 69.012 | 19.845 | 0.34 |
| 14137A/276 | 34.925 | 69.012 | 19.845 | 0.32 |
| 14138A/274 | 34.925 | 69.012 | 19.845 | 0.326 |
| 14138A/276 | 34.925 | 69.012 | 19.845 | 0.32 |
| 14585/25 | 34.925 | 68.262 | 20.638 | 0.32 |
| 15100/245 | 25.4 | 62 | 19.05 | 0.29 |
| 15101/245 | 25.4 | 62 | 19.05 | 0.29 |
| 15103S/243 | 26.162 | 61.912 | 19.05 | 0.277 |
| 15103S/245 | 26.157 | 62 | 19.05 | 0.279 |
| 15106/245 | 26.988 | 62 | 19.05 | 0.28 |
| 15106/250 | 26.988 | 63.5 | 20.5 | 0.305 |
| 15106/250X | 26.988 | 63.5 | 20.3 | 0.306 |
| 15112/245 | 28.575 | 62 | 19.05 | 0.27 |
| 15113/245 | 28.575 | 62 | 19.05 | 0.27 |
| 15117/245 | 29.987 | 62 | 19.05 | 0.26 |
| 15118/245 | 30.213 | 62 | 19.05 | 0.26 |
| 15120/250 | 30.2 | 63.5 | 20.638 | 0.301 |
| 15123/243 | 31.75 | 61.912 | 19.05 | 0.23 |
| 15123/245 | 31.75 | 62 | 18.161 | 0.23 |
| 15123/250X | 31.75 | 63.5 | 20.638 | 0.264 |
| 15126/245 | 31.75 | 62 | 19.05 | 0.25 |
| 15578/20 | 25.4 | 57.15 | 17.462 | 0.22 |
| 15579X/20 | 26.8 | 57.15 | 17.462 | |
| 15580/20 | 27 | 57.15 | 17.461 | 0.21 |
| 15590/20 | 28.575 | 57.15 | 17.462 | 0.19 |
| 16137/282 | 34.925 | 72 | 19 | 0.38 |
| 16150/282 | 38.1 | 72 | 19 | 0.35 |
| 1755/29 | 22.225 | 56.896 | 19.368 | 0.24 |
| 17580/20 | 15.875 | 42.862 | 16.67 | 0.11 |
| 1779/29 | 23.812 | 56.896 | 19.367 | 0.24 |
| 17887/31 | 45.23 | 79.985 | 19.842 | 0.41 |
| 18590/20 | 41.275 | 73.025 | 16.667 | 0.27 |
| 23100/23256 | 25.4 | 65.088 | 22.225 | 0.36 |
| 24780/20 | 41.275 | 76.2 | 22.25 | 0.41 |
| 24780/21 | 41.275 | 76.2 | 25.4 | 0.468 |
| 25570/20 | 36.512 | 82.931 | 23.812 | 0.65 |
| 25572/20 | 38.1 | 82.931 | 23.812 | 0.64 |
| 25577/20 | 42.875 | 82.931 | 23.812 | 0.58 |
| 25577/21 | 42.875 | 83.058 | 23.812 | 0.58 |
| 25577/22 | 42.875 | 83.058 | 23.876 | 0.58 |
| 25577/23 | 42.875 | 82.931 | 26.988 | 0.626 |
| 25578/20 | 42.862 | 82.931 | 23.812 | 0.58 |
| 25580/20 | 44.45 | 82.931 | 23.812 | 0.55 |
| 25581/20 | 44.45 | 82.931 | 23.812 | 0.56 |
| 25581/21 | 44.45 | 83.058 | 23.812 | 0.563 |
| 25590/20 | 45.618 | 82.931 | 23.812 | 0.54 |
| 25590/21 | 45.618 | 83.058 | 23.812 | 0.53 |
| 25590/22 | 45.618 | 83.058 | 23.877 | 0.54 |
| 25590/23 | 45.618 | 82.931 | 26.988 | 0.58 |
| 2580/20 | 31.75 | 66.421 | 25.4 | 0.41 |
| 2580/23 | 31.75 | 69.85 | 23.812 | 0.451 |
| 2585/20 | 33.338 | 66.421 | 25.4 | 0.39 |
| 25877/20 | 34.925 | 73.025 | 23.812 | 0.46 |
| 25877/21 | 34.925 | 73.025 | 23.812 | 0.46 |
| 25880/21 | 36.487 | 73.025 | 23.812 | 0.45 |
| 26884/23 | 42.875 | 76.2 | 25.4 | 0.473 |
| 27687/20 | 82.55 | 125.412 | 25.4 | 1.04 |
| 2780/20 | 36.487 | 76.2 | 23.812 | 0.52 |
| 2785/20 | 33.338 | 76.2 | 23.812 | 0.55 |
| 2788/20 | 38.1 | 76.2 | 23.812 | 0.49 |
| 2788/29 | 38.1 | 76.2 | 23.812 | 0.5 |
| 27880/20 | 38.1 | 80.035 | 24.608 | 0.56 |
| 2789/20 | 39.688 | 76.2 | 23.812 | 0.47 |
| 2789/29 | 39.688 | 76.2 | 23.812 | 0.482 |
| 2790/20 | 33.338 | 76.2 | 23.812 | 0.55 |
| 2793/20 | 34.925 | 76.2 | 23.812 | 0.53 |
| 2796/20 | 34.925 | 76.2 | 23.812 | 0.53 |
| 28580/21 | 50.8 | 92.075 | 24.608 | 0.69 |
| 28584/21 | 52.388 | 92.075 | 24.608 | 0.66 |
| 28678/22B | 50.8 | 97.63 | 24.608 | 0.865 |
| 28680/22 | 55.562 | 97.63 | 24.608 | 0.75 |
| 28682/22 | 57.15 | 97.63 | 24.608 | 0.73 |
| 2878/20 | 34.925 | 73.025 | 22.225 | 0.43 |
| 28985/20 | 60.325 | 101.6 | 25.4 | 0.79 |
| 28995/21 | 62.738 | 100 | 25.4 | 0.75 |
| 29585/20 | 63.5 | 107.95 | 25.4 | 0.91 |
| 29586/20 | 63.5 | 107.95 | 25.4 | 0.92 |
| 29590/20 | 66.675 | 107.95 | 25.4 | 0.84 |
| 29675/20 | 69.85 | 112.712 | 25.4 | 0.95 |
| 29685/20 | 73.025 | 112.712 | 25.4 | 0.88 |
| 33275/462 | 69.85 | 117.475 | 30.162 | 1.25 |
| 33275/472 | 69.85 | 120 | 30.162 | 1.33 |
| 33281/462 | 71.438 | 117.475 | 30.162 | 1.18 |
| 33281/472 | 71.438 | 117.475 | 30.162 | 1.18 |
| 33287/462 | 73.025 | 117.475 | 30.162 | 1.17 |
| 33287/472 | 73.025 | 120 | 29.794 | 1.26 |
| 3379/20 | 34.925 | 80.167 | 29.37 | 0.71 |
| 33885/22 | 44.45 | 95.25 | 27.783 | 0.98 |
| 33889/21 | 50.8 | 95.25 | 27.783 | 0.85 |
| 33889/22 | 50.8 | 95.25 | 27.783 | |
| 33895/22 | 53.975 | 95.25 | 27.783 | 0.79 |
| 3490/20 | 38.1 | 79.375 | 29.37 | 0.65 |
| 3577/20 | 41.275 | 84.138 | 30.162 | 0.68 |
| 3579/25 | 42.862 | 87.312 | 30.162 | 0.79 |
| 3585/25 | 41.275 | 87.312 | 30.162 | 0.82 |
| 368/362 | 50.8 | 90.2 | 20 | 0.562 |
| 368/362A | 50.8 | 88.9 | 20.638 | 0.519 |
| 368/362X | 50.8 | 90 | 22.23 | 0.595 |
| 368A/362A | 50.8 | 88.9 | 20.638 | 0.5 |
| 368S/362A | 51.592 | 88.9 | 20.638 | 0.49 |
| 3776/20 | 44.983 | 93.264 | 30.162 | 0.94 |
| 3780/20 | 50.8 | 93.264 | 30.162 | 0.84 |
| 3782/20 | 44.45 | 93.264 | 30.162 | 0.95 |
| 3782/30 | 44.45 | 93.264 | 30.162 | 0.956 |
| 385A/382A | 50.8 | 96.838 | 21 | 0.67 |
| 387/382 | 57.15 | 98.425 | 21 | 0.649 |
| 3872/20 | 34.925 | 85.725 | 30.162 | 0.9 |
| 3877/20 | 41.275 | 85.725 | 30.162 | 0.82 |
| 387A/382 | 57.15 | 98.425 | 21 | 0.62 |
| 387A/382A | 57.15 | 96.838 | 21 | 0.57 |
| 387A/382S | 57.15 | 96.838 | 25.4 | 0.64 |
| 387AS/382A | 57.15 | 96.838 | 21 | 0.56 |
| 390/394A | 57.15 | 110 | 22 | 0.93 |
| 39580/20 | 57.15 | 112.712 | 30.162 | 1.37 |
| 39580/28 | 57.15 | 119.985 | 32.75 | 1.74 |
| 39581/20 | 57.15 | 112.712 | 30.162 | 1.33 |
| 39585/20 | 63.5 | 112.712 | 30.162 | 1.22 |
| 39590/20 | 66.675 | 112.712 | 30.162 | 1.13 |
| 395A/394A | 66.675 | 110 | 22 | 0.79 |
| 395S/394A | 66.675 | 110 | 22 | 0.78 |
| 3982/20 | 63.5 | 112.712 | 30.162 | 1.22 |
| 3984/20 | 66.675 | 112.712 | 30.162 | 1.14 |
| 3994/20 | 66.675 | 112.712 | 30.162 | 1.15 |
| 418/414 | 38.1 | 88.5 | 26.988 | 0.82 |
| 42368/584 | 93.662 | 148.43 | 28.575 | 1.77 |
| 42381/42584 | 96.838 | 148.43 | 28.575 | 1.66 |
| 4395/35 | 42.07 | 90.488 | 39.688 | 1.21 |
| 44162/348 | 41.275 | 88.5 | 25.4 | 0.67 |
| 45290/20 | 57.15 | 104.775 | 30.162 | 1.08 |
| 45291/20 | 57.15 | 104.775 | 30.162 | 1.05 |
| 462/453X | 57.15 | 104.775 | 30.162 | 1.04 |
| 469/453X | 57.15 | 104.775 | 30.162 | 1.03 |
| 47490/20 | 71.438 | 120 | 32.545 | 1.41 |
| 47679/20 | 76.2 | 133.35 | 33.38 | 1.9 |
| 47686/20 | 82.55 | 133.35 | 33.338 | 1.69 |
| 47687/20 | 82.55 | 133.35 | 33.338 | 1.66 |
| 482/472 | 69.85 | 120 | 29.794 | 1.3 |
| 484/472 | 70 | 120 | 29.794 | 1.3 |
| 495/493 | 82.55 | 136.525 | 30.162 | 1.6 |
| 495A/493 | 76.2 | 136.525 | 30.162 | 1.82 |
| 496/493 | 80.962 | 136.525 | 30.162 | 1.65 |
| 497/493 | 85.725 | 136.525 | 30.162 | 1.5 |
| 55200C/55437 | 50.8 | 111.125 | 30.162 | 1.36 |
| 55212C/55437 | 53.975 | 111.125 | 30.162 | 1.34 |
| 555S/552A | 57.15 | 123.825 | 38.1 | 2.17 |
| 567/563 | 73.025 | 127 | 36.512 | 1.79 |
| 57410S/LM29710 | 38.1 | 65.088 | 18.034 | 0.242 |
| 57414/LM300811 | 41 | 68 | 17.5 | 0.243 |
| 575/572 | 76.2 | 139.992 | 36.512 | 2.37 |
| 575/572X | 76.2 | 139.7 | 36.512 | 2.39 |
| 576/572 | 73.025 | 139.992 | 36.512 | 2.47 |
| 580/572 | 82.55 | 139.992 | 36.512 | 2.14 |
| 582/572 | 82.55 | 139.992 | 36.512 | 2.1 |
| 593/592A | 88.9 | 152.4 | 39.688 | 2.73 |
| 594/592A | 95.25 | 152.4 | 39.688 | 2.47 |
| 594A/592A | 95.25 | 152.4 | 39.688 | 2.47 |
| 598A/592A | 92.075 | 152.4 | 39.688 | 2.57 |
| 598A/593X | 92.075 | 150 | 35.992 | 2.27 |
| 6461A/6420 | 76.2 | 149.225 | 53.975 | 4.15 |
| 65237/500B | 60.325 | 127 | 16.67 | 3.58 |
| 663/652 | 82.55 | 152.4 | 41.275 | 3.12 |
| 663/653 | 82.55 | 146.05 | 41.275 | 2.75 |
| 665/653 | 85.725 | 146.05 | 41.275 | 2.61 |
| 72212C/72487 | 53.975 | 123.825 | 36.512 | 2.12 |
| 72218C/72487 | 55.562 | 123.825 | 36.512 | 2.08 |
| 740/742 | 80.962 | 150.089 | 44.45 | 3.39 |
| 748S/742 | 76.2 | 150.089 | 44.45 | 3.62 |
| 749/742 | 85.026 | 150.089 | 44.45 | 3.21 |
| 749A/742 | 82.55 | 150.089 | 44.45 | 3.33 |
| 759/752 | 88.9 | 161.925 | 47.625 | 4.06 |
| A6075/A6157 | 19.05 | 39.992 | 12.014 | 0.07 |
| A6075/A6162 | 19.05 | 41.275 | 11.905 | 0.07 |
| HM212047/11 | 63.5 | 122.238 | 38.1 | 1.91 |
| HM212049/10 | 66.675 | 122.238 | 38.1 | 1.85 |
| HM212049/11 | 66.675 | 122.238 | 38.1 | 1.84 |
| HM218238A/10AW | 79.974 | 146.975 | 40 | 2.78 |
| HM218248/10 | 89.974 | 146.975 | 40 | 2.36 |
| HM220149/10 | 99.974 | 156.975 | 42 | 2.75 |
| HM518445/10 | 88.9 | 152.4 | 39.688 | 2.886 |
| HM803146/10 | 41.275 | 88.9 | 30.162 | 0.89 |
| HM803149/10 | 44.45 | 88.9 | 30.162 | 0.84 |
| HM804843/10 | 44.45 | 95.25 | 30.162 | 1.01 |
| HM807040/10 | 44.45 | 104.775 | 36.512 | 1.62 |
| HM807046/10 | 50.8 | 104.775 | 36.512 | 1.49 |
| HM807049/10 | 53.975 | 104.775 | 36.512 | 1.41 |
| HM813841/10 | 60.35 | 127 | 36.512 | 2.21 |
| HM88649/10 | 34.925 | 72.233 | 25.4 | 0.5 |
| HM89446/10 | 34.925 | 76.2 | 29.37 | 0.64 |
| HM903249/10 | 44.45 | 95.25 | 30.958 | 1 |
| HM911242/10 | 53.975 | 130.175 | 36.512 | 2.22 |
| J15585/15520 | 28 | 57.15 | 17.462 | 0.21 |
| JL22349/10-P | 22 | 41 | 14.4 | 0.082 |
| JL68145/11Z | 35 | 60 | 15.875 | 0.188 |
| JL69345/10Z | 38 | 63 | 19 | 0.2 |
| JL69349/10 | 38 | 63 | 17 | 0.19 |
| JL819349/10 | 95 | 135 | 20 | 0.87 |
| JLM104947A/10 | 50 | 82 | 21.5 | 0.434 |
| JLM104948/10 | 50 | 82 | 21.5 | 0.41 |
| JLM104948/11 | 50 | 82.55 | 21.115 | 0.424 |
| JLM506849/10 | 55 | 90 | 23 | 0.55 |
| JM205149/10 | 50 | 90 | 28 | 0.753 |
| JM207049/10 | 55 | 95 | 29 | 0.84 |
| JM714249/10 | 75 | 120 | 31 | 1.3 |
| L44642L/10 | | | | |
| L44643/10 | 25.4 | 50.292 | 14.224 | 0.129 |
| L44643L/10 | | | | 0.13 |
| L44649/10 | 26.988 | 50.292 | 14.224 | 0.11 |
| L45449/10 | 29 | 50.292 | 14.224 | 0.11 |
| L610549/10 | 63.5 | 94.458 | 19.05 | 0.45 |
| L68149/10 | 35 | 59.131 | 15.878 | 0.18 |
| L68149/11 | 35 | 60 | 15.875 | 0.718 |
| LM102949/10 | 45.242 | 73.431 | 19.558 | 0.31 |
| LM104949/10 | 50.8 | 82 | 21.976 | 0.418 |
| LM104949/11 | 50.8 | 82.55 | 21.59 | 0.42 |
| LM104949/12 | 50.8 | 82.931 | 21.59 | 0.42 |
| LM11749/10 | 17.462 | 39.878 | 13.843 | 0.08 |
| LM11949/10 | 19.05 | 45.237 | 15.494 | 0.12 |
| LM12748/10 | 21.43 | 45.237 | 15.494 | 0.121 |
| LM12749/10 | 22 | 45.237 | 15.494 | 0.12 |
| LM12749/11 | 22 | 45.974 | 15.494 | 0.12 |
| LM29748/10 | 38.1 | 65.088 | 18.034 | 0.22 |
| LM29749/10 | 38.1 | 65.088 | 18.034 | 0.22 |
| LM29749/11 | 38.1 | 65.088 | 19.812 | 0.24 |
| LM300849/11 | 41 | 68 | 17.5 | 0.25 |
| LM48548/10 | 34.925 | 65.088 | 18.034 | 0.26 |
| LM48548/11A | 34.925 | 65.088 | 21.082 | 0.283 |
| LM501349/10 | 41.275 | 73.431 | 19.588 | 0.32 |
| LM501349/11 | 41.275 | 73.431 | 19.558 | 0.328 |
| LM501349/14 | 41.275 | 73.431 | 21.43 | 0.34 |
| LM503349/10 | 45.987 | 74.956 | 18 | 0.3 |
| LM603049/11 | 45.242 | 77.778 | 19.842 | 0.36 |
| LM603049/12 | 45.242 | 77.778 | 21.43 | 0.37 |
| LM603049A/14 | 45.242 | 80 | 19.842 | 0.39 |
| LM67048/10 | 31.75 | 59.131 | 15.875 | 0.17 |
| LM67049A/10 | 31.75 | 59.131 | 15.875 | 0.183 |
| LM72849/10 | 22.606 | 47 | 15.5 | 0.12 |
| LM78349/10A | 35 | 62 | 16.7 | 0.19 |
| M12649/10 | 21.43 | 50.005 | 17.526 | 0.16 |
| M802048/11 | 41.275 | 82.55 | 26.543 | 0.62 |
| M84548/10 | 25.4 | 57.15 | 19.431 | 0.23 |
| M86649/10 | 30.162 | 64.292 | 21.433 | 0.33 |
| M88046/10 | 31.75 | 68.262 | 22.225 | 0.4 |
| M88048/10 | 33.338 | 68.262 | 22.225 | 0.37 |
| U298/U261L | | | | |
| U399/U360L | | | | |
| U399/U365L | | | | |
| U497/U490L | | | | |