Description-GJP Adjustable Take Up Mounted Unit Bearing & Frame Assemblies
GJP Premium quality adjustable Take Up Bearing and Frame Assemblies are design for saving customers'mounting time and it comes with one Cast Iron or Stainless Steel material housing unit and one Pressed Steel or Stainless Steel Take-Up Frame, and with one adjusting screw, nut etc., the Take-Up Frame could be adjustable through the screw according to the application, and GJP use the Electrophoretic treatment or Phosphating and blackening treatment on the surface of pressed steel frame, which makes GJP's products with better anti-rusty capacity, it is suitable for application to adjust guided shaft position, such as by adjusting belt tension for a conveyor. The one-piece cast iron or stainless steel take-up unit housing that fit in the take-up frame side through Take up bearing slot, and rails to allow movement within the frame and a center-pull threaded rod positions the bearing and locks it in place.
Mounted bearings combine a bearing mounted inside a take up housing. The bearing housing replaces the need for a casting or weldment to position the bearing securely for reliable operation, and its design determines the type of insert bearing. Insert bearings use rolling elements (ball, cylindrical, spherical, barrel, needle, spindled, or tapered) to maintain the separation between moving parts to less rotational friction, and support radial and axial loads. Available in a variety of materials and mounting configurations, mounted bearings can be one- or two-piece, they can have an extended inner ring and locking device, and they can have seals and end caps that retain lubrication and protect the working parts of the bearing from environmental debris. Mounted bearings support shafts in a variety of mounting configurations (flange block, hanger, pillow block, and take-up block)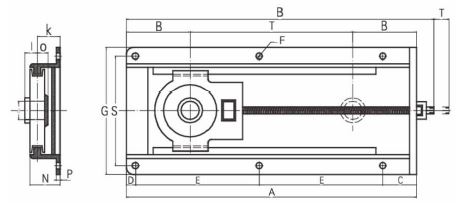 There are many benefits if our customers use this bearing unit on their machine:
1) Easy and convenient assembly, by using our products, customer could save less than 70% assembly cost.
2) Beautiful outlooking, small volumn occupy, which improve end users machinery appearance.
3) High quality Steel plate stamping integrated bending and stretching forming, excellent steel property and High strength and good corrosion resistance
4) GJP take up bearing frame are widely used on conveyor industry, transmission line and Idler Adjustment.
ITEM
d
A
B
C
D
E
F
G
J
K
N
O
P
S
T
Kg
UCT-HT204
20
380
80
60
20
120
11
194
320
18.3
28
45
12.7
5
154
160
4.4
UCT-HT205
25
19.7
14.3
4.4
UCT-HT206
30
480
95
64
20
158
11
206
400
22.2
32
45
15.9
5
165
210
6.2
UCT-HT207
35
25.4
17.5
6.5
UCT-HT208
40
600
105
58
22
220
13
234
520
30.2
32
50
19.0
5
190
310
10.9
UCT-HT209
45
30.2
19.0
10.8
UCT-HT210
50
32.6
19.0
11.0
UCT-HT211
55
680
125
55
25
250
15
284
580
33.4
45
70
22.2
6
240
330
20.4
UCT-HT212
60
39.7
25.4
21.3
UCT-HT213
65
790
155
66
22
306
18
303
700
39.7
51
75
25.4
6
258
390
28.3
UCT-HT214
70
44.4
30.2
28.1
UCT-HT215
75
44.5
33.3
28.7
UCT-HT216
80
890
165
75
25
230
18
336
790
49.3
62
90
33.3
10
286
460
38.2
UCT-HT217
85
920
180
75
25
240
18
361
820
51.6
62
100
34.1
10
311
460
44.0