Description-60MM Bore Pillow Block Bearing For Pressure Filter UCP212
GJP Bar Code Number: 6935329802353
GJP 60mm Pillow Block Bearing For Pressure Filter UCP212, which has grease fitting and cap on 45 degree angle, and the insert bearing has a wide inner ring with two set screws for locking on the shaft, bearing insert and housing are normally assemblied with J7 tight fitting, this items are widely used.
The pillow block bearing for pressure filter produced by our company is affordable, and uses high-quality raw materials, product quality and assurance. If you want to know more about pillow block bearing for pressure filter, welcome to consult us.
Interchange
GJP: UCP212
AMI: UCP212
IPTCI: UCP212
NSK: UCP212
Peer: FHSP212G
Fafnir: RASC-60
Fafnir: YAS-60
RHP: NP-60
SKF: SY 60 TF

Basic Dimensions

Bore Size

Center Shaft to Base Size

Housing Length

Center Bolt to Bolt Size

Housing Width

Housing Bolt Length

Housing Bolt Width

Housing Height

Bolt Size

60MM

69.8MM

241MM

187MM

70MM

25MM

20MM

138MM

M16
Technical Data for GJP UCP212
Housing No.: P212
Bearing Insert No.: UC212
Material For Bearing Insert: 100% Chrome Steel Gcr15(AISI 52100)
Grade For Steel Ball: G10 Grade Chrome Steel Ball.
Materia of Bearing Cage: #10 Steel
Stopping Pin Material on OD of OR: Chrome Steel Gcr15
Sealing Type: F Seal, L3 Seal And Normal NBR Seal are available for customers'selection.
Set Screw Material: 35CrMo
Grease: 20% to 50% Mobil Grease
Set Screw Surrounding Hardness: HRC49 to HRC 50
Bearing Race and Steel Ball Hardness: HRC59 to HRC62
Bearing Housing Material: HT200 Grey Cast Iron
Housing Color: Green, Blue, Grey, Black Color available.
Whole Unit Assembly Type: J7 Tight Fitting
Housing Weight: 2.8KGS
Quality Control: Under ISO: 9001: 2008 Certificate
Package: 1*1 Single GJP poly bag+1*1 Single GJP color box+1*1 GJP outer carton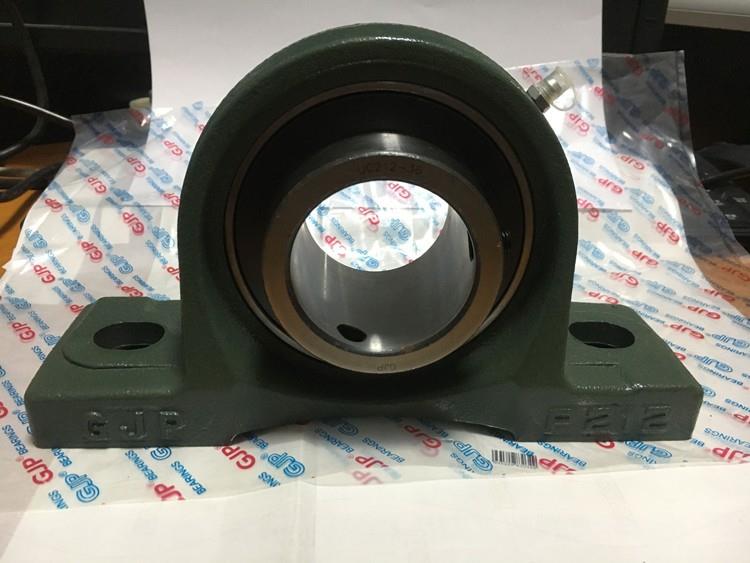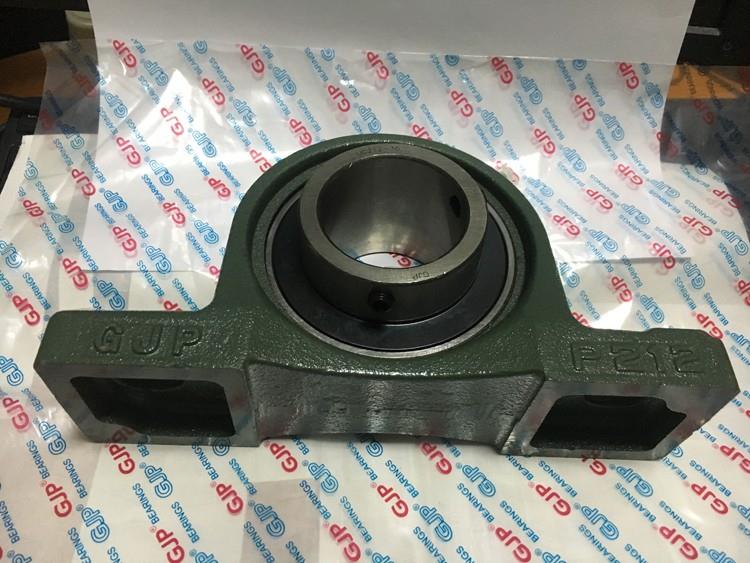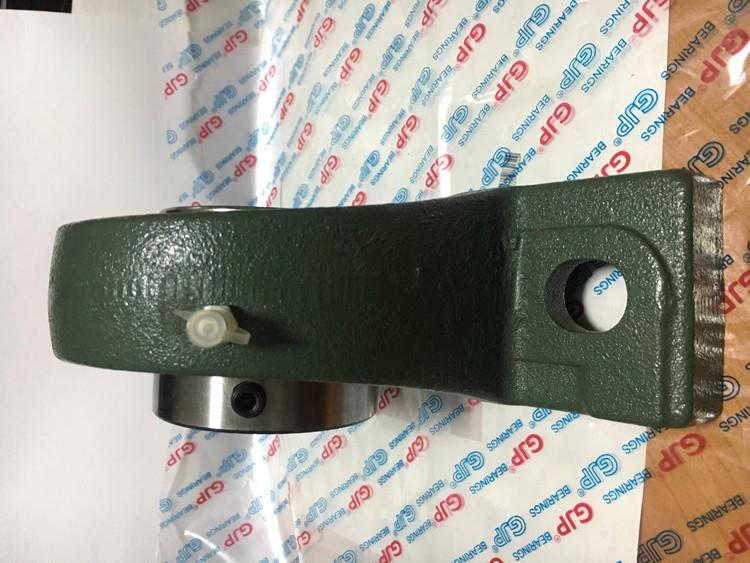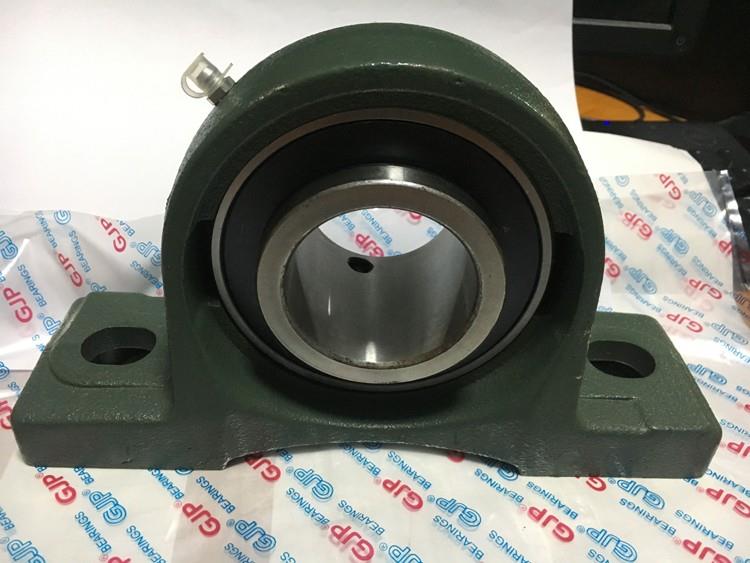 GJP advantage:
GJP ensurew our products with no lead containing and with no harmful substance in pallets(we would provide fumigated treatment if wood pallet is shipped), and in order to provide safe-packing and make sure the pallet is not damaged during transportation, GJP would tighten again around the applet with the packing rope.
GJP could produce the belowing UKP series Pillow Block Bearing sets also:
GJP   Unit No.
Shaft   No.
Dimensions(mm)
Bolt Size
Bearing No.
Housing No.
Mass(kg)
d
H
L
J
A
N
N1
H1
H0
S
B
(in.)
(mm)
UKP202
15
30.2
127
96
37
13
19
147
60.7
12.7
31
M10
UK202
P203
0.65
UKP202-10
  5/8
30.2
127
96
37
13
19
14
60.7
12.7
31
M10
UK202-10
P203
0.65
UKP203
17
30.2
127
96
37
13
19
14
60.7
12.7
31
M10
UK203
P203
0.65
UKP203-11
 11/16
30.2
127
96
37
13
19
14
60.7
12.7
31
M10
UK203-11
P203
0.65
UKP204-12
  3/4
33.3
127
96
37
13
16
14
63.8
12.7
31
M10
UK204-12
P204
0.65
UKP204
20
33.3
127
96
37
13
16
14
63.8
12.7
31
M10
UK204
P204
0.65
UKP205-14
  7/8
36.5
140
105
8
13
19
15
69.5
14.3
34
M10
UK205-14
P205
0.72
UKP205-15
 15/16
36.5
140
105
38
13
19
15
69.5
14.3
34
M10
UK205-15
P205
0.72
UKP205
25
36.5
140
105
38
13
19
15
69.5
14.3
34
M10
UK205
P205
0.72
UKP205-16
1
36.5
140
105
38
13
19
15
69.5
14.3
34
M10
UK205-16
P205
0.72
UKP206-18
1  1/8
42.9
160
121
44
14
19
16
82
15.9
38.1
M12
UK206-18
P206
1.15
UKP206
30
42.9
160
121
44
14
19
16
82
15.9
38.1
M12
UK206
P206
1.15
UKP206-19
1  3/16
42.9
160
121
44
14
19
16
82
15.9
38.1
M12
UK206-19
P206
1.15
UKP206-20
1  1/4
42.9
160
121
44
14
19
16
82
15.9
38.1
M12
UK206-20
P206
1.15
UKP207-20
1  1/4
47.6
167
126
48
15
19
17
92
17.5
42.9
M12
UK207-20
P207
1.53
UKP207-21
1  5/16
47.6
167
126
48
15
19
17
92
17.5
42.9
M12
UK207-21
P207
1.53
UKP207-22
1  3/8
47.6
167
126
48
15
19
17
92
17.5
42.9
M12
UK207-22
P207
1.53
UKP207
35
47.6
167
126
48
15
19
17
92
17.5
42.9
M12
UK207
P207
1.53
UKP207-23
1  7/16
47.6
167
126
48
15
19
17
92
17.5
42.9
M12
UK207-23
P207
1.53
UKP208-24
1  1/2
49.2
180
136
52
15
21
18
98
19
49.2
M12
UK208-24
P208
1.88
UKP208-25
1  9/16
49.2
180
136
52
15
21
18
98
19
49.2
M12
UK208-25
P208
1.88
UKP208
40
49.2
180
136
52
15
21
18
98
19
49.2
M12
UK208
P208
1.88
UKP209-26
1  5/8

<td style="border-top: none; borde