Description-35MM shaft size Pillow Block Bearing For Drilling Machine UKP208+H2308
GJP Bar Code Number: 6935329800816
GJP 40mm bore Metric Pillow Block Bearing For Drilling Machine UKP208 With H2308, it is one of Pillow Block Bearing unit with tapered Bore(1: 12 taper)and adapter and sleeve attached in the bearings, this completed product utilize adapter sleeves to produce a firm and concentric lock on the shaft. They are great for high speed operation as well as reversing and indexing applications. Bearings are double sealed in both sides, self-aligning by up to three degrees, and re-lubrication for easy maintenance. Adapter sleeve assemblies in various bore sizes are available separately.this GJP UKP208 with adapter H2308 always carry light loading.
UKP208 are widely used on milling machine, drilling machine, boring machine, grinder, banknote machine, teller machine.
As the core components of the machine tool spindle and turntable, the bearing for drilling machine plays an important role in the operation performance of the machine tool. As a key component of the machine tool, the performance of the bearing for drilling machine will directly affect the rotation accuracy, speed, rigidity, temperature rise and noise of the machine tool and other parameters, thereby affecting the processing quality of the workpiece. In order to maintain excellent machine tool processing capability, high-performance bearings must be used.
Interchange
GJP: UKP208+H2308
AMI: UKP208+HS2308
FYH: UKP208+H2308
IPTCI: UKP208+H2308
NSK: UKP208+H2308
Peer: UKP208+H2308
NTN: UKP208D1+H2308
SKF: UKP208+H2308

Basic Dimensions

Bore Size

Center Shaft to Base Size

Housing Length

Center Bolt to Bolt Size

Housing Width

Housing Bolt Length

Housing Bolt Width

Housing Height

Bolt Size

40MM

1 15/16″

7 1/4″

5 13/32″

2 1/8″

25/32″

43/64″

3 15/16″

1/2″
Technical Data for GJP UKP208+H2308
Type: Pillow Block Mounted Unit With Adapter and Sleeves
Housing No.: P208
Bearing Insert No.: UK208
Material For Bearing Insert: 100% Chrome Steel Gcr15(AISI 52100)
Grade For Steel Ball: G10 Grade Chrome Steel Ball.
Materia of Bearing Cage: #10 Steel
Stopping Pin Material on OD of OR: Chrome Steel Gcr15
Sealing Type: F Seal, L3 Seal And Normal NBR Seal are available for customers'selection.
Adapter and Sleeve Material: Q235 steel(A3 steel)
Grease: 20% to 50% Mobil Grease
Bearing Race and Steel Ball Hardness: HRC59 to HRC62
Bearing Housing Material: HT200 Grey Cast Iron
Housing Color: Green, Blue, Grey, Black Color available.
Whole Unit Assembly Type: J7 Tight Fitting
Housing Weight: 1.99KGS
Quality Control: Under ISO: 9001: 2008 Certificate
Package: 1*1 Single GJP poly bag+1*1 Single GJP color box+1*1 GJP outer carton
Basic Loading(Cr): 29.1KN
Basic Loading(Cor): 17.8KN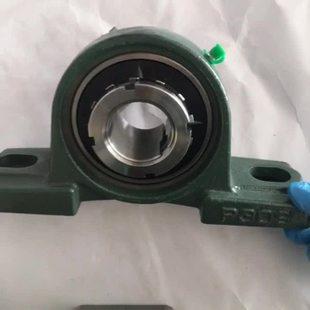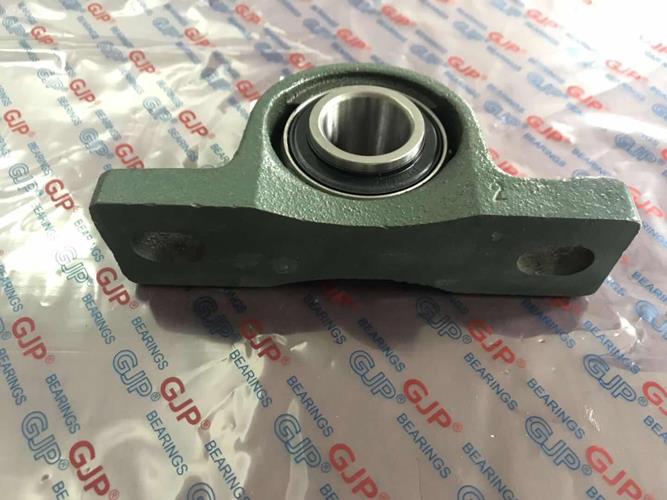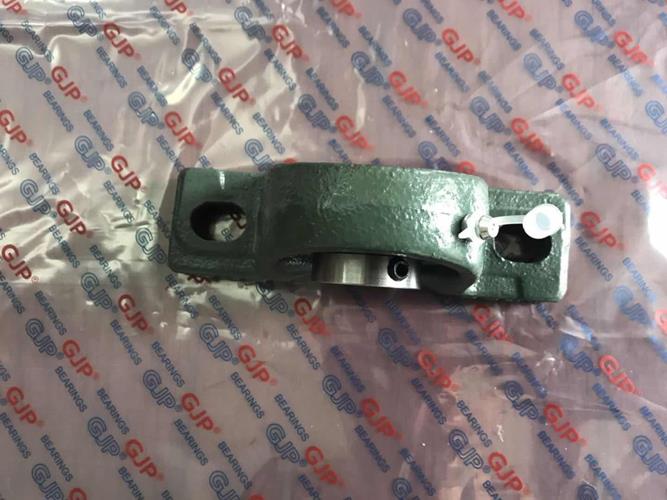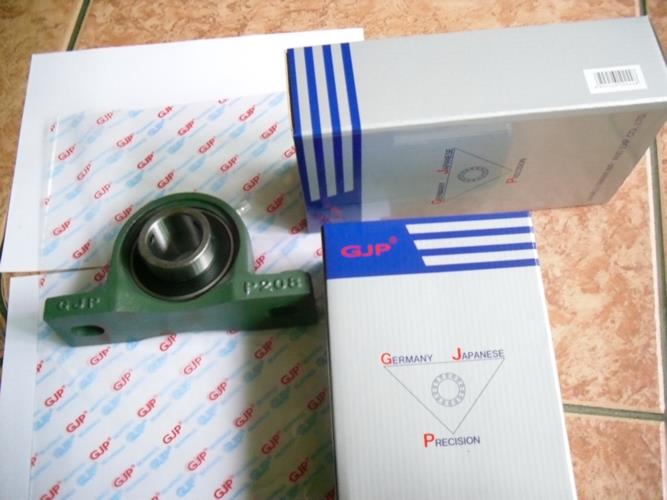 GJP produce also the belowing Two Bolt Housing units:
GJP   Unit No.
Shaft   No.
Dimensions(mm)
Bolt Size
Bearing No.
Housing No.
Mass(kg)
d
H
L
J
A
N
N1
H1
H0
S
B
(in.)
(mm)
UKP202
15
30.2
127
96
37
13
19
147
60.7
12.7
31
M10
UK202
P203
0.65
UKP202-10
  5/8
30.2
127
96
37
13
19
14
60.7
12.7
31
M10
UK202-10
P203
0.65
UKP203
17
30.2
127
96
37
13
19
14
60.7
12.7
31
M10
UK203
P203
0.65
UKP203-11
 11/16
30.2
127
96
37
13
19
14
60.7
12.7
31
M10
UK203-11
P203
0.65
UKP204-12
  3/4
33.3
127
96
37
13
16
14
63.8
12.7
31
M10
UK204-12
P204
0.65
UKP204
20
33.3
127
96
37
13
16
14
63.8
12.7
31
M10
UK204
P204
0.65
UKP205-14
  7/8
36.5
140
105
8
13
19
15
69.5
14.3
34
M10
UK205-14
P205
0.72
UKP205-15
 15/16
36.5
140
105
38
13
19
15
69.5
14.3
34
M10
UK205-15
P205
0.72
UKP205
25
36.5
140
105
38
13
19
15
69.5
14.3
34
M10
UK205
P205
0.72
UKP205-16
1
36.5
140
105
38
13
19
15
69.5
14.3
34
M10
UK205-16
P205
0.72
UKP206-18
1  1/8
42.9
160
121
44
14
19
16
82
15.9
38.1
M12
UK206-18
P206
1.15
UKP206
30
42.9
160
121
44
14
19
16
82
15.9
38.1
M12
UK206
P206
1.15
UKP206-19
1  3/16
42.9
160
121
44
14
19
16
82
15.9
38.1
M12
UK206-19
P206
1.15
UKP206-20
1  1/4
42.9
160
121
44
14
19
16
82
15.9
38.1
M12
UK206-20
P206
1.15
UKP207-20
1  1/4
47.6
167
126
48
15
19
17
92
17.5
42.9
M12
UK207-20
P207
1.53
UKP207-21
1  5/16
47.6
167
126
48
15
19
17
92
17.5
42.9
M12
UK207-21
P207
1.53
UKP207-22
1  3/8
47.6
167
126
48
15
19
17
92
17.5
42.9
M12
UK207-22
P207
1.53
UKP207
35
47.6
167
126
48
15
19
17
92
17.5
42.9
M12
UK207
P207
1.53
UKP207-23
1  7/16
47.6
167
126
48
15
19
17
92
17.5
42.9
M12
UK207-23
P207
1.53
UKP208-24
1  1/2
49.2
180
136
52
15
21
18
98
19
49.2
M12
UK208-24
P208
1.88
UKP208-25
1  9/16
49.2
180
136
52
15
21
18
98
19
49.2
M12
UK208-25
P208
1.88
UKP208
40
49.2
180
136
52
15
21
18
98
19
49.2
M12
UK208
P208
1.88
UKP209-26
1  5/8

<td style="border-top: none;