The pillow block bearing is the most common shape of bearing block with two set screws and is suitable for use in transmissions and general machinery.
In the general industrial field, the housed external spherical bearing is easy to install because it comes with its own housing and the housing has sealed the bearing well, so even people who don't know much about bearings can install the housed external spherical bearing onto the shaft well. The pillow block in a pillow block bearing, also known as a plum block or housing, is a pedestal, consisting of a single row deep groove ball bearing with seals on both sides, a spherical outer surface, and a housing suitable for simple support.
Pillow blocks are used to provide support for rotating shafts with the help of compatible bearings and various accessories. The housing material of the pillow block vertical housing bearing is usually made of cast iron or cast steel, usually with bolts for easy fixing at the place where it should be fixed, as well as slider and frame types, which are fixed by means of clamping, and overhanging and suspension types, usually with threads for easy fixing at the rod end or hanging in the air.
pillow block bearing are used in machinery and equipment, such as agricultural, metallurgical, textile and printing machinery.
Maintenance of 35mm pillow block bearing
1. Cleaning
When removing the bearing for inspection, first make a record of its appearance by taking pictures or other methods. In addition, confirm the amount of remaining lubricant and sample the lubricant before cleaning the bearing.
2. Check
In order to judge whether the disassembled bearing can be used again, it is necessary to focus on checking its standard accuracy, rotation accuracy, internal clearance, and the wear of the matching surface, raceway surface, cage and sealing ring. Regarding the inspection effect, it can be distinguished and judged by the usual bearing or the reasonable user who knows the bearing. In addition, the inspection cycle and detection parameters can be different according to the mechanical function and use of the relevant factors and the importance of the relevant factors. If there is any damage above, the requirements for reuse cannot be met, and the bearing must not be re-used and must be replaced.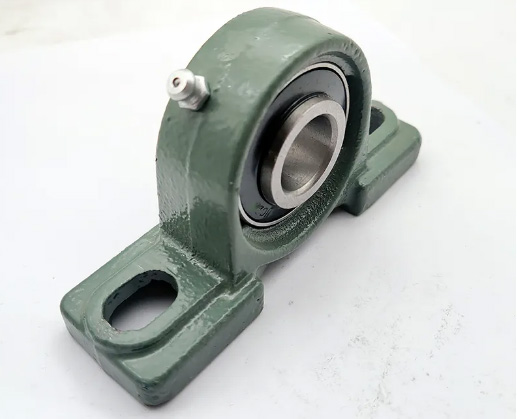 Bearing Unit NO.

Shaft Dia d

Dimensions(mm)

Bolt Used

Bearing No.

Housing No.

HousingWt (kg)

(in)

(mm)

h

a

e

b

s2

s1

g

w

Bi

n

(in)

(mm)

UCPX05-16UCPX05

1

25

44.4

159

119

51

25

17

18

85

38.1

15.9

1/2

M14

UCX05-16UCX05

PX05

1.02

UCPX06-19UCPX06-20UCPX06

1-3/161-1/4

30

47.6

175

127

57

25

17

20

94

42.9

17.5

1/2

M14

UCX06-19UCX06-20UCX06

PX06

1.33

UCPX07-22UCPX07-23UCPX07

1-3/81-7/16

35

54

203

144

57

30

17

22

105

49.2

19

1/2

M14

UCX07-22UCX07-23UCX07

PX07

1.71

UCPX08-24UCPX08

1-1/2

40

58.7

222

156

67

32

20

26

113

49.2

19

5/8

M16

UCX08-24UCX08

PX08

2.09

UCPX09-26UCPX09-27UCPX09-28UCPX09

1-5/81-11/161-3/4

45

58.7

222

156

67

33

20

26

116

51.6

19

5/8

M16

UCX09-26UCX09-27UCX09-28UCX09

PX09

2.3

UCPX10-31UCPX10-32UCPX10

1-15/162

50

63.5

241

171

73

36

20

27

126

55.6

22.2

5/8

M16

UCX10-31UCX10-32UCX10

PX10

2.85

UCPX11-35UCPX11

2-3/16

55

69.8

260

184

79

36

25

30

139

65.1

25.4

3/4

M20

UCX11-35UCX11

PX11

4.04

UCPX12-38UCPX12-39UCPX12

2-3/82-7/16

60

76.2

286

203

83

41

25

32

151

65.1

25.4

3/4

M20

UCX12-38UCX12-39UCX12

PX12

4.85

UCPX13-40UCPX13

2-1/2

65

76.2

286

203

83

41

25

32

154

74.6

30.2

3/4

M20

UCX13-40UCX13

PX13

5

UCPX14-44UCPX14

2-3/4

70

88.9

330

229

89

51

27

35

172

77.8

33.3

7/8

M22

UCX14-44UCX14

PX14

7.12

UCPX15-47UCPX15-48UCPX15

2-15/163

75

88.9

330

229

89

51

27

35

177

82.6

33.3

7/8

M22

UCX15-47UCX15-48UCX15

PX15

6.65

UCPX16-50UCPX16

3-1/8

80

101.6

381

283

102

59

27

42

197

85.7

34.1

7/8

M22

UCX16-50UCX16

PX16

9.5

UCPX17-52UCPX17

3-1/4

85

101.6

381

283

102

59

27

42

202

96

39.7

7/8

M22

UCX17-52UCX17

PX17

10.64

UCPX18-56UCPX18

3-1/2

90

101.6

381

283

111

60

27

45

206

104

42.9

7/8

M22

UCX18-56UCX18

PX18

11.5

UCPX20-63UCPX20-64UCPX20

3-15/164

100

127

432

337

121

64

33

52

250

117.5

49.2

1-1/8

M30

UCX20-63UCX20-64UCX20

PX20

19.76