Description-3/4" Bore UCP204-12 Pillow Block Bearing For Wood Cutting Machine
GJP Bar Code Number: 6935329800588
GJP 3/4″ Inch Pillow Block Bearing For Wood Cutting Machine UCP204-12 with solid base housing and radial insert ball bearing with grub set screw to lock to the shaft. Which is smaller size and has grease zerk on 45 degree angle, and the insert bearing has a wide inner ring with spherical outer diameter, and there are four star seal and with ball point set screw, bearing insert and housing are normally assemblied with J7 tight fitting.
If the pillow block bearing for wood cutting machine can be guaranteed to operate within the normal range, many failures can be reduced in actual processing and production. Regular cleaning of the pillow block bearing for wood cutting machine is an effective way to maintain the equipment, but cleaning Don't do it too often, so as not to cause unnecessary damage. Regular maintenance is mainly to clean the surface, then dry it, and then apply an appropriate amount of lubricating oil on it, so as to ensure smooth operation.
Interchange
GJP: UCP204-12
AMI: UCP204-12
IPTCI: UCP204-12
NSK: UCP204-12
NTN: UCP204-012D1
Peer: FHSP204-12G
Fafnir: RASC-3/4″
Fafnir: YAS-3/4″
RHP: NP-3/4″
SKF: SY 3/4″ TF
Sealmaster: NP-12

Basic Dimensions

Bore Size

Center Shaft to Base Size

Housing Length

Center Bolt to Bolt Size

Housing Width

Housing Bolt Length

Housing Bolt Width

Housing Height

Bolt Size

3/4"

33.3MM

127MM

95MM

38MM

19MM

13MM

65MM

3/8"
Technical Data for GJP UCP204-12
Housing No.: P204
Bearing Insert No.: UC204-12
Material For Bearing Insert: 100% Chrome Steel Gcr15(AISI 52100)
Grade For Steel Ball: G10 Grade Chrome Steel Ball.
Materia of Bearing Cage: #10 Steel
Stopping Pin Material on OD of OR: Chrome Steel Gcr15
Sealing Type: F Seal, L3 Seal And Normal NBR Seal are available for customers'selection.
Set Screw Material: 35CrMo
Grease: 20% to 50% Mobil Grease
Set Screw Surrounding Hardness: HRC49 to HRC 50
Bearing Race and Steel Ball Hardness: HRC59 to HRC62
Bearing Housing Material: HT200 Grey Cast Iron
Housing Color: Green, Blue, Grey, Black Color available.
Whole Unit Assembly Type: J7 Tight Fitting
Housing Weight: 0.46KGS
Quality Control: Under ISO: 9001: 2008 Certificate
Package: 1*1 Single GJP poly bag+1*1 Single GJP color box+1*1 GJP outer carton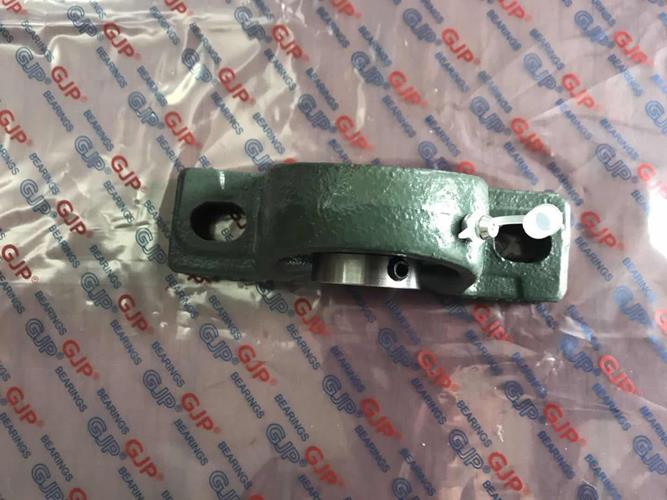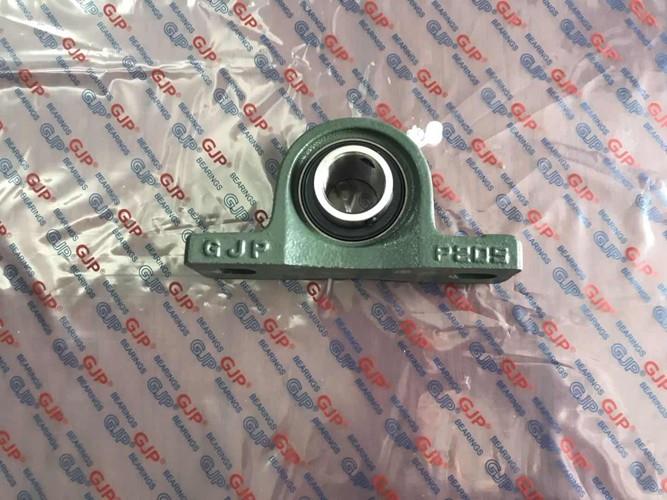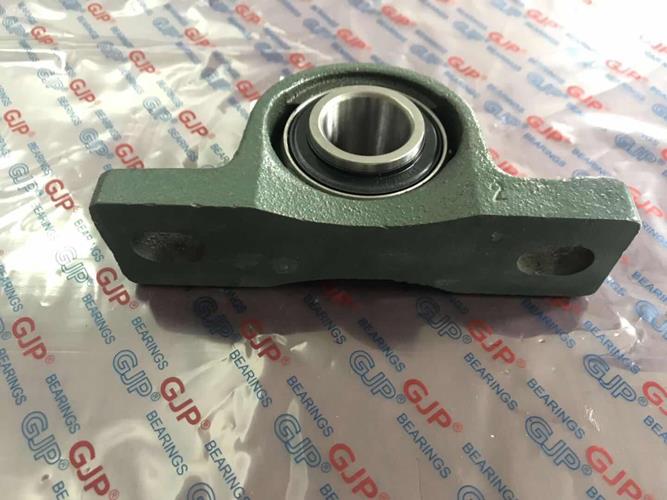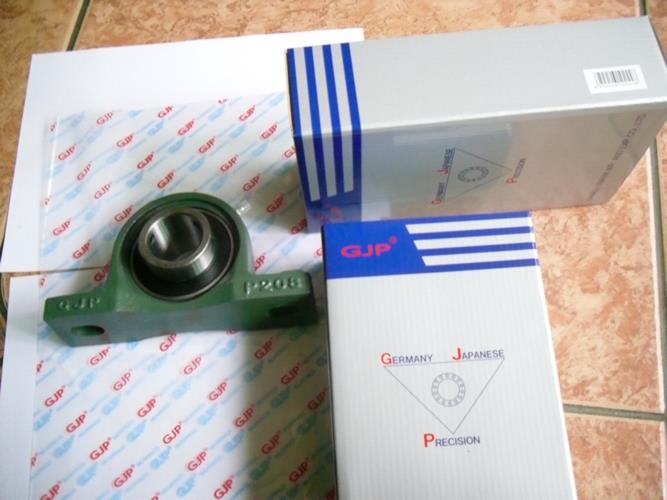 Usuage:
UCP204-12 is widely used in many different fields, like agricultural, automatic gate system etc. and UCP204-12 from GJP company has been exported to more than 40 countries, such as Russia, Australia, USA, UK, Germany, Ukraine, Iran, Romania, Hungary, Mexico, Brazil, Chile, Canada, Spain, Colombia,Kenya, Thailand, Turkey, Germany, France, Middle East, Mexico etc. We have agents in the USA, Kenya, Thailand, France, Vietnan etc, so we can provide high grade service to our clients.
GJP could produce the belowing UCAK series Housing Unit also:
GJP   Unit.No
shaft   Dia.
Dimensions(mm)
Bolt Size
Bearing.No
Housing No.
Mass(kg)
d
H
L
J
A
N
N1
H1
H0
S
B
(in.)
(mm)
 UCAK202
15
31.8
128
98
38
11
14
14
63
12.7
31
M10
UC202
AK204
0.68
 UCAK202-10
  5/8
31.8
128
98
38
11
14
14
63
12.7
31
M10
UC202-10
AK204
0.68
 UCAK203
17
31.8
128
98
38
11
14
14
63
12.7
31
M10
UC203
AK204
0.68
 UCAK203-11
 11/16
31.8
128
98
38
11
14
14
63
12.7
31
M10
UC203-11
AK204
0.68
 UCAK204-12
  3/4
31.8
128
98
38
11
14
14
63
12.7
31
M10
UC204-12
AK204
0.65
 UCAK204
20
31.8
128
98
38
11
14
14
63
12.7
31
M10
UC204
AK204
0.65
 UCAK205-14
  7/8
33.3
140
105
40
11
14
15
66.5
14.3
34
M10
UC205-14
AK205
0.72
 UCAK205-15
 15/16
33.3
140
105
40
11
14
15
66.5
14.3
34
M10
UC205-15
AK205
0.72
 UCAK205
25
33.3
140
105
40
11
14
15
66.5
14.3
34
M10
UC205
AK205
0.72
 UCAK205-16
1
33.3
140
105
40
11
14
15
66.5
14.3
34
M10
UC205-16
AK205
0.72
 UCAK206-18
1  1/8
39.7
160
121
44
14
19
17
79
15.9
38.1
M12
UC206-18
AK206
1.1
 UCAK206
30
39.7
160
121
44
14
19
17
79
15.9
38.1
M12
UC206
AK206
1.1
 UCAK206-19
1  3/16
39.7
160
121
44
14
19
17
79
15.9
38.1
M12
UC206-19
AK206
1.1
 UCAK206-20
1  1/4
39.7
160
121
44
14
19
17
79
15.9
38.1
M12
UC206-20
AK206
1.1
 UCAK207-20
1  1/4
46
167
127
48
14
19
18
91
17.5
42.9
M12
UC207-20
AK207
1.48
 UCAK207-21
1  5/16
46
167
127
48
14
19
18
91
17.5
42.9
M12
UC207-21
AK207
1.48
 UCAK207-22
1  3/8
46
167
127
48
14
19
18
91
17.5
42.9
M12
UC207-22
AK207
1.48
 UCAK207
35
46
167
127
48
14
19
18
91
17.5
42.9
M12
UC207
AK207
1.48
 UCAK207-23
1  7/16
46
167
127
48
14
19
18
91
17.5
42.9
M12
UC207-23
AK207
1.48
 UCAK208-24
1  1/2
49.2
181
140
52
14
19
19
98
19
49.2
M12
UC208-24
AK208
1.88
 UCAK208-25
1  9/16
49.2
181
140
52
14
19
19
98
19
49.2
M12
UC208-25
AK208
1.88
 UCAK208-24
40
49.2
181
140
52
14
19
19
98
19
49.2
M12
UC208

<td style="border-top: none;border-left: none" wid