Description-2 Inch Bore Heavy Duty Pillow Block Bearing For Hvac System HCP211-32
GJP Bar Code Number: 6935329802834
GJP 2″ Heavy Duty Pillow Block Bearing For HVAC system HCP211-32 , it is used when the shaft axis is perpendicular or parallel to the bearing mounting surface. They incorporate a sealed bearing that is preassembled into a P series solid base housing, The housing is available in cast iron, pressed steel, stainless steel and thermoplastic. It contains a precision ground surface perpendicular or parallel to the bearing axis and two mounting holes, The bearing can be unbolted and removed,and with the eccentric locking collar, which makes bearing replacement easier and faster than traditional rotary bearings that must be press fit into a housing, GJP HCP series Pillow Block Bearing can also support heavy loads, which protects the shaft from deflection, which could cause vibration or other damage.
HCP211-32 has the wide application include: Agriculture, Automotive, Construction, Pump, Manufacturing Equipment, Sporting and Consumer Goods, Conveyor and Fan Assemblies, Farm Machinery, HVAC, Feed Mill, Economical housed bearing solution and many other Industrial Equipment.
How to distinguish heavy and light pillow block bearing
In fact, these differences are very obvious. The first is the difference in quality, which is mainly caused by two differences. The first difference is the material. In many cases, the material of a light duty bearing is different from that of a heavy duty pillow block bearing. In order to use different industrial production or processing needs, bearings must have different properties. The material of various bearings is different, in fact, it is for this reason.
Another point is the difference in physical structure, which can be seen intuitively. The structure of different bearings is generally different. This is not only to guide the coordination between the rigidity and the supporting shaft, but also to ensure that users can better meet their own needs during use. Some large bearings need to be used in some high-pressure applications, so a lot of anti-compression measures are added, resulting in this kind of bearing being different from ordinary bearings in physical structure.
If you want to buy heavy duty pillow block bearing for hvac system please contact us.
Interchange
GJP: HCP211-32
AMI: UGP211-32
FYH: NAP211-32
IPTCI: NAP211-32
NSK: HCP211-32
Peer: HCP211-32
NTN: UELP222-200D1
Browning: VPE-232
Dodge: P2B-SXR-200L
Fafnir: RAS 2
Link Belt: P3-Y232N
Seal Master: RP-32E
Turner: HCP211-32
SKF: SY 2 WF

Basic Dimensions
Bore Size
Center Shaft to Base Size
Housing Length
Center Bolt to Bolt Size
Housing Width
Housing Bolt Length
Housing Bolt Width
Housing Height
Bolt Size
1 11/16
63.5MM
219MM
171MM
60MM
25MM
20MM
126MM
5/8″
Technical Data for GJP HCP211-32
Type: Pillow Block Mounted Unit With Eccentric Locking Collar
Housing No.: P211
Bearing Insert No.: HC211-32
Material For Bearing Insert: 100% Chrome Steel Gcr15(AISI 52100)
Grade For Steel Ball: G10 Grade Chrome Steel Ball.
Materia of Bearing Cage: #10 Steel
Stopping Pin Material on OD of OR: Chrome Steel Gcr15
Sealing Type: F Seal, L3 Seal And Normal NBR Seal are available for customers'selection.
Eccentric Locking Collar Material: #45 Carbon Steel
Grease: 20% to 50% Mobil Grease
Set Screw Surrounding Hardness: HRC49 to HRC 50
Bearing Race and Steel Ball Hardness: HRC59 to HRC62
Bearing Housing Material: HT200 Grey Cast Iron
Housing Color: Green, Blue, Grey, Black Color available.
Whole Unit Assembly Type: J7 Tight Fitting
Housing Weight: 6.6KGS
Quality Control: Under ISO: 9001: 2008 Certificate
Package: 1*1 Single GJP poly bag+1*1 Single GJP color box+1*1 GJP outer carton
Basic Loading(Cr): 9780LB
Basic Loading(Cor): 6560LB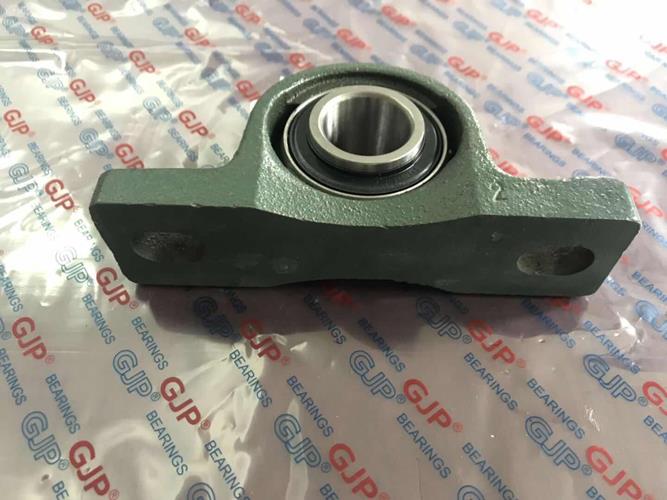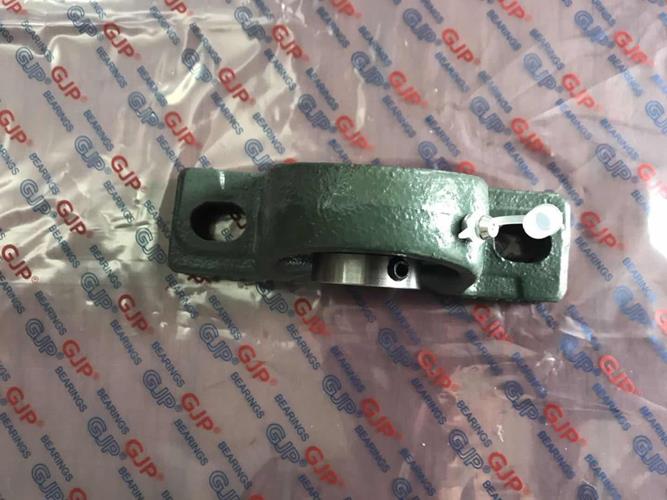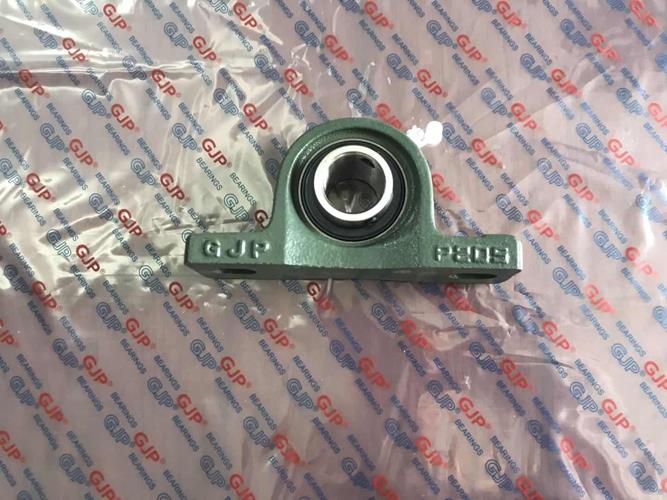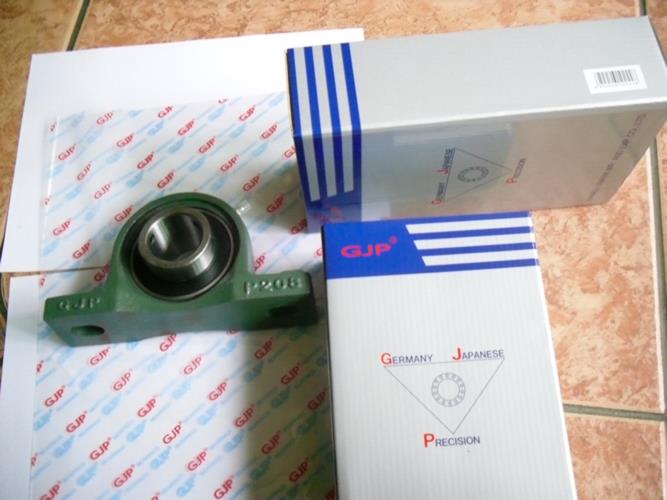 GJP produce for customers the belowing light duty type Bearing unit also:
GJP Unit No.
Shaft Dia (d)
Dimensions(mm)
Bolt Size
Bearing No.
Housing No.
(in)
(mm)
h
a
e
b
s2
s1
g
w
n
Bi
SBLP201-08
1/2
30.2
114
87
25.4
16
11
12
57
6
22
3/8
SB201-08
LP203
SBLP201
12
30.2
114
87
25.4
16
11
12
57
6
22
3/8
SB201
LP203
SBLP202-10
5/8
30.2
114
87
25.4
16
11
12
57
6
22
3/8
SB202-10
LP203
SBLP202
15
30.2
114
87
25.4
16
11
12
57
6
22
3/8
SB202
LP203
SBLP203
17
30.2
114
87
25.4
16
11
12
57
6
22
3/8
SB203
LP203
SBLP204-12
3/4
33.3
125
97
27
16
11
13
65
7
25
3/8
SB204-12
LP204
SBLP204
20
33.3
125
97
27
16
11
13
65
7
25
3/8
SB204
LP204
SBLP205-14
7/8
36.5
130
100
29
16
11
13
71
7.5
27
3/8
SB205-14
LP205
SBLP205-15
15/16
36.5
130
100
29
16
11
13
71
7.5
27
3/8
SB205-15
LP205
SBLP205-16
1
36.5
130
100
29
16
11
13
71
7.5
27
3/8
SB205-16
LP205
SBLP205
25
36.5
130
100
29
16
11
13
71
7.5
27
3/8
SB205
LP205
SBLP206-17
1 1/16
42.9
156
120
33
21
14
14
83
8
30
1/2
SB206-17
LP206
SBLP206-18
1 1/8
42.9
156
120
33
21
14
14
83
8
30
1/2
SB206-18
LP206
SBLP206-19
1 3/16
42.9
156
120
33
21
14
14
83
8
30
1/2
SB206-19
LP206
SBLP206-20
1 1/4
42.9
156
120
33
21
14
14
83
8
30
1/2
SB206-20
LP206
SBLP206
30
42.9
156
120
33
21
14
14
83
8
30
1/2
SB206
LP206
SBLP207-20
1 1/4
47.6
165
127
35
21
14
16
93
8.5
32
1/2
SB207-20
LP207
SBLP207-21
1 5/16
47.6
165
127
35
21
14
16
93
8.5
32
1/2
SB207-21
LP207
SBLP207-22
1 3/8
47.6
165
127
35
21
14
16
93
8.5
32
1/2
SB207-22
LP207
SBLP207-23
1 7/16
47.6
165
127
35
21
14
16
93
8.5
32
1/2
SB207-23
LP207
SBLP207
35
47.6
165
127
35
21
14
16
93
8.5
32
1/2
SB207
LP207
GJP Unit No.
Shaft Dia (d)
Dimensions(mm)
Bolt Size
Bearing No.
Housing No.
(in)
(mm)
h
a
e
b
s2
s1
g
w
n
Bi
K
SALP201-08
1/2
30.2
114
87
25.4
16
11
12
57
6
28.6
33.3
3/8
SA201-08
LP203
SALP201
12
30.2
114
87
25.4
16
11
12
57
6
28.6
33.3
3/8
SA201
LP203
SALP202-10
5/8
30.2
114
87
25.4
16
11
12
57
6
28.6
33.3
3/8
SA202-10
LP203
SALP202
15
30.2
114
87
25.4
16
11
12
57
6
28.6
33.3
3/8
SA202
LP203
SALP203
17
30.2
114
87
25.4
16
11
12
57
6
28.6
33.3
3/8
SA203
LP203
SALP204-12
3/4
33.3
125
97
27
16
11
13
65
7
31
33.3
3/8
SA204-12
LP204
SALP204
20
33.3
125
97
27
16
11
13
65
7
31
33.3
3/8
SA204
LP204
SALP205-14
7/8
36.5
130
100
29
16
11
13
71
7.5
31.5
38.1
3/8
SA205-14
LP205
SALP205-15
15/16
36.5
130
100
29
16
11
13
71
7.5
31.5
38.1
3/8
SA205-15
LP205
SALP205-16
1
36.5
130
100
29
16
11
13
71
7.5
31.5
38.1
3/8
SA205-16
LP205
SALP205
25
36.5
130
100
29
16
11
13
71
7.5
31.5
38.1
3/8
SA205
LP205
SALP206-17
1 1/16
42.9
156
120
33
21
14
14
83
8
35.7
44.5
1/2
SA206-17
LP206
SALP206-18
1 1/8
42.9
156
120
33
21
14
14
83
8
35.7
44.5
1/2
SA206-18
LP206
SALP206-19
1 3/16
42.9
156
120
33
21
14
14
83
8
35.7
44.5
1/2
SA206-19
LP206
SALP206-20
1 1/4
42.9
156
120
33
21
14
14
83
8
35.7
44.5
1/2
SA206-20
LP206
SALP206
30
42.9
156
120
33
21
14
14
83
8
35.7
44.5
1/2
SA206
LP206
SALP207-20
1 1/4
47.6
165
127
35
21
14
16
93
8.5
38.9
55.6
1/2
SA207-20
LP207
SALP207-21
1 5/16
47.6
165
127
35
21
14
16
93
8.5
38.9
55.6
1/2
SA207-21
LP207
SALP207-22
1 3/8
47.6
165
127
35
21
14
16
93
8.5
38.9
55.6
1/2
SA207-22
LP207
SALP207-23
1 7/16
47.6
165
127
35
21
14
16
93
8.5
38.9
55.6
1/2
SA207-23
LP207
SALP207
35
47.6
165
127
35
21
14
16
93
8.5
38.9
55.6
1/2
SA207
LP207