Description-2 7/16"Bore Pillow Block Bearing Unit UCP212-39
GJP Bar Code Number: 6935329802346
GJP 2 7/16″ Pillow Block Bearing UCP212-39 with 2 3/4″ Base to Center, Which has grease fitting and Cap on 45 degree angle, and the insert bearing has a wide inner ring with two set screws for locking on the shaft, bearing insert and housing are normally assemblied with J7 tight fitting, this items are widely used.
If you want to buy tapered pillow block bearing, please feel free to contact us.
Features of pillow block bearings:
1. Excellent sealing performance
Both sides of the outer spherical ball bearing are combined with heat-resistant, oil-proof rubber sealing ring and steel plate dust cover. The dust cover is assembled on the outer diameter of the inner ring of the bearing and rotates together with the inner ring, which can effectively prevent foreign objects from entering the inside of the bearing and protect the bearing against external pressure. This combined seal composed of a sealing ring and a dust cover can prevent the Dirt, dust and moisture can enter the inside of the bearing, and at the same time can prevent the grease inside the bearing from leaking out. So that the bearing can maintain perfect working performance in harsh working environment.
2. Sturdy bearing housing
The cast iron seat is an integral seat structure, and the bearing seat is extremely rigid, preventing the bearing from being deformed during assembly, and the bearing seat is durable under any working conditions.
3. Special heat treatment for bearing inner ring
The inner ring channel and its surrounding parts that need to be hardened are normally quenched, and the inner ring elongated end where the set screw is assembled is partially tempered at high temperature to maintain toughness and impact resistance. After local high temperature tempering around the screw hole of the inner ring, the bearing obtains better performance, which can prevent the screw from loosening during the bearing operation, and at the same time, the screw is tightly tightened without causing the inner ring to burst.
4. Bearings and housings are completely interchangeable
Both the bearing and the bearing seat are precisely machined, the bearing and the bearing seat are completely interchangeable, and the bearing can be easily replaced at any time.
5. Easy to install
The outer spherical ball bearing has been injected with enough high-quality grease in advance, and the outer spherical ball bearing with seat can be directly installed on the shaft. This prevents harmful substances from entering the inside of the bearing during installation of the bearing unit.
Interchange
GJP: UCP212-39
AMI: UCP212-39
IPTCI: UCP212-39
NSK: UCP212-39
Peer: FHSP212-39G
Fafnir: RASC-2 7/16″
Fafnir: YAS-2 7/16″
RHP: NP-2 7/16″
SKF: SY 2 7/16″ TF

Basic Dimensions
Bore Size
Center Shaft to Base Size
Housing Length
Center Bolt to Bolt Size
Housing Width
Housing Bolt Length
Housing Bolt Width
Housing Height
Bolt Size
2 7/16″
69.8MM
241MM
187MM
70MM
25MM
20MM
138MM
Technical Data for GJP UCP212-39
Housing No.: P212
Bearing Insert No.: UC212-39
Material For Bearing Insert: 100% Chrome Steel Gcr15(AISI 52100)
Grade For Steel Ball: G10 Grade Chrome Steel Ball.
Materia of Bearing Cage: #10 Steel
Stopping Pin Material on OD of OR: Chrome Steel Gcr15
Sealing Type: F Seal, L3 Seal And Normal NBR Seal are available for customers'selection.
Set Screw Material: 35CrMo
Grease: 20% to 50% Mobil Grease
Set Screw Surrounding Hardness: HRC49 to HRC 50
Bearing Race and Steel Ball Hardness: HRC59 to HRC62
Bearing Housing Material: HT200 Grey Cast Iron
Housing Color: Green, Blue, Grey, Black Color available.
Whole Unit Assembly Type: J7 Tight Fitting
Housing Weight: 2.8KGS
Quality Control: Under ISO: 9001: 2008 Certificate
Package: 1*1 Single GJP poly bag+1*1 Single GJP color box+1*1 GJP outer carton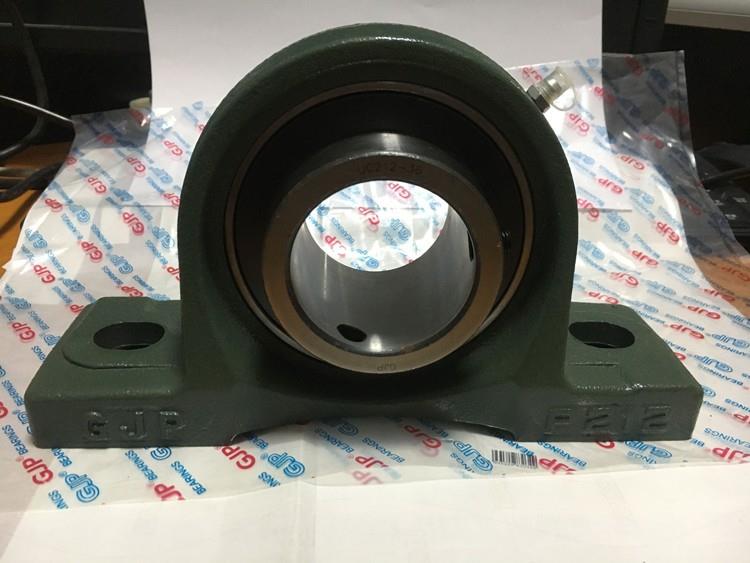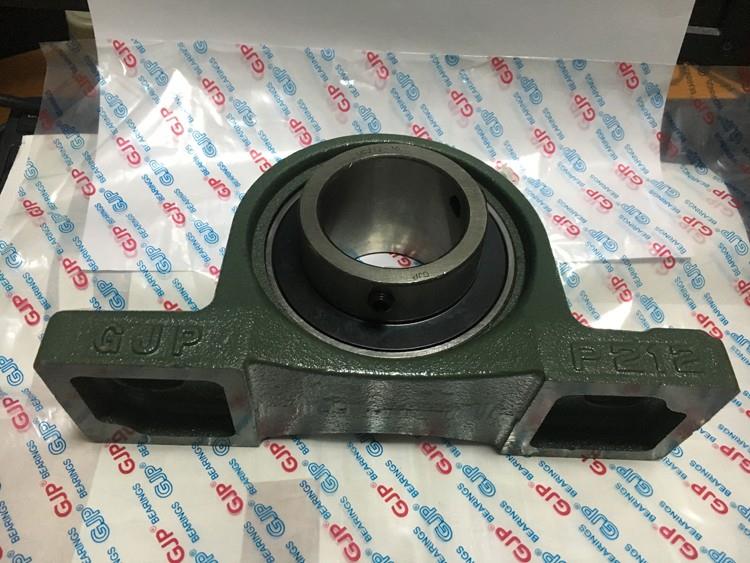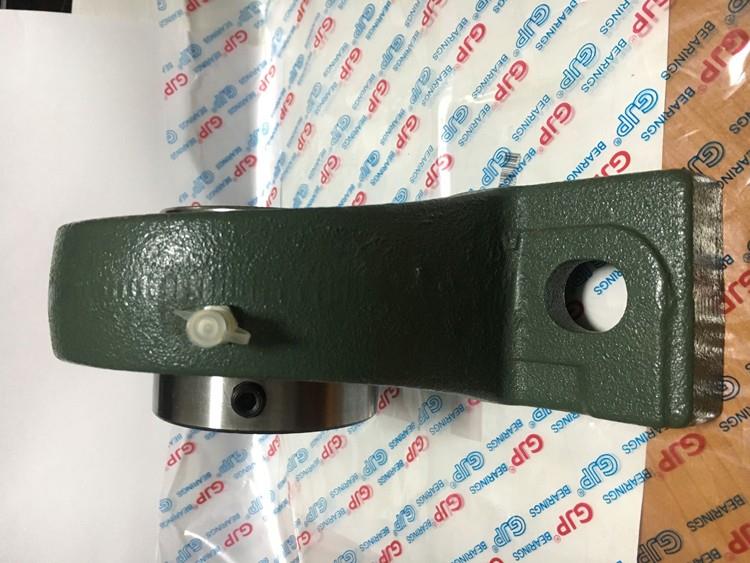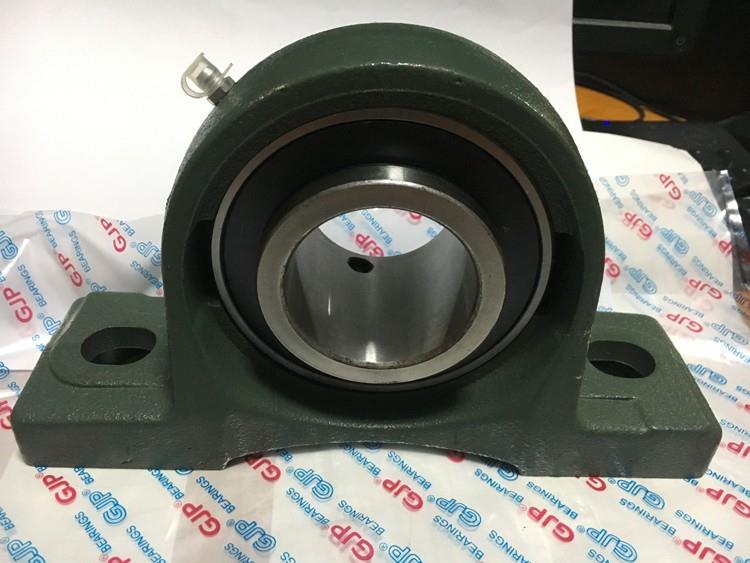 GJP offer Pre-sale services:
Providing professional technical support.
Send the product catalog and instruction manual, free samples would be sent if required.
If you have any question,PLS contact us online or send us email, we promise we will give you a reply at the first time!
Personal call or visit and audit factory are warmly welcome.
FAQ
For the Cast Iron Bearing Unit, if we have the special requirements, and you need to open the mold, after we pay to open the mold, our company wanna to get this mold together with our shipment when the cargo is ready, is it acceptable for GJP?
Yes, of course, if your company pay the mold fee to have a new mold, you have the right to deal this mold, whether you wanna to put it in our factory, or you wanna to get it back to your factory, it depends on you, and normally our customers who open the new mold, they just keep the mold in our places, and we could use it whenever there is a new order in the future from your company, of course, we could pay you some if we think that this mold is useable a lot in our factory.