Description-2 11/16"Bore Pillow Block Bearing UCP214-43
GJP Bar Code Number: 6935329802391
GJP 2 11/16″ Pillow Block Bearing UCP214-43 For Thread Rolling Machine, Which has grease fitting and Cap on 45 degree angle, and the insert bearing has a wide inner ring with two set screws for locking on the shaft, bearing insert and housing are normally assemblied with J7 tight fitting, this items are widely used.
How to maintain pillow block bearing for thread rolling machine
1. Cleaning of seated bearings
When removing the bearing for inspection, first take pictures and other methods to make a record of the appearance. Also, acknowledge the amount of remaining lubricant and sample the lubricant before cleaning the bearing.
2. Check the bearing with seat
In order to distinguish whether the removed bearing can be used again, it is necessary to focus on checking its standard accuracy, rotation accuracy, internal clearance, and cooperation surfaces, raceway surfaces, cages and sealing rings. Regarding the inspection effect, it can be distinguished by those who use inertia bearings or those who know bearings. The other criteria for judgment vary according to the function and importance of the machine, as well as the inspection cycle. If the following damage occurs, the bearing shall not be re-used and must be replaced.
Pillow block bearing is a high-precision component product composed of grease-sealed deep groove ball bearings and various shapes of bearing seats. The bearing assembly can be directly installed on the main body of the thread rolling machine through several bolts. It has the self-aligning function and can supplement the grease. It is a product that is very easy to install and use.
Interchange
GJP: UCP214-43
AMI: UCP214-43
IPTCI: UCP214-43
NSK: UCP214-43
Peer: FHSP214-43G
Fafnir: RASC-2 11/16″
Fafnir: YAS-2 11/16″
RHP: NP-2 11/16″
SKF: SY 2 11/16″ TF

Basic Dimensions

Bore Size

Center Shaft to Base Size

Housing Length

Center Bolt to Bolt Size

Housing Width

Housing Bolt Length

Housing Bolt Width

Housing Height

Bolt Size

2 11/16″

79.4MM

266MM

210MM

72MM

31MM

25MM

157MM

3/4″
Technical Data for GJP UCP214-43
Housing No.: P214
Bearing Insert No.: UC214-43
Material For Bearing Insert: 100% Chrome Steel Gcr15(AISI 52100)
Grade For Steel Ball: G10 Grade Chrome Steel Ball.
Materia of Bearing Cage: #10 Steel
Stopping Pin Material on OD of OR: Chrome Steel Gcr15
Sealing Type: F Seal, L3 Seal And Normal NBR Seal are available for customers'selection.
Set Screw Material: 35CrMo
Grease: 20% to 50% Mobil Grease
Set Screw Surrounding Hardness: HRC49 to HRC 50
Bearing Race and Steel Ball Hardness: HRC59 to HRC62
Bearing Housing Material: HT200 Grey Cast Iron
Housing Color: Green, Blue, Grey, Black Color available.
Whole Unit Assembly Type: J7 Tight Fitting
Housing Weight: 4.45KGS
Quality Control: Under ISO: 9001: 2008 Certificate
Package: 1*1 Single GJP poly bag+1*1 Single GJP color box+1*1 GJP outer carton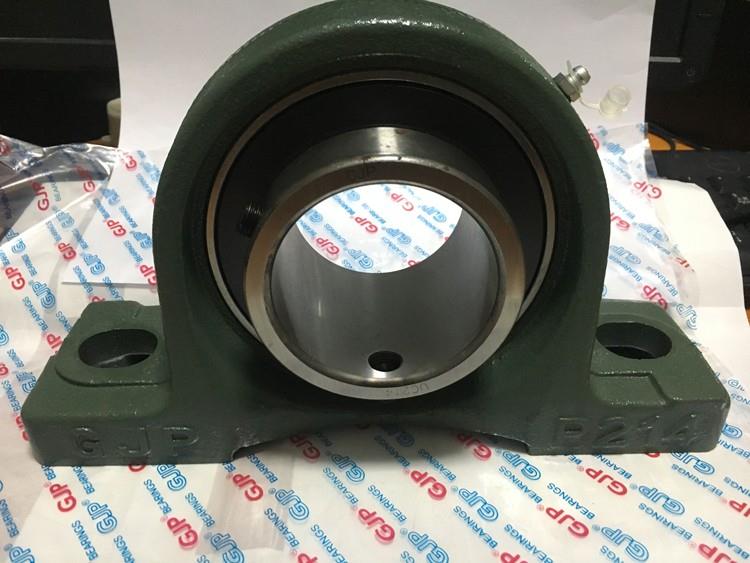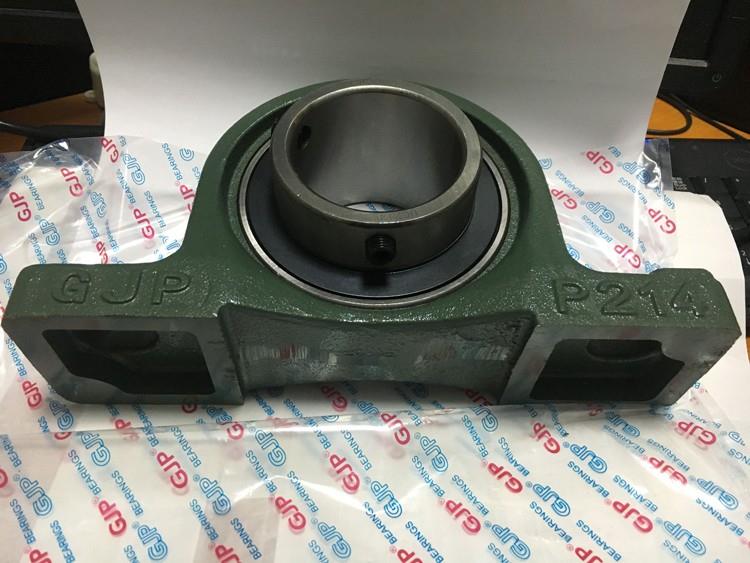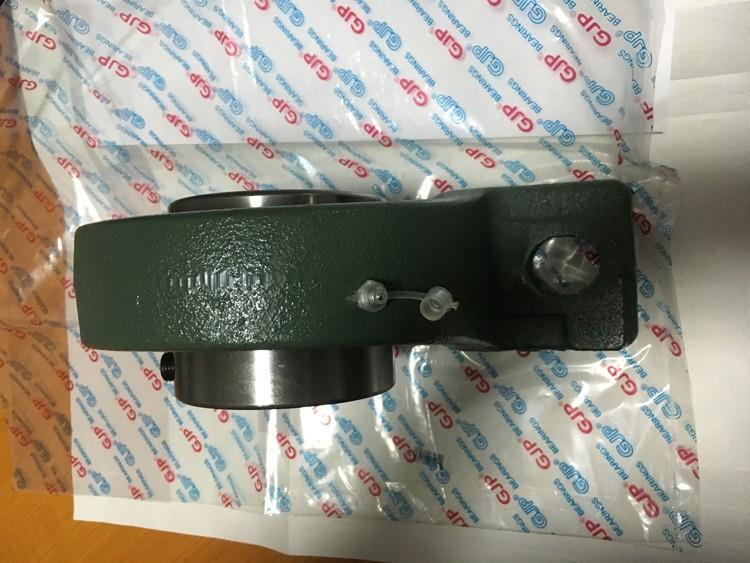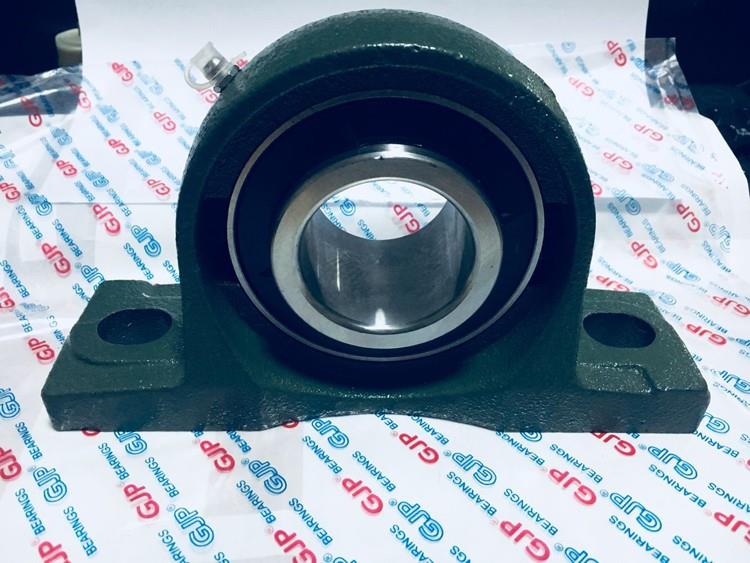 FAQ
After we confirm the order with GJP, if we also have other vendors and supply us other type of bearings in another city, could you consolidate all of our cargo together and ship to me?
Yes, please kindly check which sides' cargo has more quantity, if your other suppliers have more quantity, then we ship ours to them, and combine together to ship out, otherwise, if we have more quantity and volumn, then we give you our warehouse address, then you could ask them to transport their cargo to us, of course, you could ask them to ship directly to the customs' or forwarders' warehouse directly also, and you could choose to ship any party if you think it's convenient for you and it's lower costy for you to ship the cargo to your county.