Description-12mm Shaft Bore UCP201 Pillow Block Bearing
GJP Bar Code Number: 6935329802025
GJP good quality 12mm Metric Pillow Block Bearings with solid base housing and radial insert ball bearing with grub set screw to lock to the shaft. Which is smaller size and has grease zerk on 45 degree angle, and the insert bearing has a wide inner ring with spherical outer diameter, bearing insert and housing are normally assemblied with J7 tight fitting.
The difference between metric bearings and inch bearings
The distinction between metric pillow block bearing and inch bearing is the measurement unit of the bearing. Many customers will not be very clear about the distinction between these two "systems", but the metric system and the inch system can also be seen in the model.
Metric pillow block bearing is also known as metric bearing. The unit of metric pillow block bearing is composed of mm, cm, and m.
The inch bearing is a British-made bearing that supports the mechanical rotating body and reduces the friction coefficient during its movement. The temperature of the inch bearing starts to rise slowly with the operation of the bearing, and reaches a stable state after 1-2 hours. The normal temperature of the bearing varies with the heat capacity, heat dissipation, speed and load of the machine.
Advantages of metric pillow block bearings
The strength, hardness and allowable pressure are comparable to those of aluminum bronze, widely exceeding those of tin and lead, and the allowable speed is similar. It can meet the use conditions of friction-reducing and wear-resistant parts such as bearing bushes.
Strong affinity for lubricating oil, better self-lubricating property, plus its metallurgical properties, low melting point, not easy to metallurgically combine with steel shaft, so it has strong anti-adhesion and anti-friction and wear-resisting properties during use.
The friction coefficient is low, the wear is small, and the service life is longer. Under the same conditions of use, it is generally more than 1 times that of copper tiles, thereby reducing the procurement cost of accessories.
The thermal conductivity is large, the heat dissipation is fast, and the temperature of the grinding surface is slow and low, which has a better protection effect on the pairing friction.
The material density is low, the product quality is light, and the installation and maintenance are easier and more convenient.
The metric pillow block bearing has high damping characteristics, vibration reduction and noise resistance.
The 12mm metric pillow block bearings produced by our company are all made of high-quality raw materials, and the product quality is guaranteed. If you have any questions about our products, you are welcome to contact us at any time.
Interchange
GJP: UCP201
AMI: UCP201
IPTCI: UCP201
NSK: UCP201
Peer: FHSP201G
Fafnir: RASC-12
Fafnir: YAS-12
RHP: NP-12
SKF: SY 12 TF
Sealmaster:
Basic Dimensions

Bore Size

Center Shaft to Base Size

Housing Length

Center Bolt to Bolt Size

Housing Width

Housing Bolt Length

Housing Bolt Width

Housing Height

Bolt Size

12MM

30.2MM

127MM

95MM

38MM

19MM

13MM

62MM

M10
Technical Data for GJP UCP201
Housing No.: P203
Bearing Insert No.: UC201
Material For Bearing Insert: 100% Chrome Steel Gcr15(AISI 52100)
Grade For Steel Ball: G10 Grade Chrome Steel Ball.
Materia of Bearing Cage: #10 Steel
Stopping Pin Material on OD of OR: Chrome Steel Gcr15
Sealing Type: F Seal, L3 Seal And Normal NBR Seal are available for customers'selection.
Set Screw Material: 35CrMo
Grease: 20% to 50% Mobil Grease
Set Screw Surrounding Hardness: HRC49 to HRC 50
Bearing Race and Steel Ball Hardness: HRC59 to HRC62
Bearing Housing Material: HT200 Grey Cast Iron
Housing Color: Green, Blue, Grey, Black Color available.
Whole Unit Assembly Type: J7 Tight Fitting
Housing Weight: 0.33KGS
Quality Control: Under ISO: 9001: 2008 Certificate
Package: 1*1 Single GJP poly bag+1*1 Single GJP color box+1*1 GJP outer carton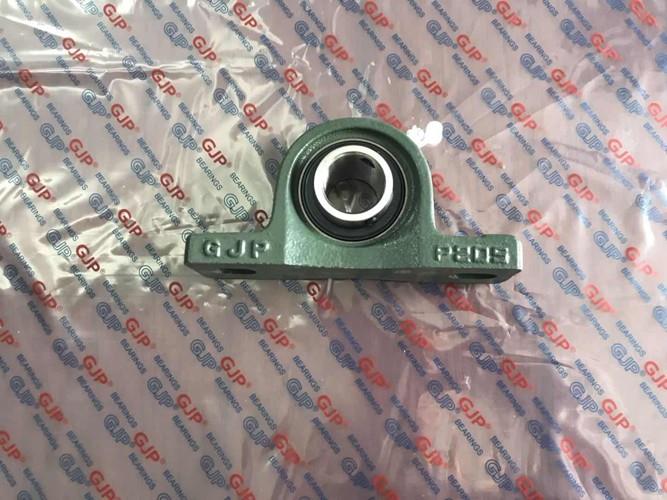 GJP advantage:
GJP has a overall grading for size, shape, color, defects(determined by sorting varieties), which include bearing race, bearing steel ball, retainer, set screw, bearing housing material, bearing housing color, heat treatment etc., all of our products are strictly produced by GJP company's production standard.
FAQ
What's your delivery lead time?
If we have the stock in our warehouse, then we could immediately send out the cargo to you, but if we don't have the stock,normally for our regular production products, our delivery lead time is within 60 to 90 days after getting customer's final confirmation of order or deposit, for customer's special order which you need urgently, we will check and consult with our production department, and check whether we could insert your order firstly to satisfy you, and for some customer's small quantity products, we might need customer wait till we have the same order with our other customers, so it would take more times if we don't have stock in warehouse shaft.