Description-1 1/8"Bore UCP206-18 Pillow Block Bearing
GJP Bar Code Number: 6935329802131
GJP 1 1/8″ Solid Base Pillow Block Bearing UCP206-18. Which has grease zerk on 45 degree angle, and the insert bearing has a wide inner ring with two set screws for locking on the shaft, bearing insert and housing are normally assemblied with J7 tight fitting, this items are widely used.
Solid base pillow block bearings are an essential component for machinery. They provide a solid base for the machinery to operate on and help to keep it stable. Without pillow block bearings, machinery would not be able to function properly.
How to maintain the solid base pillow block bearing?
1. Cleaning of solid base pillow block bearing
When removing the bearing for inspection, first take pictures and other methods to make a record of the appearance. Also, acknowledge the amount of remaining lubricant and sample the lubricant before cleaning the bearing.
2. Inspection of solid base pillow block bearing
In order to distinguish whether the removed bearing can be used again, it is necessary to focus on checking its standard accuracy, rotation accuracy, internal clearance, and cooperation surfaces, raceway surfaces, cages and sealing rings. Regarding the inspection effect, it can be distinguished by those who use inertia bearings or those who know bearings. The other criteria for judgment vary according to the function and importance of the machine, as well as the inspection cycle. If the following damage occurs, the bearing shall not be re-used and must be replaced.
Advantages of solid base pillow block bearing:
Strengthen the support for the bearing;
Compared with the traditional bearing seat, the tensile strength of solid base pillow block bearing is increased by at least 40%;
Reduce the impact of corrosion, and form a passivation surface layer on the surface of the material to meet the requirements of semi-stainless steel or stainless steel.
What are the benefits of using a solid base pillow block bearing?
There are many benefits to using a solid base pillow block bearing. Some of these benefits include increased stability, increased accuracy, and increased durability.
Increased Stability – A solid base pillow block bearing provides increased stability for your system. This increased stability can be critical in systems that are subject to high loads or vibrations.
Increased Accuracy – A solid base pillow block bearing can help to improve the accuracy of your system. This is because pillow block bearings can help to reduce the amount of vibration in your system. This can help to improve the overall accuracy of your system.
Increased Durability – A solid base pillow block bearing can help to improve the durability of your system. This is because pillow block bearings can help to reduce the amount of wear and tear on your system. This can help to extend the life of your system.
Specifications of solid base pillow block bearing
A solid base pillow block bearing is a type of mounted bearing used in a variety of industrial applications. Some common specifications include:
Housing material: Cast iron, ductile iron, or thermoplastic
Shaft size: The diameter of the shaft that the bearing will be mounted on
Bearing type: Common types include ball bearings, spherical roller bearings, and tapered roller bearings
Seal type: Labyrinth, contact, or non-contact seals to protect the bearing from contaminants
Load capacity: The maximum load that the bearing is capable of supporting
Lubrication: The type of lubricant used, such as grease or oil
Operating temperature: The temperature range that the bearing is designed to operate in
These are just a few of the specifications that can vary between solid base pillow block bearings, and the exact specifications may depend on the specific application and manufacturer.
Interchange
GJP: UCP206-18
AMI: UCP206-18
IPTCI: UCP206-18
NSK: UCP206-18
NTN: UCP206-102D1
Peer: FHSP206-18G
Fafnir: RASC-1 1/8"
Fafnir: YAS-1 1/8"
RHP: NP-1 1/8"
SKF: SY 1 1/8"TF
Sealmaster: NP-18
Basic Dimensions

Bore Size

Center Shaft to Base Size

Housing Length

Center Bolt to Bolt Size

Housing Width

Housing Bolt Length

Housing Bolt Width

Housing Height

Bolt Size

1 1/8″

42.9MM

165MM

121MM

48MM

21MM

17MM

83MM

1/2″
Technical Data for GJP UCP206-18
Housing No.: P206
Bearing Insert No.: UC206-18
Material For Bearing Insert: 100% Chrome Steel Gcr15(AISI 52100)
Grade For Steel Ball: G10 Grade Chrome Steel Ball.
Materia of Bearing Cage: #10 Steel
Stopping Pin Material on OD of OR: Chrome Steel Gcr15
Sealing Type: F Seal, L3 Seal And Normal NBR Seal are available for customers'selection.
Set Screw Material: 35CrMo
Grease: 20% to 50% Mobil Grease
Set Screw Surrounding Hardness: HRC49 to HRC 50
Bearing Race and Steel Ball Hardness: HRC59 to HRC62
Bearing Housing Material: HT200 Grey Cast Iron
Housing Color: Green, Blue, Grey, Black Color available.
Whole Unit Assembly Type: J7 Tight Fitting
Housing Weight: 0.97KGS
Quality Control: Under ISO: 9001: 2008 Certificate
Package: 1*1 Single GJP poly bag+1*1 Single GJP color box+1*1 GJP outer carton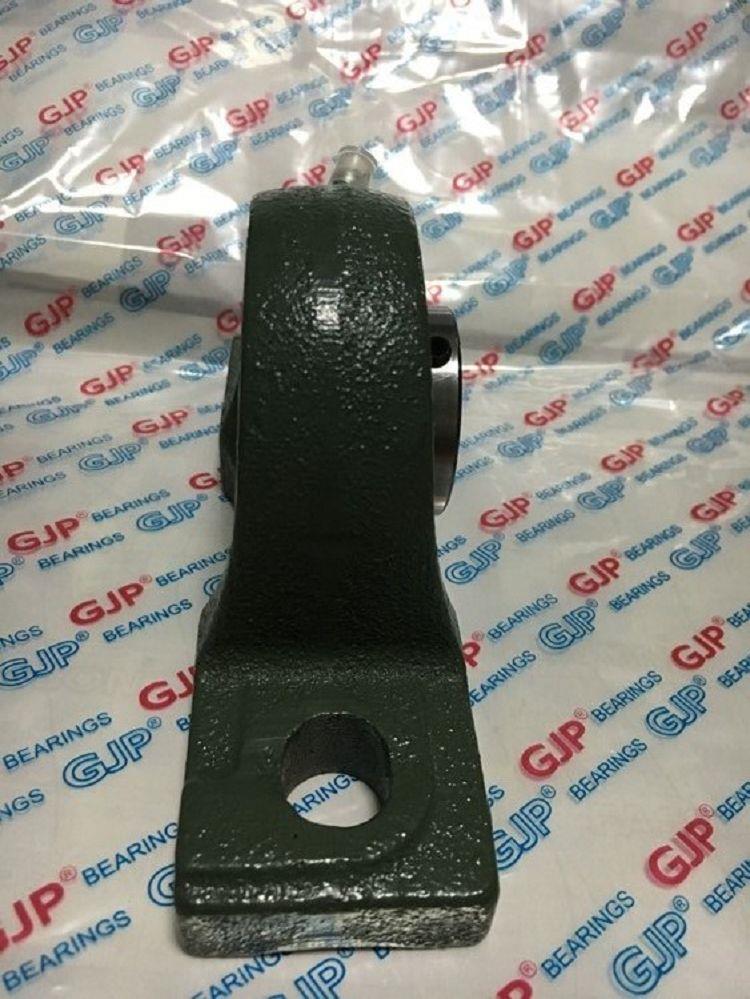 After-sales service:
Where to buy our products for one year warranty and life long maintenance.
24-hour telephone service.
A large stock of components and parts, easily-worn parts.
Customers could contact our local GJP bearing dealer for quick service.
GJP offer the special gift with our logo to provide to end users, like pens, T-shirts, Hats etc.
FAQ
Could we have a products' catalogue from your company?
Yes, sure, please kindly give us your company's post address, then we could send you our company's catalogue, now we have catalogue in paper printed for the "deep groove ball bearing" and for the products of "mounted unit cast iron bearing", please kindly tell us which products catalogue you need, meanwhile, in order to save time and cost, we could send you our company's digital catalogue also, our digital catalogue covers all different types of bearings series which we've been doing, including tapered roller bearings, cylindrical roller bearings, angular contact ball bearing, thrust bearings, needle roller bearings, big size of slewing bearing, thin-section bearings, other conveyor chain like sprocket, v belt, pulley etc.