Description-1 1/4"Bore Stainless Steel Pillow Block Ball Bearing Units SUCSP207-20
GJP Bar Code Number: 6935329837867
GJP 1 1/4″ Stainless Steel Pillow Block Ball Bearing Units Housing SSUCP207-20 Equal with MUCP207-20 And SUCSP207-20. Which is designed with stainless steel housing and stainless steel bearing insert, the housing is SUS304 steel material, what's more, there is a solid base heavy duty housing for GJP's products, for the bearing, it is SUS440 material (Equal with Chinese stainless steel material code 95Cr18 according to GB-3086), bearing with bore of 1 1/4", and triple lip seal on the extended side, narrow inner ring with set screw lock, which is 120 degree space on the IR to lock the shaft(there is a +/-1 degree tolerance to the two 1/4-28 tapped hole positions).
GJP SUCSP207-20 is widely used on special application at food industry or the place which need to be working in an acid-proof and alkali-proof environments or in corrosion medium such as sea water, river aqua, distilled water, sparse nitric acid, maritime climate, steam and so on.
Stainless steel pillow block bearings housing is an industrial part with the advantages of self-aligning, repeated lubrication, good dust-proof sealing, convenient installation and disassembly, etc., and achieves high strength and high precision. It can be used in various products that are easy to rust and strong corrosion, and is widely used. Stainless steel pillow block bearings housings are used to provide a low-friction bearing surface for rotating shafts. The housings are typically made from stainless steel, which is a durable and weather-resistant material.
What are the advantages of using stainless steel pillow block bearings housings?
Stainless steel pillow block bearings housings are becoming more popular in a variety of industries. There are a number of advantages to using these housings, including:
Strength: Stainless steel is a very strong material, making the housings durable.
Corrosion resistance: Stainless steel is resistant to corrosion, making it a good choice for applications where moisture or other elements may be present.
Easy to clean: Stainless steel is easy to clean, which is beneficial in applications where contamination is a concern.
Aesthetic appeal: Stainless steel has a sleek, modern look that can enhance the appearance of a product.
When is it appropriate to use stainless steel pillow block bearings housings?
Stainless steel pillow block bearings housings are a great option for many applications, but there are some cases when they are not the best choice. In general, stainless steel pillow block bearings housings are most appropriate for heavy-duty applications that require resistance to corrosion and wear. For example, they can be a good choice for outdoor applications or applications that involve contact with chemicals or other harsh substances.
Interchange
GJP: SSUCP207-20
AMI: MUCP207-20
FYH: UCSP207-20H1S6
IPTCI: SUCSP207-20
NTN: F-UCPM207-104
PEER: SSUCP207-20
SKF: SPB104SS
PTI: SSUCP207-20
Basic Dimensions
Bore Size
Center Shaft to Base Size
Housing Length
Center Bolt to Bolt Size
Housing Width
Housing Bolt Length
Housing Bolt Width
Housing Height
Bolt Size
1 1/4″
42.9MM
165MM
121MM
48MM
21MM
17MM
83MM
1/2″
Technical Data for GJP SSUCP207-20
Housing No.: SSP207
Bearing Insert No.: SSUC207-20
Material For Bearing Insert: 100% SUS440 steel steel material(equal with 95Cr18)
Grade For Steel Ball: SUS440 Material Stainless Steel Ball with G10 grade under standard GB308-89
Bearing Cage Material: SUS321 stainless steel (equal with 1Cr18Ni9Ti under standard GB4239)
Sealing Type: SUS321 stainless steel material(equal with 1Cr18Ni9Ti under standard GB4239)
Grease: 50% to 60% Kyodo SRL Grease
Bearing Race and Steel Ball Hardness: HRC59 to HRC60
Bearing Housing Material: Stainless Steel material SUS304
Housing Color: white color
Whole Unit Assembly Type: J7 Tight Fitting
Housing Weight: 0.97KGS
Quality Control: Under ISO: 9001: 2008 Certificate
Package: 1*1 Single GJP poly bag+1*1 Single GJP color box+1*1 GJP outer carton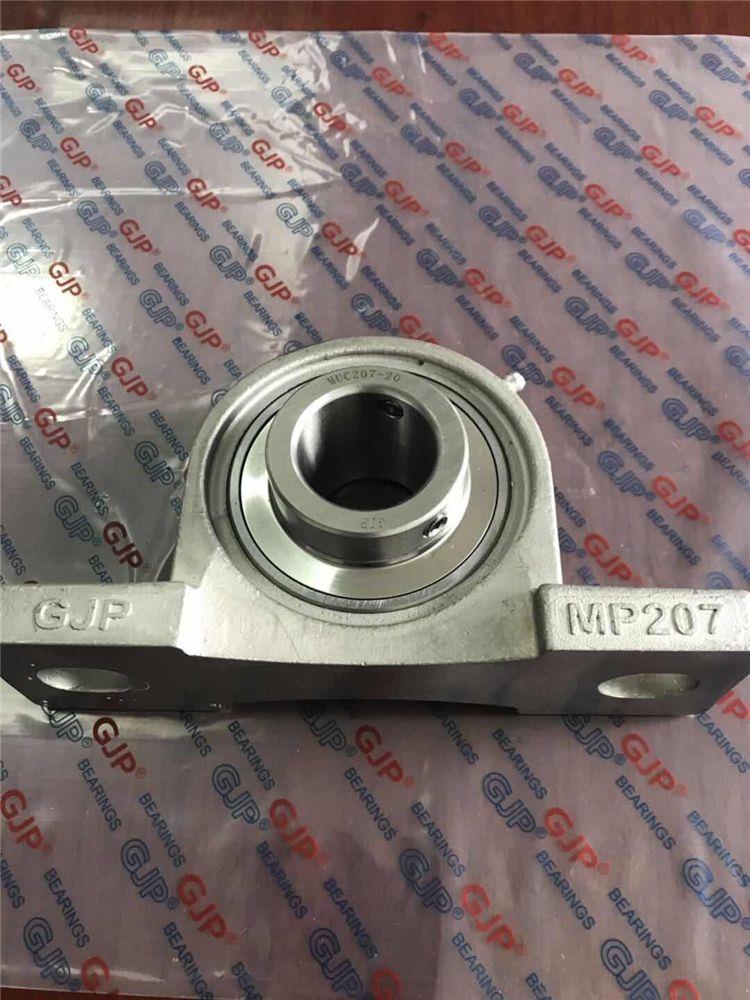 GJP offers the belowing size of Stainless Steel Mounted Ball Bearing Units also:
GJP Unit No.
Shaft No.
Diemens(mm)
Bolt size
Bearing No.
Housing No.
Mass(kg)
d
L
J
A2
A1
A
E
N
S
A4
(in.)
(mm)
SSUCF202
15
86.0
64.0
15.0
11.0
24.5
30.9
11.5
11.5
37.5
M10
SUC202
SF203
0.57
SSUCF202-10
5/8
86.0
64.0
15.0
11.0
24.5
30.9
11.5
11.5
37.5
M10
SUC202-10
SF203
0.57
SSUCF203
17
86.0
64.0
15.0
11.0
24.5
30.9
11.5
11.5
37.5
M10
SUC203
SF203
0.5
SSUCF203-11
11/16
86.0
64.0
15.0
11.0
24.5
30.9
11.5
11.5
37.5
M10
SUC203-11
SF203
0.64
SSUCF204-12
3/4
86.0
64.0
15.0
11.0
25.5
33.3
11.5
12.7
37.5
M10
SUC204-12
SF204
0.64
SSUCF204
20
86.0
64.0
15.0
11.0
25.5
33.3
11.5
12.7
37.5
M10
SUC204
SF204
0.64
SSUCF205-14
7/8
95.0
70.0
16.0
13.0
27.0
35.7
11.5
14.3
40.0
M10
SUC205-14
SF205
0.8
SSUCF205-15
15/16
95.0
70.0
16.0
13.0
27.0
35.7
11.5
14.3
40.0
M10
SUC205-15
SF205
0.8
SSUCF205
25
95.0
70.0
16.0
13.0
27.0
35.7
11.5
14.3
40.0
M10
SUC205
SF205
0.8
SSUCF205-16
1
95.0
70.0
16.0
13.0
27.0
35.7
11.5
14.3
40.0
M10
SUC205-16
SF205
0.8
SSUCF206-18
1 1/8
108.0
83.0
18.0
13.0
31.0
40.2
11.5
15.9
44.0
M10
SUC206-18
SF206
1.07
SSUCF206
30
108.0
83.0
18.0
13.0
31.0
40.2
11.5
15.9
44.0
M10
SUC206
SF206
1.07
SSUCF206-19
1 3/16
108.0
83.0
18.0
13.0
31.0
40.2
11.5
15.9
44.0
M10
SUC206-19
SF206
1.07
SSUCF206-20
1 1/4
108.0
83.0
18.0
13.0
31.0
40.2
11.5
15.9
44.0
M10
SUC206-20
SF206
1.07
SSUCF207-20
1 1/4
117.0
92.0
19.0
15.0
34.0
44.4
14.0
17.5
48.5
M12
SUC207-20
SF207
1.4
SSUCF207-21
1 5/16
117.0
92.0
19.0
15.0
34.0
44.4
14.0
17.5
48.5
M12
SUC207-21
SF207
1.4
SSUCF207-22
1 3/8
117.0
92.0
19.0
15.0
34.0
44.4
14.0
17.5
48.5
M12
SUC207-22
SF207
1.4
SSUCF207
35
117.0
92.0
19.0
15.0
34.0
44.4
14.0
17.5
48.5
M12
SUC207
SF207
1.4
SSUCF207-23
1 7/16
117.0
92.0
19.0
15.0
34.0
44.4
14.0
17.5
48.5
M12
SUC207-23
SF207
1.4
SSUCF208-24
1 1/2
130.0
102.0
21.0
15.0
36.0
51.2
14.0
19.0
55.0
M12
SUC208-24
SF208
1.8
SSUCF208-25
1 9/16
130.0
102.0
21.0
15.0
36.0
51.2
14.0
19.0
55.0
M12
SUC208-25
SF208
1.8
SSUCF208
40
130.0
102.0
21.0
15.0
36.0
51.2
14.0
19.0
55.0
M12
SUC208
SF208
1.8
SSUCF209-26
1 5/8
137.0
105.0
22.0
16.0
38.0
52.2
16.0
19.0
57.0
M14
SUC209-26
SF209
2.2
SSUCF209-27
1 11/16
137.0
105.0
22.0
16.0
38.0
52.2
16.0
19.0
57.0
M14
SUC209-27
SF209
2.2
SSUCF209-28
1 3/4
137.0
105.0
22.0
16.0
38.0
52.2
16.0
19.0
57.0
M14
SUC209-28
SF209
2.2
SSUCF209
45
137.0
105.0
22.0
16.0
38.0
52.2
16.0
19.0
57.0
M14
SUC209
SF209
2.2
SSUCF210-30
1 7/8
143.0
111.0
22.0
16.0
40.0
54.6
18.0
19.0
60.0
M16
SUC210-30
SF210
2.4
SSUCF210-31
1 15/16
143.0
111.0
22.0
16.0
40.0
54.6
18.0
19.0
60.0
M16
SUC210-31
SF210
2.4
SSUCF210
50
143.0
111.0
22.0
16.0
40.0
54.6
18.0
19.0
60.0
M16
SUC210
SF210
2.4
SSUCF211-32
2
162.0
130.0
25.0
18.0
43.0
58.4
18.0
22.2
64.0
M16
SUC211-32
SF211
3.5
SSUCF211-34
2 1/8
162.0
130.0
25.0
18.0
43.0
58.4
18.0
22.2
64.0
M16
SUC211-34
SF211
3.5
SSUCF211
55
162.0
130.0
25.0
18.0
43.0
58.4
18.0
22.2
64.0
M16
SUC211
SF211
3.5
SSUCF211-35
2 3/16
162.0
130.0
25.0
18.0
43.0
58.4
18.0
22.2
64.0
M16
SUC211-35
SF211
3.5
SSUCF212-36
2 1/4
175.0
143.0
29.0
18.0
48.0
68.7
18.0
25.4
74.5
M16
SUC212-36
SF212
4.2
SSUCF212
60
175.0
143.0
29.0
18.0
48.0
68.7
18.0
25.4
74.5
M16
SUC212
SF212
4.2
SSUCF212-38
2 3/8
175.0
143.0
29.0
18.0
48.0
68.7
18.0
25.4
74.5
M16
SUC212-38
SF212
4.2
SSUCF212-39
2 7/16
175.0
143.0
29.0
18.0
48.0
68.7
18.0
25.4
74.5
M16
SUC212-39
SF212
4.2
SSUCF213-40
1 1/2
187.0
149.0
30.0
22.0
50.0
69.7
18.0
25.4
79.0
M16
SUC213-40
SF213
5.3
SSUCF213
65
187.0
149.0
30.0
22.0
50.0
69.7
18.0
25.4
79.0
M16
SUC213
SF213
5.3
SSUCF214-44
2 3/4
193.0
152.0
31.0
22.0
54.0
75.4
18.0
30.2
M16
SUC214-44
SF214
5.9
SSUCF214
70
193.0
152.0
31.0
22.0
54.0
75.4
18.0
30.2
M16
SUC214
SF214
5.9
SSUCF215-47
2 15/16
200.0
159.0
34.0
22.0
56.0
78.5
18.0
33.3
M16
SUC215-47
SF215
6.3
SSUCF215
75
200.0
159.0
34.0
22.0
56.0
78.5
18.0
33.3
M16
SUC215
SF215
6.3
SSUCF215-48
3
200.0
159.0
34.0
22.0
56.0
78.5
18.0
33.3
M16
SUC215-48
SF215
6.3
GJP Unit No.
Shaft No.
Dimensions(mm)
Bolt Size
Bearing No.
Housing No.
Mass (kg)
d
H
L
J
A
N
N1
H1
H0
S
B
A4
(in.)
(mm)
SSUCP202
15
30.2
127.0
96.0
37.0
13.0
19.0
147.0
60.7
12.7
31.0
M10
SUC202
SP203
0.65
SSUCP202-10
5/8
30.2
127.0
96.0
37.0
13.0
19.0
14.0
60.7
12.7
31.0
M10
SUC202-10
SP203
0.65
SSUCP203
17
30.2
127.0
96.0
37.0
13.0
19.0
14.0
60.7
12.7
31.0
M10
SUC203
SP203
0.65
SSUCP203-11
11/16
30.2
127.0
96.0
37.0
13.0
19.0
14.0
60.7
12.7
31.0
M10
SUC203-11
SP203
0.65
SSUCP204-12
3/4
33.3
127.0
96.0
37.0
13.0
16.0
14.0
63.8
12.7
31.0
45.0
M10
SUC204-12
SP204
0.65
SSUCP204
20
33.3
127.0
96.0
37.0
13.0
16.0
14.0
63.8
12.7
31.0
45.0
M10
SUC204
SP204
0.65
SSUCP205-14
7/8
36.5
140.0
105.0
8.0
13.0
19.0
15.0
69.5
14.3
34.0
48.0
M10
SUC205-14
SP205
0.72
SSUCP205-15
15/16
36.5
140.0
105.0
38.0
13.0
19.0
15.0
69.5
14.3
34.0
48.0
M10
SUC205-15
SP205
0.72
SSUCP205
25
36.5
140.0
105.0
38.0
13.0
19.0
15.0
69.5
14.3
34.0
48.0
M10
SUC205
SP205
0.72
SSUCP205-16
1
36.5
140.0
105.0
38.0
13.0
19.0
15.0
69.5
14.3
34.0
48.0
M10
SUC205-16
SP205
0.72
SSUCP206-18
1 1/8
42.9
160.0
121.0
44.0
14.0
19.0
16.0
82.0
15.9
38.1
52.0
M12
SUC206-18
SP206
1.15
SSUCP206
30
42.9
160.0
121.0
44.0
14.0
19.0
16.0
82.0
15.9
38.1
52.0
M12
SUC206
SP206
1.15
SSUCP206-19
1 3/16
42.9
160.0
121.0
44.0
14.0
19.0
16.0
82.0
15.9
38.1
52.0
M12
SUC206-19
SP206
1.15
SSUCP206-20
1 1/4
42.9
160.0
121.0
44.0
14.0
19.0
16.0
82.0
15.9
38.1
52.0
M12
SUC206-20
SP206
1.15
SSUCP207-20
1 1/4
47.6
167.0
126.0
48.0
15.0
19.0
17.0
92.0
17.5
42.9
59.0
M12
SUC207-20
SP207
1.53
SSUCP207-21
1 5/16
47.6
167.0
126.0
48.0
15.0
19.0
17.0
92.0
17.5
42.9
59.0
M12
SUC207-21
SP207
1.53
SSUCP207-22
1 3/8
47.6
167.0
126.0
48.0
15.0
19.0
17.0
92.0
17.5
42.9
59.0
M12
SUC207-22
SP207
1.53
SSUCP207
35
47.6
167.0
126.0
48.0
15.0
19.0
17.0
92.0
17.5
42.9
59.0
M12
SUC207
SP207
1.53
SSUCP207-23
1 7/16
47.6
167.0
126.0
48.0
15.0
19.0
17.0
92.0
17.5
42.9
59.0
M12
SUC207-23
SP207
1.53
SSUCP208-24
1 1/2
49.2
180.0
136.0
52.0
15.0
21.0
18.0
98.0
19.0
49.2
68.0
M12
SUC208-24
SP208
1.88
SSUCP208-25
1 9/16
49.2
180.0
136.0
52.0
15.0
21.0
18.0
98.0
19.0
49.2
68.0
M12
SUC208-25
SP208
1.88
SSUCP208
40
49.2
180.0
136.0
52.0
15.0
21.0
18.0
98.0
19.0
49.2
68.0
M12
SUC208
SP208
1.88
SSUCP209-26
1 5/8
54.0
189.0
146.0
54.0
15.0
21.0
20.0
105.5
19.0
49.2
70.0
M12
SUC209-26
SP209
2.1
SSUCP209-27
1 11/16
54.0
189.0
146.0
54.0
15.0
21.0
20.0
105.5
19.0
49.2
70.0
M12
SUC209-27
SP209
2.1
SSUCP209-28
1 3/4
54.0
189.0
146.0
54.0
15.0
21.0
20.0
105.5
19.0
49.2
70.0
M12
SUC209-28
SP209
2.1
SSUCP209
45
54.0
189.0
146.0
54.0
15.0
21.0
20.0
105.5
19.0
49.2
70.0
M12
SUC209
SSP209
2.1
SSUCP210-30
1 7/8
57.2
204.0
159.0
57.0
19.0
22.0
21.0
112.2
19.0
51.6
75.0
M16
SUC210-30
SP210
2.5
SSUCP210-31
1 15/16
57.2
204.0
159.0
57.0
19.0
22.0
21.0
112.2
19.0
51.6
75.0
M16
SUC210-31
SP210
2.5
SSUCP210
50
57.2
204.0
159.0
57.0
19.0
22.0
21.0
112.2
19.0
51.6
75.0
M16
SUC210
SP210
2.5
SSUCP211-32
2
63.5
217.0
172.0
60.0
19.0
22.0
22.0
124.5
22.5
55.6
78.0
M16
SUC211-32
SP211
3.3
SSUCP211-34
2 1/8
63.5
217.0
172.0
60.0
19.0
22.0
22.0
124.5
22.2
55.6
78.0
M16
SUC211-34
SP211
3.3
SSUCP211
55
63.5
217.0
172.0
60.0
19.0
22.0
22.0
124.5
22.2
55.6
78.0
M16
SUC211
SP211
3.3
SSUCP211-35
2 3/16
63.5
217.0
172.0
60.0
19.0
22.0
22.0
124.5
22.2
55.6
78.0
M16
SUC211-35
SP211
3.3
SSUCP212-36
2 1/4
69.9
238.0
186.0
66.0
19.0
25.0
24.0
137.0
25.4
65.1
91.0
M16
SUC212-36
SP212
5.5
SSUCP212
60
69.9
238.0
186.0
66.0
19.0
25.0
24.0
137.0
25.4
65.1
91.0
M16
SUC212
SP212
5.5
SSUCP212-38
2 3/8
69.9
238.0
186.0
66.0
19.0
25.0
24.0
137.0
25.4
5.1
91.0
M16
SUC212-38
SP212
5.5
SSUCP212-39
2 7/16
69.9
238.0
186.0
66.0
19.0
25.0
24.0
137.0
25.4
65.1
91.0
M16
SUC212-39
SP212
5.5
SSUCP213-40
2 1/2
76.2
262.0
203.0
70.0
23.0
29.0
26.0
149.0
25.4
65.1
98.0
M20
SUC213-40
SP213
5.6
SSUCP213
65
76.2
262.0
203.0
70.0
23.0
29.0
26.0
149.0
25.4
65.1
98.0
M20
SUC213
SP213
5.6
SSUCP214-44
2 3/4
79.4
266.0
210.0
72.0
23.0
29.0
27.0
155.0
30.2
74.6
M20
SUC214-44
SP214
6.6
SSUCP214
70
79.4
266.0
210.0
72.0
23.0
29.0
27.0
155.0
30.2
74.6
M20
SUC214
SP214
6.6
SSUCP215
75
82.6
274.0
217.0
74.0
25.0
29.0
28.0
161.6
33.3
77.8
M20
SUC215
SP215
7.3
SSUCP215-48
3
82.6
274.0
217.0
74.0
25.0
29.0
28.0
161.6
33.3
77.8
M20
SUC215-48
SP215
7.3