Description – 1 1/4"Inch Bore Pillow Block Bearing UCP207-20
GJP Bar Code Number: 6935329800618
GJP 1 1/4″ Bearing Housing UCP207-20 with solid base type housing. Which has grease fitting on 45 degree angle, and the insert bearing has a wide inner ring with two set screws for locking on the shaft, bearing insert and housing are normally assemblied with J7 tight fitting, this items are widely used.
The ball bearing units use round metal balls to operate, which belong to point contact, so it is easy to activate the operation. In addition, the ball bearing units are used in conjunction with the spring, so the metal ring outside the ball bearing is supported on the top of the spring, so that the weight of the entire fan blade rotor is located on the ball bearing units, and is indirectly supported by the spring, so it can be used for portable products in different directions and angles should still be prevented from falling, so as to avoid damage to the ball bearing units, resulting in noise generation and reduction in service life.
Performance of ball bearing units
The hardness of the cage is lower than that of balls and rings, and its materials are metal (such as: medium carbon steel, aluminum alloy) or non-metal (such as: Teflon, PTEF, polymer materials). Ball bearing units have less rotational friction resistance than journal bearings, so at the same rotational speed, the temperature due to friction will be lower.
Ball bearing units are generally used in equipment with low load mechanical transmission. Because the bearing area of the ball bearing is small, it is very prone to serious mechanical damage under the condition of high-speed operation. Therefore, needle roller bearings are often used in heavy-duty mechanical transmissions to increase the bearing surface, improve mechanical transmission efficiency, and reduce mechanical damage.
The ball bearing has changed the friction mode of the bearing, and adopts rolling friction, which more effectively reduces the friction phenomenon between the bearing surfaces, improves the service life of the fan bearing, and thus prolongs the service life of the radiator.
Advantages of using ball bearing units:
The metal ball movement belongs to point contact, so it is easy to activate the movement. ​​
Can be used for portable products that are often operated at different placement angles and directions (but prevent them from being thrown or dropped). ​​
Longer service life (compared to oil-impregnated bearings).
The use of ball bearing units in daily life
1. Bearings during transportation
One of the most typical uses of ball bearing units is in the field of transportation, since all modes of transportation (except walking) rely on wheels or rotating parts. A common use for ball bearings is in skateboard and bicycle wheels; likewise, they are found in unicycles and trikes, as well as any other application that utilizes a wheel for rotation. In self-driving cars, ball bearings are essential. The minimum number of bearings in a car is estimated to be 36, with most car models containing many more. They are used in gearboxes, wheels, engines, gearboxes, air conditioning compressors, suspensions, and more. Conceivably, they are also critical to aircraft manufacturing and any other type of vehicle such as motorcycles, tractors and construction vehicles.
2. Bearings for household equipment
The average household has at least 15 different appliances that use bearings, and this is a conservative estimate. Ball bearings are used in refrigerators, air conditioning units, ovens, dishwashers, generators, washers and dryers, microwave ovens, blenders, ceiling fans, vacuum cleaners, food processors, and even kitchen or bathroom drawers.
3. Bearings for personal equipment
In addition to typical household appliances, many personal devices also contain bearings. This could include DVD players, computer fans, game consoles, exercise equipment, ATMs, etc. Although you may not directly interact with the bearings very often, you will rely on them for most routine tasks. If you use any electrical equipment, it will most likely use ball bearings. Even in more basic items, such as bar stools or yo-yos, ball bearings are used to facilitate rotational motion.
4. Manufacturing and Industry
Ball bearings are required in manufacturing equipment in food processing, plastic and paper product production, and nearly every consumer product imaginable. The agricultural industry uses a wide variety of ball bearings in a variety of equipment that produces, packs and transports all the food we consume. Bearings in construction equipment are used in the construction of all the homes and buildings in which we live and work.
Features of ball transfer unit
Ball Transfer Units (BTUs) are small ball-mounted devices that allow for easy and efficient movement of heavy loads. The following are some of their features:
Load capacity: BTUs can support loads ranging from a few pounds to several tons, depending on the size and material used.
Versatility: BTUs can be used in a variety of applications, such as material handling, assembly lines, and packaging operations.
Ease of movement: The ball-mounted design of BTUs allows for smooth and easy movement in any direction, making it easy to transfer heavy loads from one place to another.
Durability: BTUs are typically made from high-quality materials that are resistant to wear and tear, making them durable and long-lasting.
Low maintenance: BTUs require very little maintenance, making them a cost-effective solution for material handling.
Low noise: The ball-mounted design of BTUs allows for low-noise operation, making them suitable for use in quiet environments.
Interchange
GJP: UCP207-20
AMI: UCP207-20
IPTCI: UCP207-20
NSK: UCP207-20
NTN: UCP207-104D1
Peer: FHSP207-20G
Fafnir: RASC-1 1/4″
Fafnir: YAS-1 1/4″
RHP: NP-1 1/4″
SKF: SY 1 1/4″ TF
Sealmaster: NP-20
Basic Dimensions

Bore Size

Center Shaft to Base Size

Housing Length

Center Bolt to Bolt Size

Housing Width

Housing Bolt Length

Housing Bolt Width

Housing Height

Bolt Size

1 1/4″

47.6MM

167MM

127MM

48MM

21MM

17MM

93MM

1/2″
Technical Data for GJP UCP207-20
Housing No.: P207
Bearing Insert No.: UC207-20
Material For Bearing Insert: 100% Chrome Steel Gcr15(AISI 52100)
Grade For Steel Ball: G10 Grade Chrome Steel Ball.
Materia of Bearing Cage: #10 Steel
Stopping Pin Material on OD of OR: Chrome Steel Gcr15
Sealing Type: F Seal, L3 Seal And Normal NBR Seal are available for customers'selection.
Set Screw Material: 35CrMo
Grease: 20% to 50% Mobil Grease
Set Screw Surrounding Hardness: HRC49 to HRC 50
Bearing Race and Steel Ball Hardness: HRC59 to HRC62
Bearing Housing Material: HT200 Grey Cast Iron
Housing Color: Green, Blue, Grey, Black Color available.
Whole Unit Assembly Type: J7 Tight Fitting
Housing Weight: 1.00KGS
Quality Control: Under ISO: 9001: 2008 Certificate
Package: 1*1 Single GJP poly bag+1*1 Single GJP color box+1*1 GJP outer carton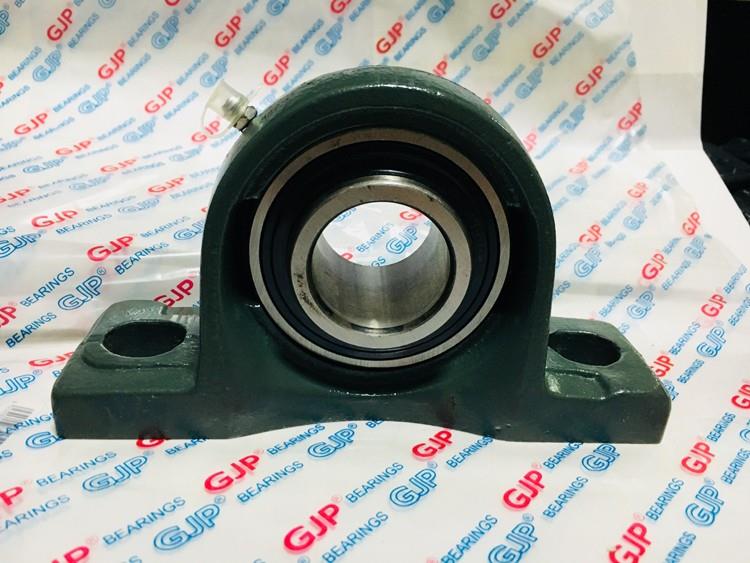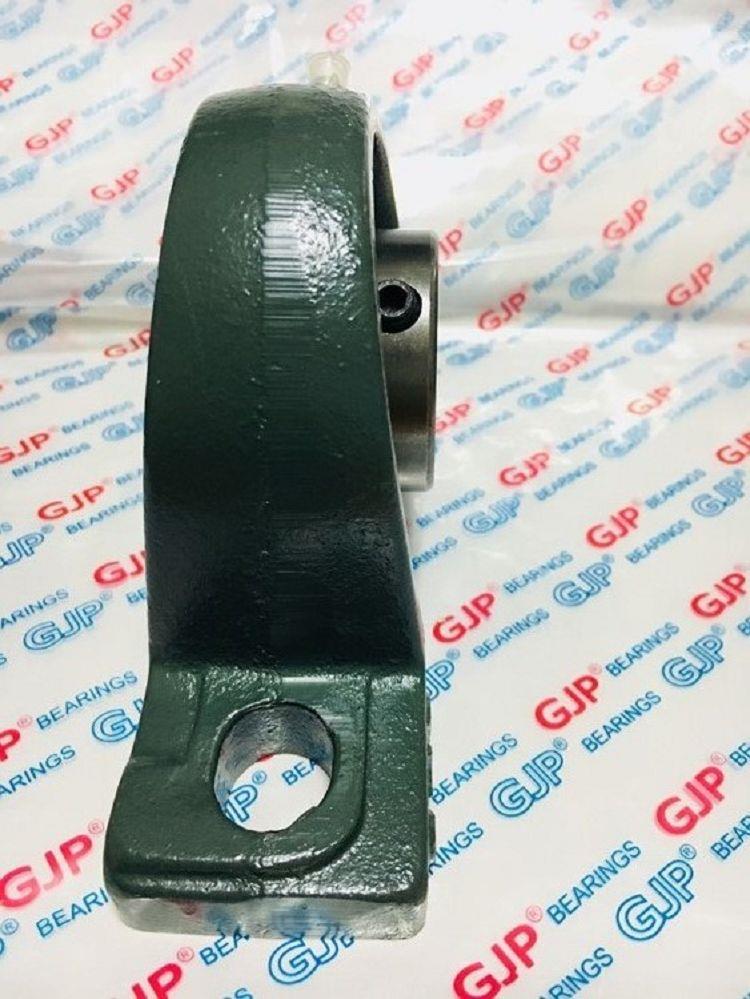 FAQ
We have one experience that our bearings products were stopped by customs to get rid of all anti-rusty oil when send by airshipment, do you have this experience? How will GJP solve it?
Yes, in our business running year since so many times, GJP used to have three times this situation, one time, our Germany customers need us to airship 600pcs of PNA-30/52 needle roller bearings, when we declare the customs in Xiamen Gaoqi Airport, we're requested to brush out all the anti-rusty oil on the bearings, as it is the regulation for the airline company, at that time, it's our first experience, and we're shocked because if we ship out the bearings without anti-rusty oil, the bearing would easily get rusty, after discussing with customers, finally we replaced for our customers from our factory with the bearings which did not contain anti-rusty oil and when cargo arrives customers' place, customers re-put the oil on the bearings by themselves.